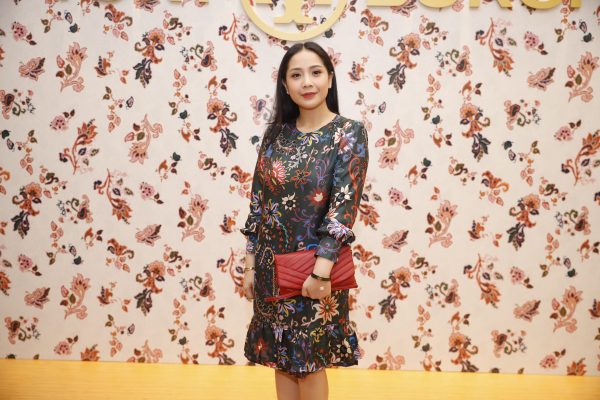 As witnessed from the runway show, Tory Burch Fall-Winter 2019 collection was very vibrant and artistic (not to mention, eclectic). The collection was inspired by the influential liberal art institution known as Black Mountain College, which gave birth to many famous fashion modern American artists.
Offering various feminine details, prints, and colors, one would argue the collection speaks closely to those with an equally vibrant personal style. Hence, it's very interesting to observe how different personalities with different personal styles would conquer the collection's bold characteristics.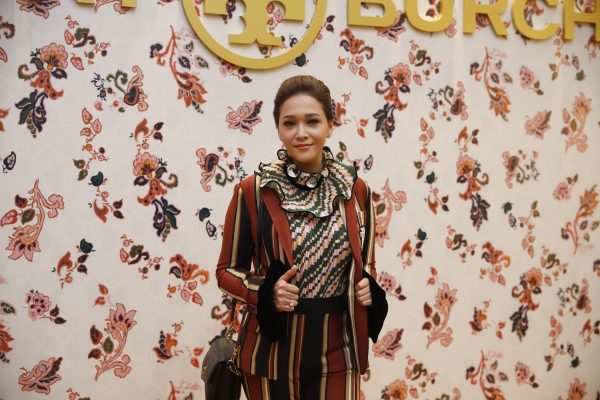 This opportunity arose during Tory Burch's Senayan City Grand Opening last week.  Several famous faces attended the event wearing Tory Burch Fall/Winter 2019 collection. Digital influencer Olivia Lazuardy, celebrities from Nagita Slavina, Tatjana Saphira, Maia Estianty to singer Andien Aisyah were donning Tory Burch's look of their choice. Seen from the finished looks they wore during the festive evening, the famous ladies merged the eclectic elements of the collection with their style. Let's take a look.
Maia Estianty picked a mix of striped knit blazer and pants with feminine ruffles. The look combined a masculine silhouette with a feminine touch. Maia said the look has that London charm, which reminded her of her son, who is currently studying in London. The tomboy look was her comfort zone, Maia added.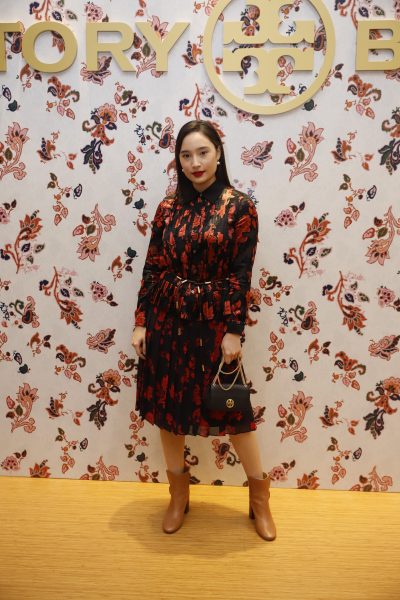 Young actress Tatjana Saphira was dressed up in a look which had one of her favorite detail – the color red. She paired the printed pleated shirt (featuring lots of red roses prints) with a matching printed pleated skirt. Tatjana later completed the feminine look with the Kira boots in tan. For a special occasion, Tatjana said she would most definitely choose a dress.
Meanwhile, Nagita Slavina wore the effortless printed silk twill shift dress. Very suitable with her usual ladylike and sweet persona. The dress had fun details on the sleeves and the hem. Giving that extra oomph. And for a fun-filled evening, the dress definitely offered that mobility.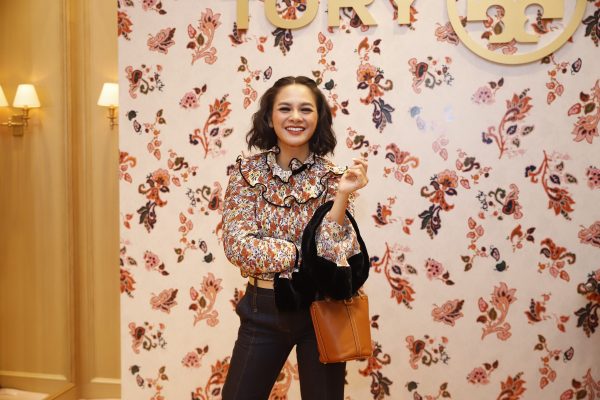 READ MORE: TORY BURCH OPENS THE LARGEST BOUTIQUE IN INDONESIA
Andien was the other celebrity opting for another fun tomboy look that evening. The soulful singer wore Tory Burch convertible ruffle blouse and denim from the fall-winter 2019 collection. She completed the look with a pair of boots. The total look had that retro charm and provided all the comfort, as the singer gave a surprise performance that evening.
All in all, not only celebrating the opening of the new Tory Burch store, but it was also a moment to celebrate the vibrant style which has become the soul of the brand itself. In particular, for this fall-winter 2019 collection, when usually fall meant dull dark colors, Tory Burch gave us many prints and colors to indulge, to wear.
READ MORE: LUNA MAYA IS READY FOR FALL WITH TORY BURCH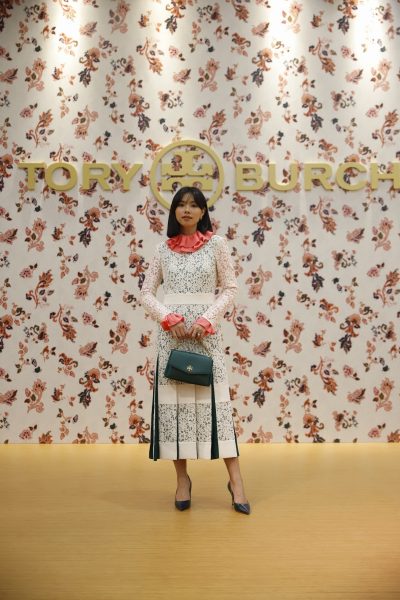 ---
Andien Aisyah
grand opening
MAIA ESTIANTY
Nagita Slavina
Olivia Lazuardy
personal style
Tatjana Saphira
TORY BURCH
tory burch boutique
TORY BURCH FALL-WINTER 2019
TORY BURCH INDONESIA
---