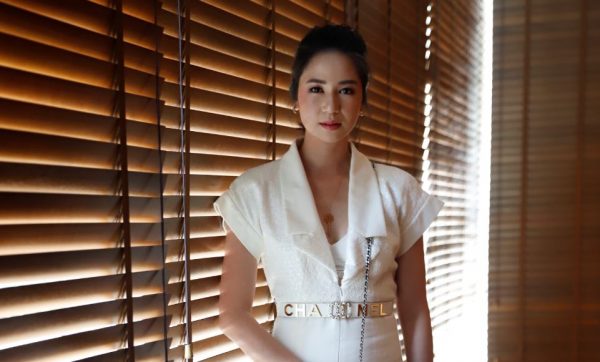 Not many people love to wear white. Aside from the fact that this particular color brings a certain level of freshness, (also) one of the most classic and stylish colors out there, people dislike how fragile and risky it is to wear this color. Especially during the upcoming rainy season.
Back to the fact that white is such a classic stylish color, it's one of the biggest trends happening for this fall-winter 2019 season. White is clean, always looks polished, hence it's giving us that fresh tone. And in the midst of the fast-paced social media era, we are given many white wardrobe options. From shirt, blouse, dress, knitwear, to probably jumpsuit. Wear it as a part of your total look, layer it, or wear it head to toe. The possibilities could be endless.
Let's try some styling suggestions from some famous faces in the industry. Hoping, everyone will not be clueless on how to wear white for whatever occasion they're dealing with later on.
Featured in Elle Indonesia magazine September 2019 issue, music producer and entrepreneur Maia Estianty was seen wearing a total FENDI look. The look was comprised of a white shirt, mesh jacket, skirt, and stunning boots. She looked fierce and cool. In short, someone you don't want to mess with. Key takeout, a simple white shirt could look sophisticated when paired with something made of mesh fabric.
View this post on Instagram
Next, we have digital influencer Ayla Dimitri who was photographed with another FENDI look that included a white shirt. Ayla wore a white shirt with a mini skirt and blazer (in light brown). She added black gloves and a bucket hat. Donning a matching set and overall preppy mood, Ayla radiated that school girl vibes, but with a playful twist.
View this post on Instagram
From Prestige Indonesia October 2019 issue, one could learn the subject of feminine style and silhouette. Young entrepreneur Jean Claudia (who was also the Covergirl) was photographed wearing a rather loose white blouse with a long red skirt, all from Valentino. Comfy? Absolutely.  The clean and crisp items were also an office-appropriate look. Again, with a twist (as the long white blouse had an artistic illustration at the front side).
View this post on Instagram
Another style tip came from Luna Maya in Her World Indonesia August 2019 issue. The actress and TV host was wearing Tory Burch Fall-Winter 2019 collection for the magazine's fashion spread. She matched a textured white shirt (with large sleeves and ruffle details on the neck) with a checks skirt. Yes, without the texture and ruffle details on the neck, the top could be any other bland white shirt. A suggestion for your next white shirt shopping. Details speak volumes. This is another classic pairing, but with several interesting details. Taking it to a chicer territory.
View this post on Instagram
READ MORE: LUNA MAYA IN A FLOWER GARDEN
The last styling idea is for a pro. Some total white look that provides dynamic silhouettes and details. Creating that less than ordinary white look. Firstly, singer Rossa who was styled in a very urban all-white ensemble. She combined a white shirt (worn with an inner bodysuit), white pants, and white boots. A rather tough look that she was rarely seen in. She broke the head to toe monochrome look with a very cute sparkling purple FENDI baguette.
View this post on Instagram
Next, we have movie star Laura Basuki in a very crisp CHANEL tweed jumpsuit. A very interesting one, as the jumpsuit featured wide legs and a tailored collar.  The whole jumpsuit did have that tailored mood, hence one could wear it to the office if paired with matching high heels. Yet, Laura chose a pair of sneakers to go with the jumpsuit. Luxurious yet casual at the same time.  Another chic addition to the look? the subtly sparkling CHANEL belt.
View this post on Instagram
Embracing fresh whites could be challenging during the wet weather, but it could be very rewarding at the same time. White easily catches attention, especially when you wear it head-to-toe. A totally white look is still too bold? start small and simple. Pick between a blouse or pants first. Lastly, find white pieces with nice details, because it gives that extra special touch.
READ MORE: THE COVETED VALENTINO GARAVANI VRING BAG
---
CHANEL
FENDI
LAURA BASUKI
MAIA ESTIANTY
Rossa
susi susanti
TORY BURCH
Valentino
---