"Our Spring/Summer 2022 collection is inspired by Claire McCardell's ingenuity and her legacy of American sportswear which revolutionized the way women dress. She discarded the rules of what women should wear, instead problem-solving for the reality of their lives. Her designs instilled a sense of freedom, encouraged self-expression and empowered women with a casual elegance that is as relevant today as it was in the late 1940s. 
The season reflects these then-radical ideas with a mix of versatility, function, integrity and joy. There are striking contrasts of color, print and fabric. Chiffon and linen, jersey and broderie anglaise; dresses collaged in picnic and Madras plaids, engineered stripes and solids, and color-blocked reversible jersey tops. Waists are softly defined with broad belts, long sashes and tech-knit bandeaus, balanced by the proportion of full skirts and relaxed trousers. 
There is a delicate tension between the retro and the modern. Cat-eye sunglasses and sculptural silver jewelry. Our Lampshade, a new bucket bag silhouette, is the inverse of a 1950s-inspired lampshade hat. This, along with oversized totes, hobos and crossbody envelopes, is crafted in suede, napa, double top-stitched leather and T Monogram raffia. An artisanal silver plaque is threaded with a hand-stitched leather logo detail, seen on bags, pendants and mules. Pointed and rounded flats accented with ankle ties or studs. Included are two reissues of McCardell's designs: a flat she created with Capezio in 1953, and a striped silk-cotton boot." — Tory Burch
This collection is part of our ongoing partnership with the Maryland Center for History and Culture, which houses McCardell's personal archives. To support the preservation of the designer's legacy, we established the Tory Burch Claire McCardell Fashion Fellowship at MCHC.
SILHOUETTES:
Flattering shapes made to wear in different ways, with a focus on casual elegance. Striking fabric combinations accentuate new and interesting proportions. Defined waists are wrapped, belted, or shaped with tech-knit bandeaus that we layer under and over tops, dresses and skirts with volume. Bustiers feel modern paired with relaxed pants. Jackets and sweaters have sculpted shoulders and sleeves. Workwear details that were McCardell signatures are incorporated throughout: hook-and-eye closures, double topstitching, exaggerated pockets. 
PALETTE: Joyful, unexpected combinations of red, fuchsia, lavender, blue, green and chartreuse. Bold and bright color mixes that you wouldn't normally put together, but that work. 

FABRICATIONS: Pieces that feel comfortable to wear, in mixes of humble and luxury materials. Silk chiffon with linen burlap or broderie anglaise, cotton poplin with matte jersey, tech knit with silk dupioni. Crepe jersey drapes beautifully on long skirts and dresses. Cotton poplin in light and more compact weights has added texture: embroidery, topstitching, and ruching that can be adjusted for different looks. 
ACCESSORIES: Bags, shoes and jewelry continue the themes of function and versatility. Totes and hobos are crafted in raffia and double topstitched leather with hook-and-eye closures. Evening bags in linen and leather are worn for day, with long beads inspired by Bakelite on the straps. The Lampshade tote is the inverse of a 1950s-inspired lampshade hat. Pointed and rounded flats are accented with ankle ties or studs. Two reissues of McCardell's designs are included: a flat she created with Capezio in 1953, and a striped slik-cotton boot. Classic cat-eye sunglasses and sculptural silver jewelry round out the collection.
PRINTS + PATTERN: An homage to Claire McCardell's love of stripes, reimagined in every direction. Chevron, shirting and awning stripes on cotton poplin and silk shantung, dimensional plaited-rib knits and delicate iterations done in broderie anglaise and pleated honeycomb eyelet. Topstitching becomes a graphic grid pattern, and Madras and picnic plaids are printed and woven in different scales.
THE SHOW: Tory invited guests to a different kind of show. The Mercer Street Block Party, on Mercer Street, right by our new 151 Mercer Street boutique, in New York's historic SoHo neighborhood. After the runway show, which included a performance by dancer Lil Buck and drummer Cornelio, the Tory Burch & Co. Block Party opened. Local SoHo businesses and restaurants, with booths lining either side of the runway, welcomed guests to eat, drink and shop. The vendors: Balthazar, BonBon, Maman, Morgenstern Ice Cream, Peddler Coffee, Ruby's Sant Ambroeus, Vesuvio. It was in celebration and support of downtown New York.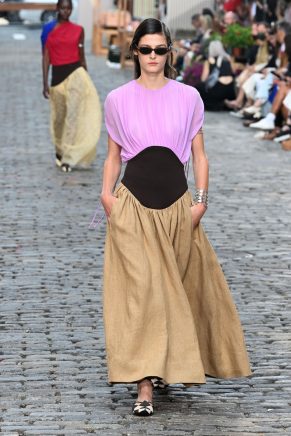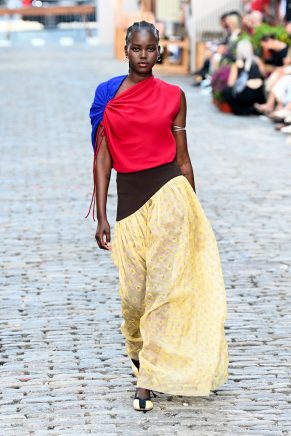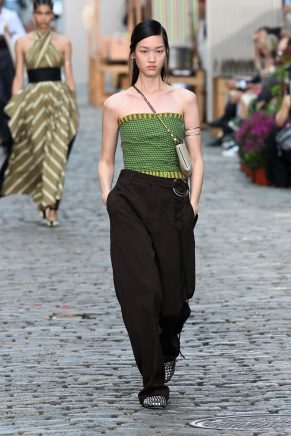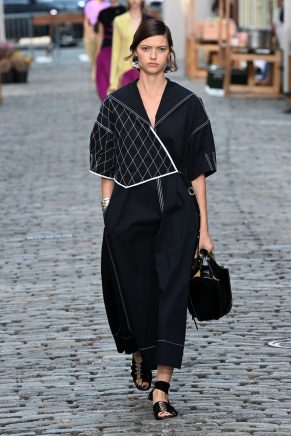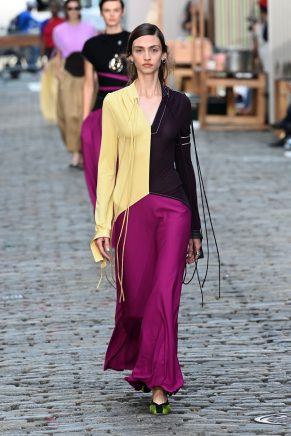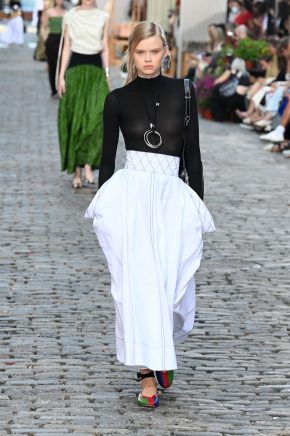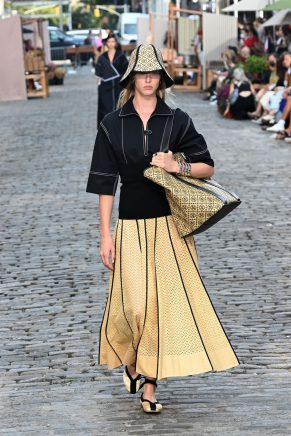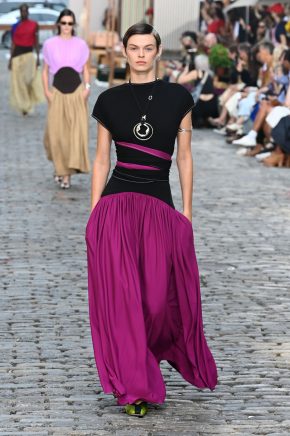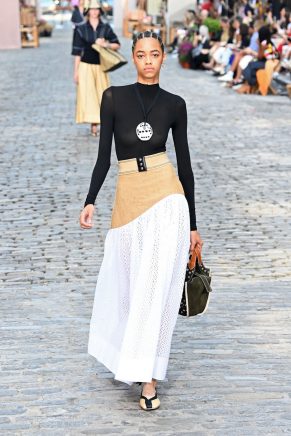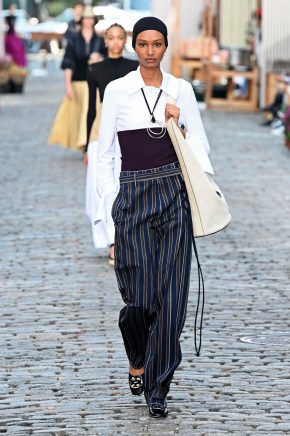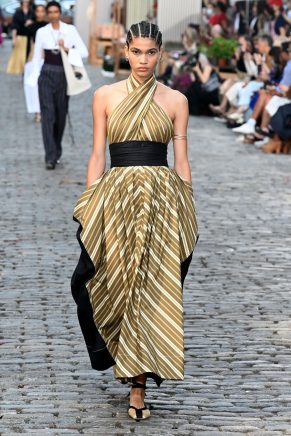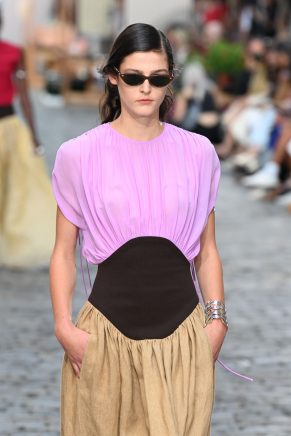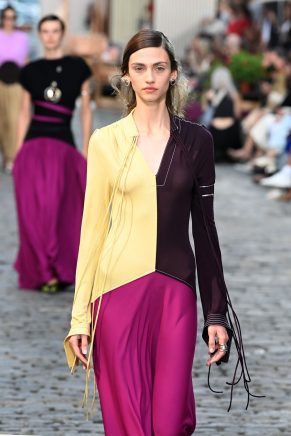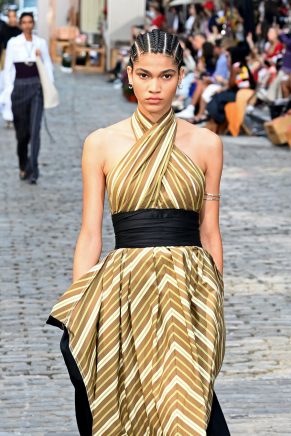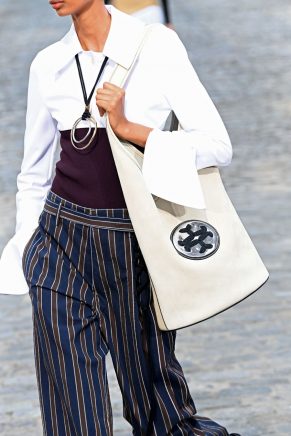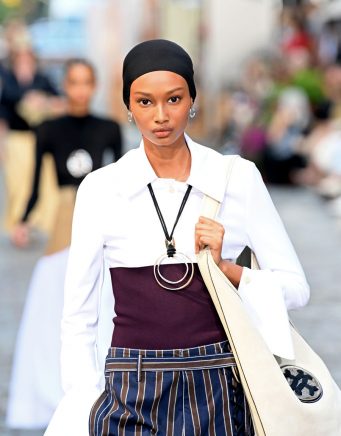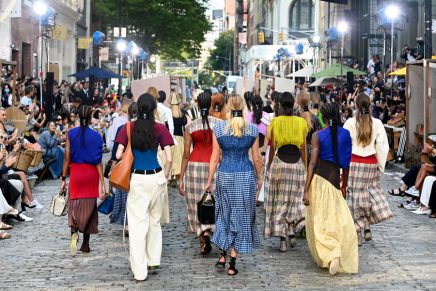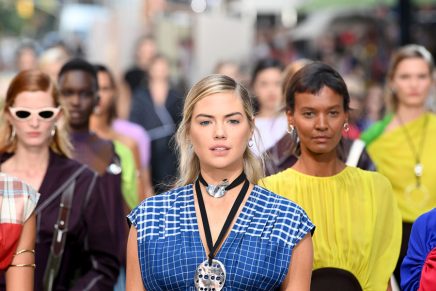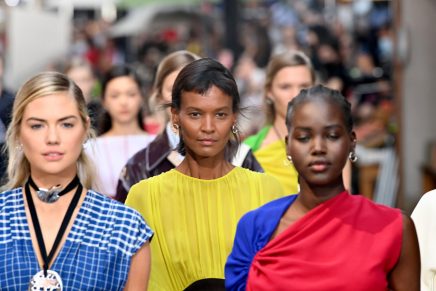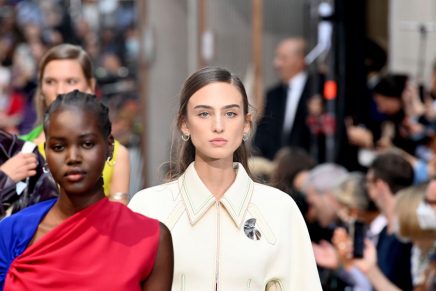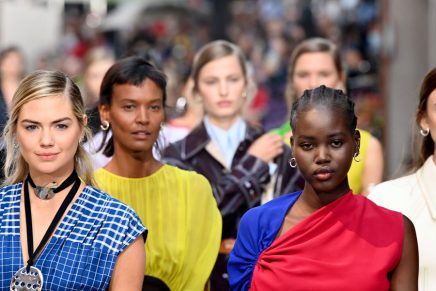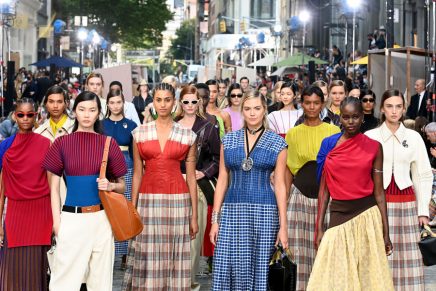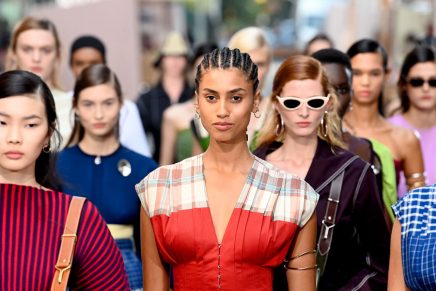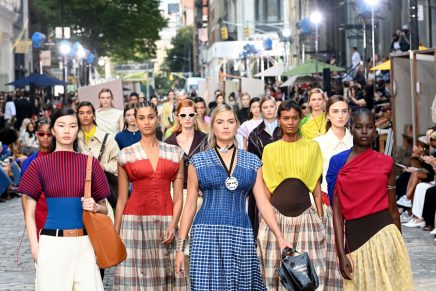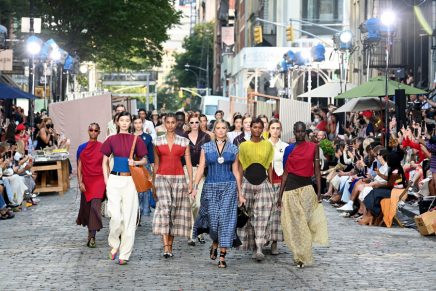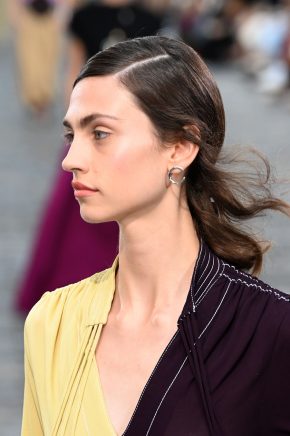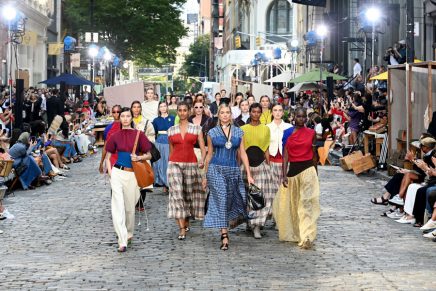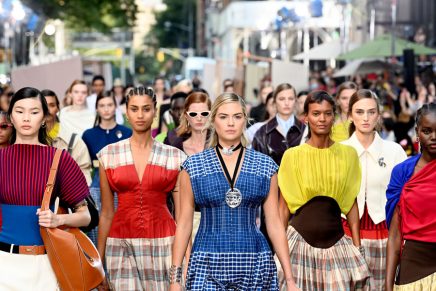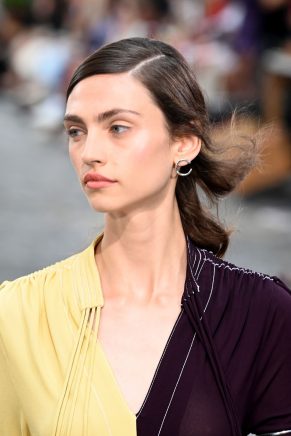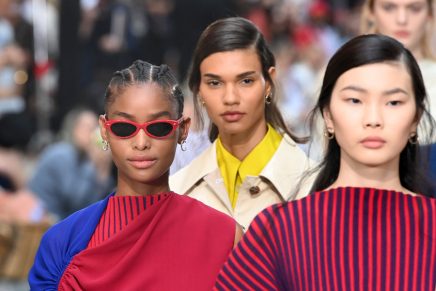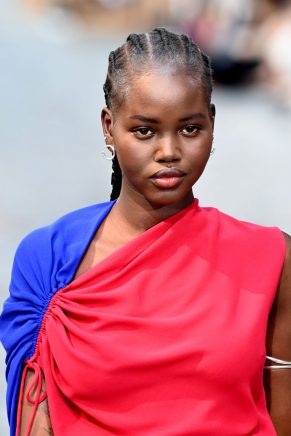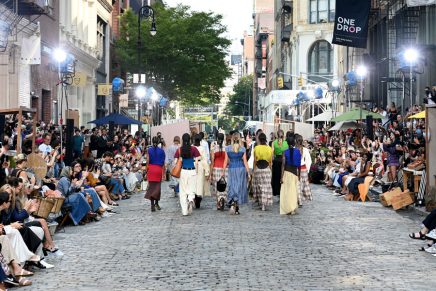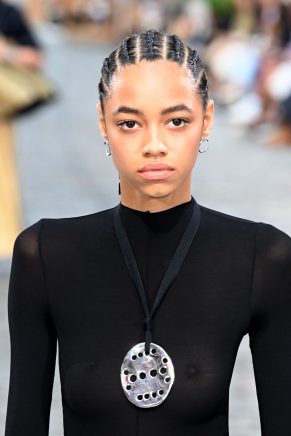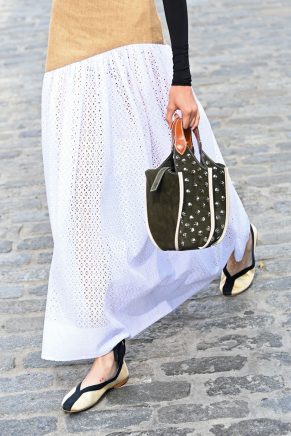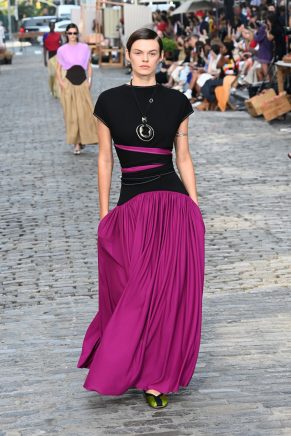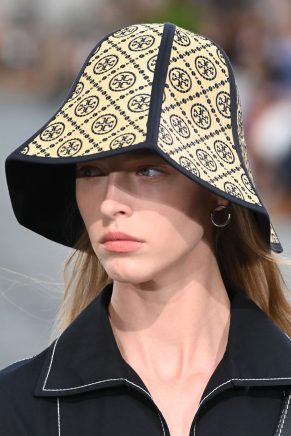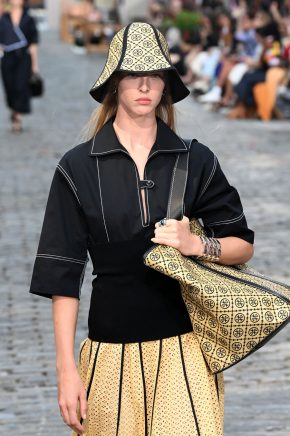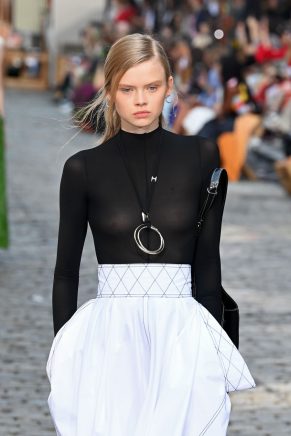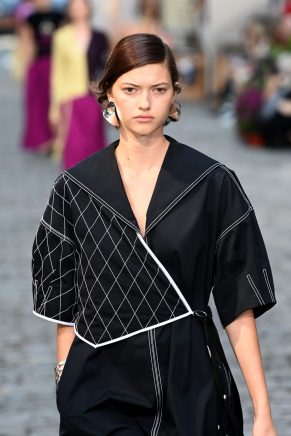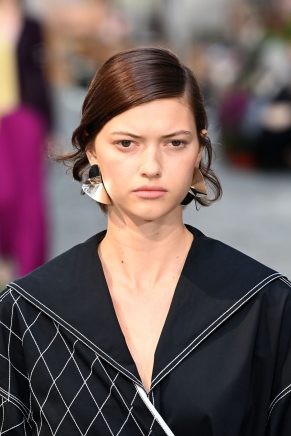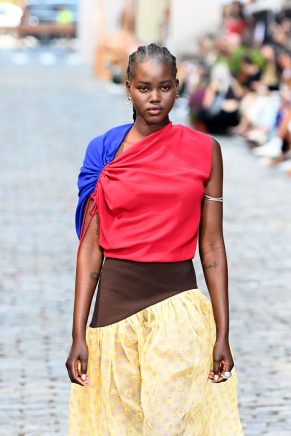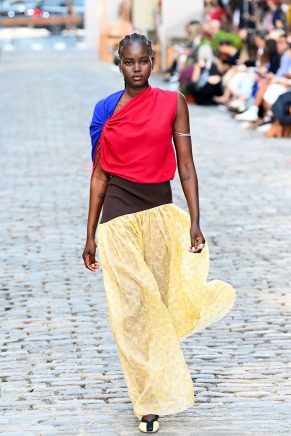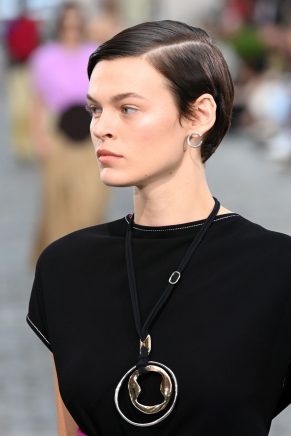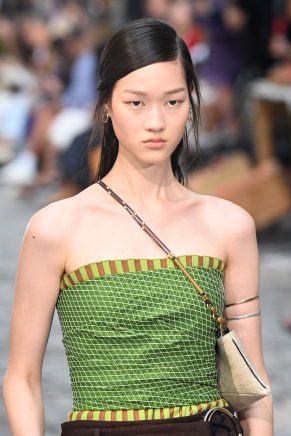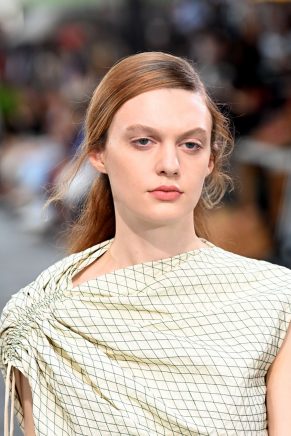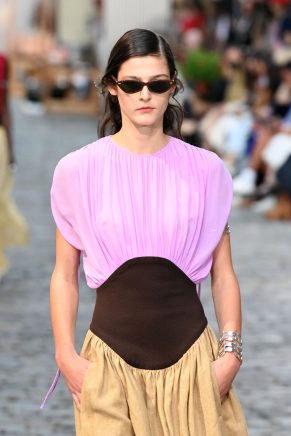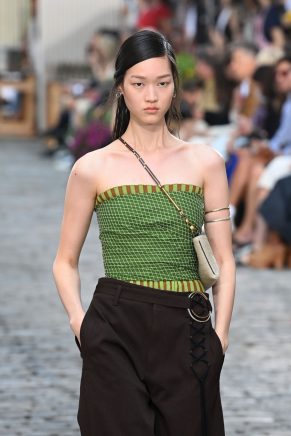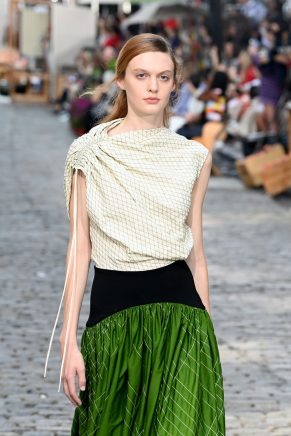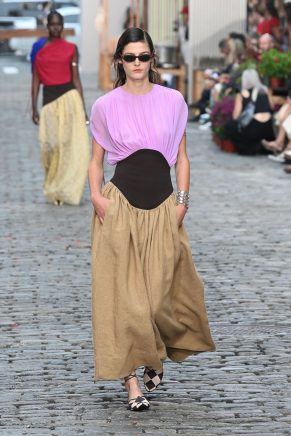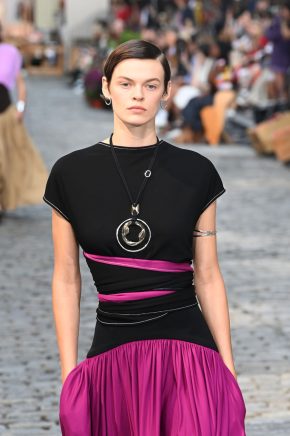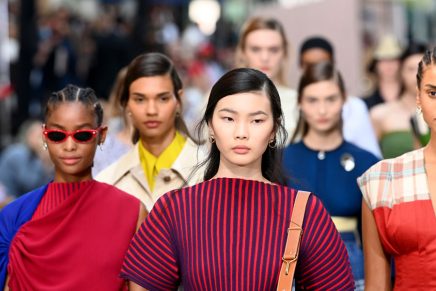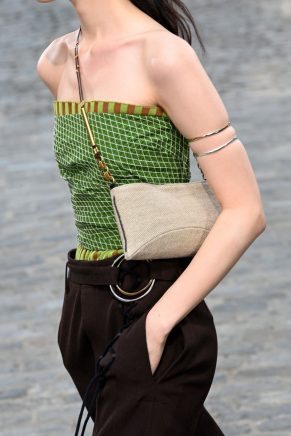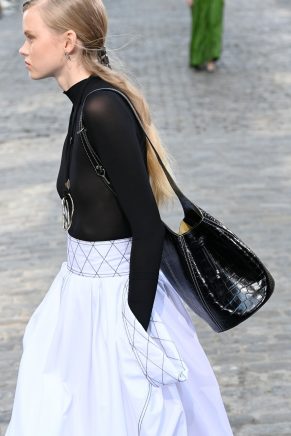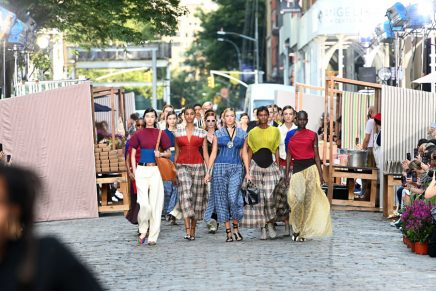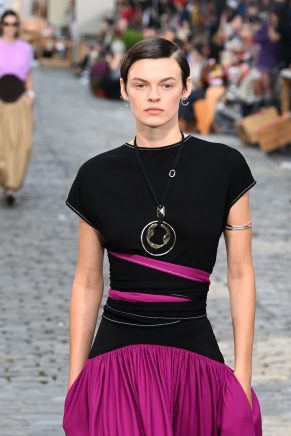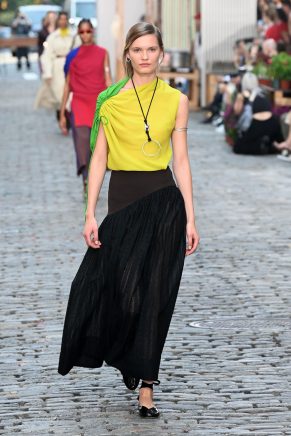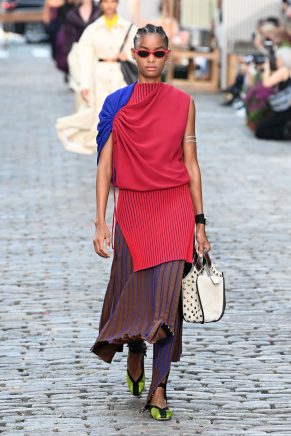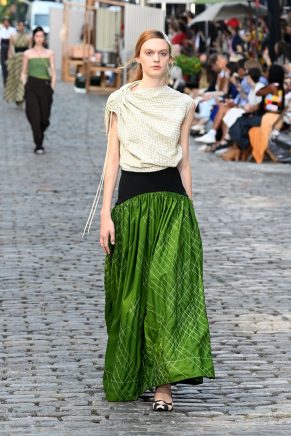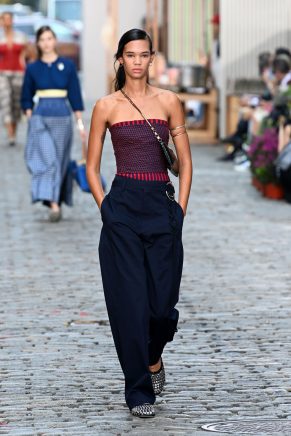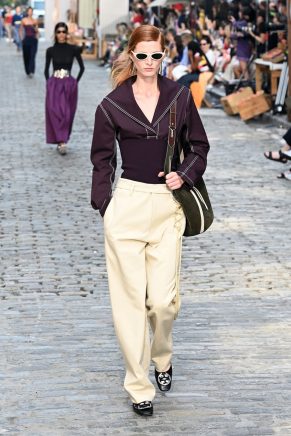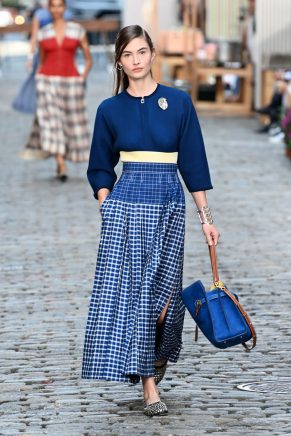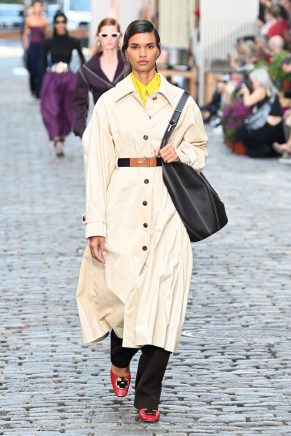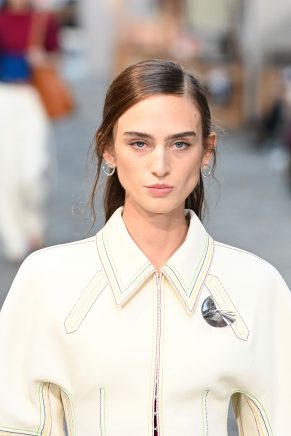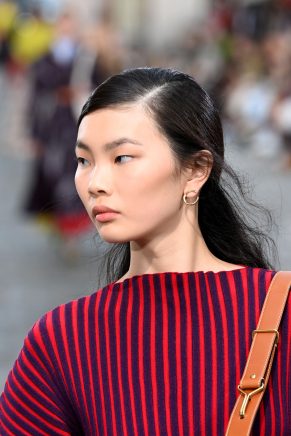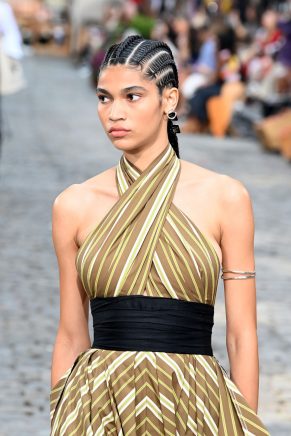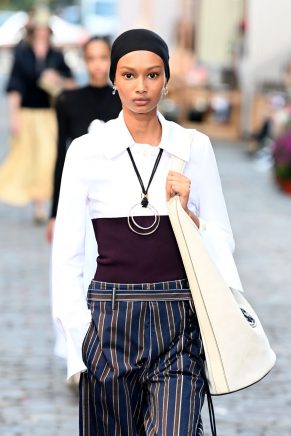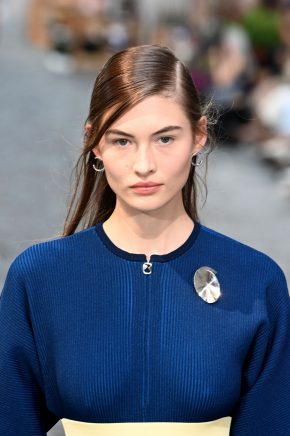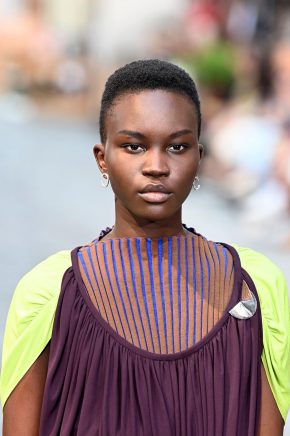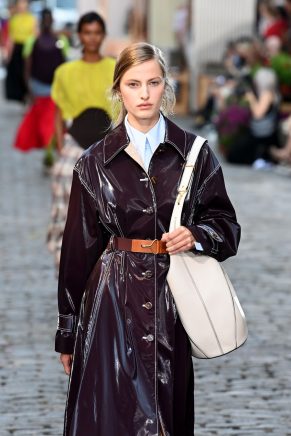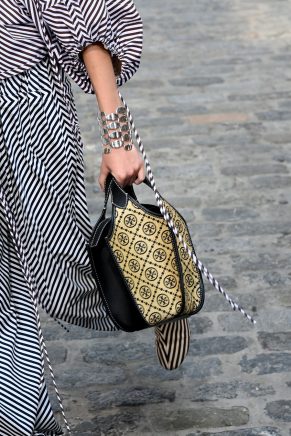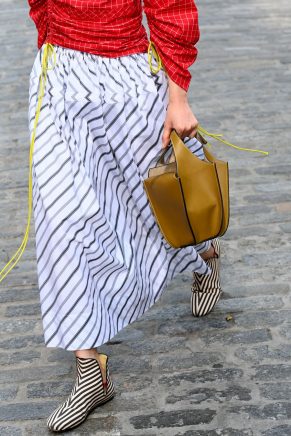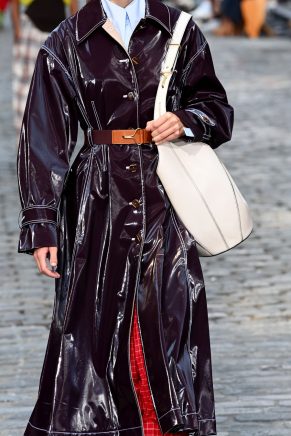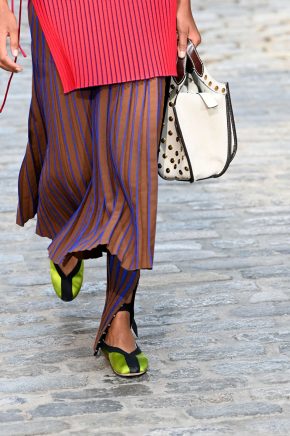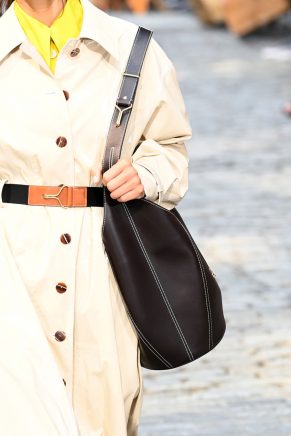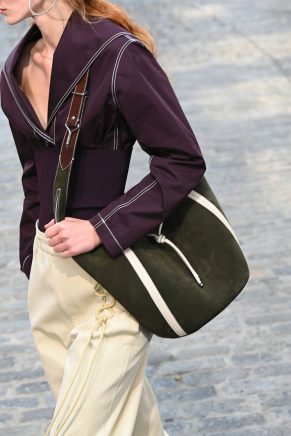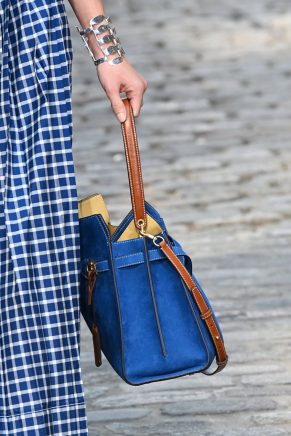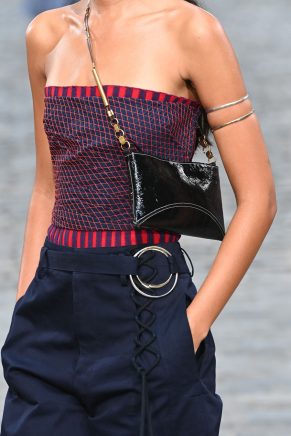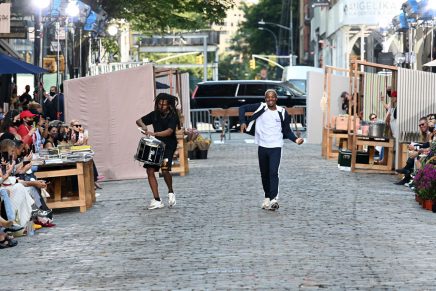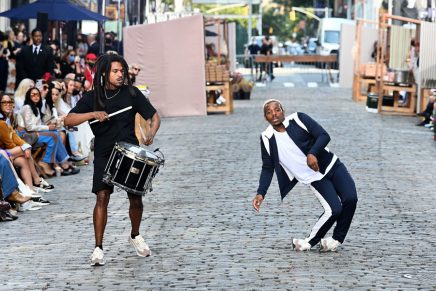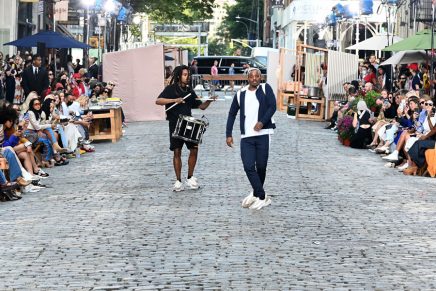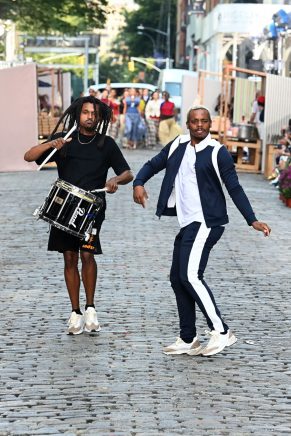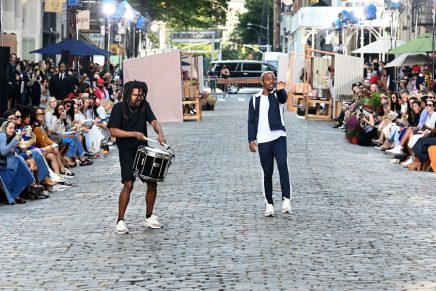 ---
design
sportswear
spring summer
spring summer 2022
STYLE
TORY BURCH
TORY BURCH SPRING SUMMER 2022
---