Valentino revolutionises environmental-friendly, high-end fashion with novel packaging and materials
By The Time Place Magazine
It is truly inspirational to bear witness to the evolutionary era of fashion we are currently in, with regard to the defiant commitment to sustainable material, distribution, and consumerism. Valentino is headlining this movement for the category of luxury retail brands. Under this umbrella of a sustainable movement, the Open and Rockstud Untitled sneakers, are completely re-designed to utilise sustainable materials. Furthermore, Valentino upholds environmentally-sound sourcing and production for its shopping bags, boxes, boutique stationery and greeting cards, fabrics for its garment covers and dust bags, cover gift boxes, waterproof shopping bag and white ribbon. 
Clearly, this project is no small step. Valentino has committed to an entire remodelling of so many facets of the Maison and a change so grand will, inevitably, inspire more brands to follow suit and thus normalise, encourage, and further promote the emerging market for luxury, sustainable fashion. 
Closely examining the re-design of the two aforementioned sneakers, the Maison shared details of their sourcing as well as the type of environmentally-friendly materials they are using. To accurately depict the positive, environmental impact of Valentino's Open for a Change Project, we examine the materials used on the Open and Rockstud Untitled sneakers. Previously, these pieces were made of leather. Notably, the Maison has not only moved away from non-sustainable materials, but animal and cruelty-friendly ones as well. In addition to tapping into the sustainable fashion movement, we now further appreciate Valentino's commitment to reducing the use of animal products in fashion. The alternative, as duly expressed in Valentino's project announcement, is "viscose and polyurethane of corn-derived polyols" to "partially make the upper of both models and part of the Open's side band; the strings are completely made of recycled polyester, while the Valentino trademark studs on the Rockstud Untitled are also made of recycled nylon. The environment-centric approach is reflected in the shoe case and the packaging too, which are made of fully recycled cotton and paper, the latter sourced from sustainably-managed forests."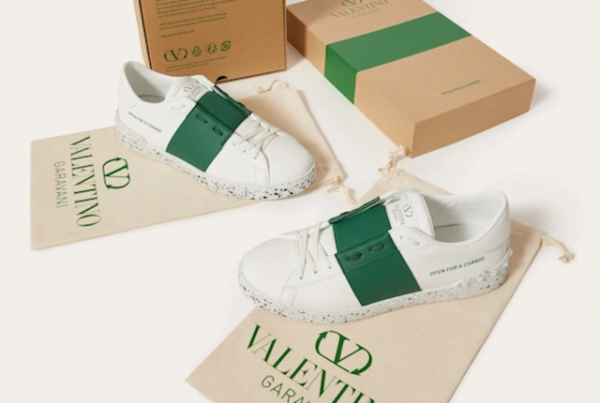 These defiant new sneakers are the first in line for the Maison's new project, Valentino Garavani Open for a Change. Part of the Spring-Summer 2022 collection, these footwear, as well as the other pieces in the line, bear a digitally printed green logo as a symbol of the substantial shift Valentino is undertaking. Following the re-design, these trendy shoes will now be associated with the sustainable ethos and dedication of Valentino to be more environmental-friendly. 
Looking at Valentino's new generation packaging, with the accompanying motto as "embracing sustainability", this aspect of the movement requires more tedious and small-scale changes within the Maison to culminate in a great shift in its philosophy. The very materials enclosing each Valentino product sold is now bio-based and sustainable, and metaphorically we can see how the environment and its naturally occurring materials likewise enclose and protect our planet's abundant life beings.  
As beautifully expressed in Valentino's announcement, "the new packaging, which finds its chromatic balance in the interplay of white with the Maison's trademark Valentino red – with a brand new vibrant and intense nuance – will be available in boutiques and on e-commerce platform from November 2021."
It is with open minds, hearts and eyes that we applaud Valentino's revolution of sustainable high-end fashion and, as eco citizens, continue to protect our earth in as many small, daily gestures as possible. 
#READANYWHERE the latest issue of The Time Place Magazine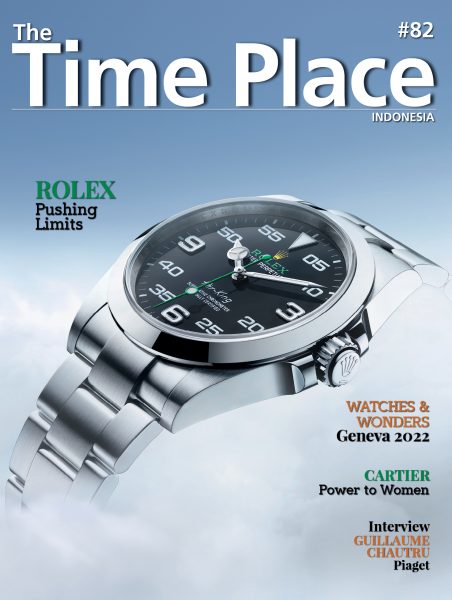 ---
open for a change
sneakers
sustainable
Valentino
Valentino Garavani
Valentino Garavani sneakers
---