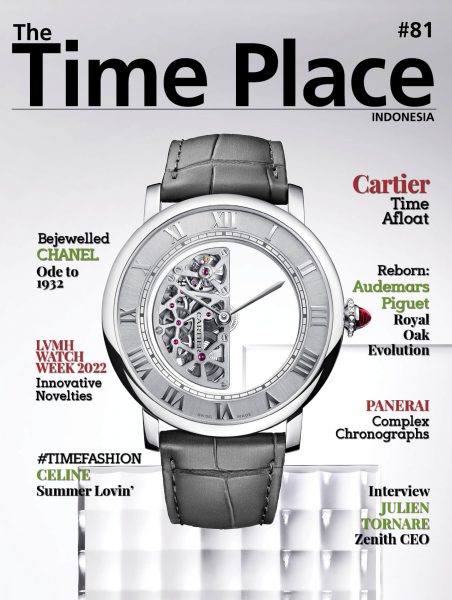 The Time Place magazine is off to a great start this 2022. As part of our commitment to deliver the very latest in haute horlogerie, we present you with the Cartier Masse Mystérieuse on our cover. A highly technical timepiece, it combines two of the Maison's signatures: the skeleton and the mysterious movement. Find out more about this singular timepiece in "Magical Mystery".
At the end of January, we were pleased to take part in the LVMH Watch Week 2022. Spanning five days, the fully digital event showcased new watches and innovations from the distinguished group's roster of fine watchmaking brands: Hublot, TAG Heuer and Zenith. Check out the top pieces from these three magnificent Maisons in our Industry News article entitled "The Show Must Go On".
With the pandemic still ongoing, almost three years since its onset, many watch brands have honed their marketing strategies by fully embracing social media and digitalization. In our Interview section, Julien Tornare, Zenith CEO, shares how the company uses digital platforms to continue to connect with customers, deliver what they want, and yet remain true to Zenith's DNA and rich heritage.
For Reborn, we highlight the evolution of the Royal Oak over the course of 50 years. One of haute horlogerie's iconic models, the Royal Oak has been enriched by Audemars Piguet's innovative vision and legacy in fine watchmaking. Check out the progression of this age-old icon in "Magnified at 50".
In #TIMEFASHION, we see how the different luxury brands portray the shift in fashion trends due to or despite the pandemic. Berluti and Zegna explore new symbolic expressions, while lively and colourful pieces are showcased in the Summer 2022 offerings of CHANEL, Valentino, Celine, Tory Burch and FENDI.
Lastly, our High Living section has been renamed Luxury Pursuits to cover even more areas of refinement and pleasure. Join us as we delve deeper into the leisure of time and living life to the fullest.
---
Cartier Masse Mystérieuse
cartier watch
Irwan Mussry
THE TIME PLACE
the time place magazine
---