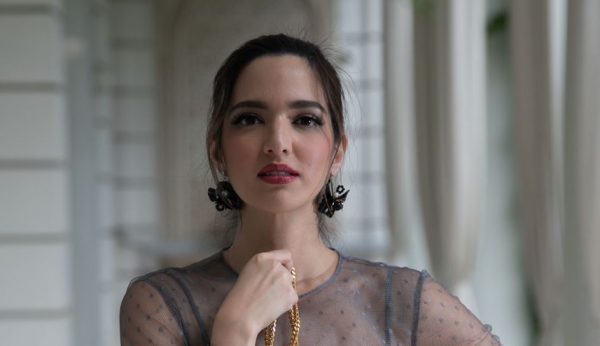 Time International visited Nia Ramadhani at her home a couple of weeks ago to shoot the actress having fun with the latest collection from REDValentino. The actress looked glee as ever, and still very active as a young mother of three.
READ MORE: VALENTINO SNEAKERS ARE GIVEN THE UNDERCOVER MAKEOVER 
The shoot happened relatively quick, Nia tried three REDValentino looks from the Fall-Winter 2019 collection. Feminine and delicate dresses, in various lengths, and details. One specific look was a sheer light grey dress with a black ribbon tied on the hip. Perfect for that year-end party. Next, Nia wore a floral printed black dress featuring ruffles on the sleeves and the hemline. For the last look, she wore a long sleeveless dress with beaded crystal details on the top.
READ MORE: CELEBRITY AND INFLUENCERS DRESSING SEPTEMBER 2019
Completing the shoot, Nia answered several questions from Time International about personal style and her current life as a wife and a mother. Find out what is her style, a huge trend that she would love to try but feeling unsure about it – and apparently – she did not miss working for TV dramas anymore. She quit television when she married Ardi Bakrie, the youngest son of Aburizal Bakrie, in 2010. You can always play the video the find out her full answers.
READ MORE: THE COVETED VALENTINO GARAVANI VRING BAG
---
actress
FALL WINTER 2019
Nia Ramadhani
personal style
red valentino
Television
TV
---