Jakarta, 8 July 2019 – INTime is proud to congratulate Indonesian weightlifters for breaking several world records both in Junior and Senior categories.
Windy Cantika Aisah and Muhammad Faathir competed in the Junior World Weightlifting Championships, held in Suva, Republic of Fiji Islands back in June 2019.
Windy Cantika Aisah, 17, won second place with three silver medals in Youth W49kg Group A category, breaking her own previous record at 177 kg after lifting a total weight of 179 kg (81 kg in "Snatch" category and 98 kg in "Clean & Jerk" category). As the saying goes, "The apple doesn't fall far from the tree". Cantika's mother, Siti Aisah, won 1 silver and 2 bronze medals in 1988 Women's World Weightlifting Championships at the age of 16, making her the youngest Indonesian women weightlifter to win a silver medal.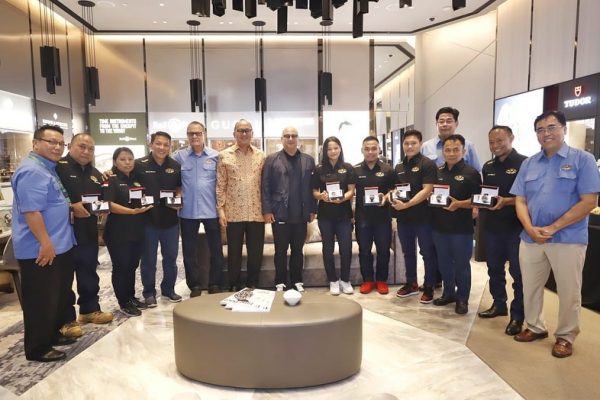 Samarinda born Muhammad Faathir, at the young age of 16, managed to bring home a silver medal and set a new Youth World Record with the "Clean and Jerk" result of 149 kg. Already in the 61kg male class, Faathir performed a perfect force weighing 144 kg in the first batch of "Clean and Jerk" and added a barbell to 149 kg with success.
Eko Yuli Irawan, 29, best known as Indonesia's Olympian and World Champion weightlifter, claimed three gold medals at the World Weightlifting Championship in Ashgabat, Turkmenistan late last year. With his impeccable performance, he broke a new world record in the 61 kg class after lifting 143 kg in "Snatch" and 174 kg in "Clean & Jerk" category, bringing his total to 317 kg.
To celebrate these achievements, INTime invited all three weightlifters as well as their team of coaches to the newly opened INTime boutique at Central Park Mall Jakarta for an intimate event to present each of them with a TISSOT watch as a form of appreciation for their excellent accomplishments and willpower. The heart-warming event was also attended by Mr. Rosan Roeslani, the head of PB PABBSI and its vice head, Mr. Djoko Pramono.
"Our warmest congratulations to the Indonesian weightlifters for a well-deserved success! We really hope their hard work and excellent performances will inspire many young athletes to work hard and pursue their dreams. Once again, thank you for making this country proud." said Irwan Danny Mussry, President and CEO of Time International.
The newest member of the Time International family, TISSOT has always had a passion for sportsmanship. TISSOT, a major sponsor of the recent 2018 Asian Games, is a trusted Official Timekeeper and partner of many of the most important sporting events and disciplines around the world, including the NBA, Tour de France and MotoGP™.
---
eko yuli irawan
Irwan Mussry
muhammad faathir
tissot watch
windy cantika aisah
world champion weightlifter
---