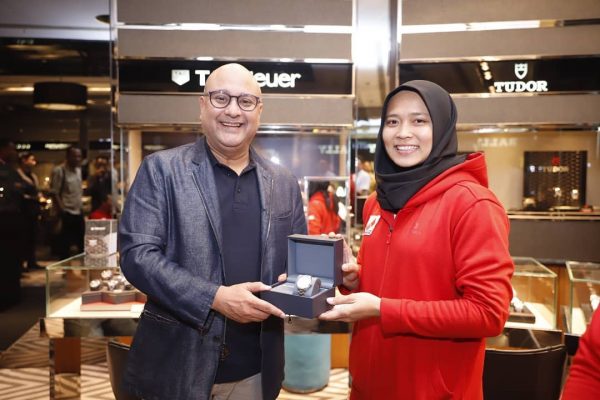 Jakarta, 6 November 2019 – INTime is very proud to congratulate Indonesian sport climber for winning the gold medal and breaking the world record in International Federation of Sport Climbing (IFSC) World Cup in Xiamen, China, on October 19, 2019.
Aries Susanti Rahayu, 24, competed in the category of women's speed and successfully won the first place, beating world's #1 sport climber, China's Yi Ling Song in the final stage. While Yi Ling Song finished in 9,302 seconds, Aries managed to finish in 6,995 seconds. That moment brought Aries Susanti Rahayu to become the first woman sport climber to finish in less than 7 seconds and to break the world record for women's speed.
These achievements wouldn't have happened without the intensive training from her coach, Hendra Basir, who initially invited Aries to join training program for Asian Games 2018 which ended up with Aries' recruitment by Federasi Panjat Tebing Indonesia (FPTI) as one of the main athletes in Pemusatan Latihan Nasional (Pelatnas).
As a token of appreciation, INTime invited both Aries Susanti Rahayu and Hendra Basir to INTime boutique at Plaza Senayan Jakarta to present each of them with a TAG Heuer watch for their excellent spirit and accomplishments.
"We truly appreciate your talent, the game and of course, the coach. We are so proud to have such talent from our own country and we wish you continued success!" said Irwan Danny Mussry, President and CEO of Time International.
INTime chose TAG Heuer for Aries and Hendra as they shared the same dedication to precision and commitment to excellence under pressure. Each TAG Heuer watch is unique, combining high-class Swiss watchmaking with the most advanced technology to guarantee accuracy, performance and prestige. Over the years, TAG Heuer watches have really stood out from the others and become truly iconic.
---
aries susanti rahayu
Hendra Basir
indonesian sport climber
INTime boutique
Irwan Mussry
tag heuer
---