Solo, 23 November 2021 – INTime proudly honours and congratulates Indonesian athletes for winning Gold, Silver and Bronze medals at the Paralympic Games Tokyo 2020.
The Indonesian team marked a new historical achievement by bringing home a total of nine medals.
Leani Ratri Oktila, along with her partners Khalimatus Sadiyah and Hary Susanto, won two gold medals, each in women's doubles SL3-SU5 and mixed doubles SL3-SU5. Often simply referred to as Ratri, she also won a silver medal in women's singles SL4, making her Indonesia's most successful Paralympian during the 2020 games.
 Three other remarkable athletes in the same sport category, Dheva Anrimusthi, Suryo Nugroho, and Fredy Setiawan, also took home medals for Indonesia. Dheva Anrimusthi, the men's singles athlete of Badminton SU5, finished second taking home a silver, while Suryo Nugroho, in the same number and category, was able to get bronze after winning in straight sets. In the bronze medal match for the Badminton men's singles category SL4, Fredy Setiawan won against the representative from India, Tarun.
Exceptional achievements were also made in other categories, by Ni Nengah Widiasih, Saptoyogo Purnomo, and David Jacobs.
Ni Nengah Widiasih, who competed in the women's 41 kg para-powerlifting, opened Indonesia's medal tally at the Tokyo 2020 Paralympics by winning silver. From para-table tennis, David Jacobs, presented a bronze medal in the men's singles event in the TT10 class, and Saptoyogo Purnomo who represented Indonesia in the men's 100 meter para-athletic event in the T37 class brought home a bronze medal.
 Time International had the opportunity to meet the inspiring Paralympians that have become the pride of the nation in a private get-together at Kusuma Sahid Prince Hotel, Solo, Central Java. To support this tremendous achievement, Time International President and CEO, Mr. Irwan Danny Mussry, together with Time International Vice President Ms. Shannon Hartono, presented TAG Heuer timepieces from INTime to the athletes and their respective coaches. On behalf of the entire Time International family, Mr. Irwan Danny Mussry wished all the athletes continued success.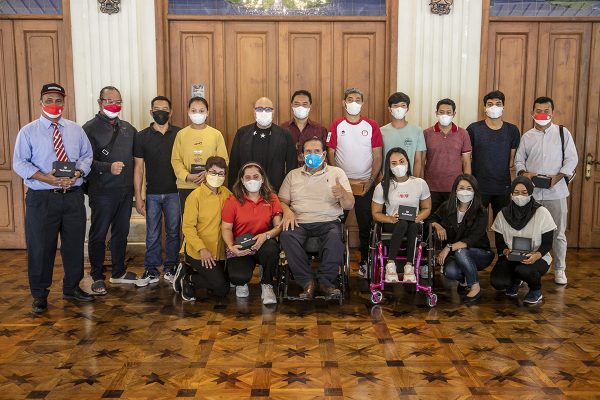 ---
Hary Susanto
Indonesian Paralympic athlete
INTime
Irwan Mussry
Khalimatus Sadiyah
Leani Ratri Oktila
shannon hartono
tag heuer
---