In the warm embrace of the golden hour's glow, Sherina Munaf ponders the woman she has evolved into. As she reconnects with the depths of her being, she finds solace in the cherished memories of past adventures, and the thrill of new ones that lie ahead.
By The Time Place Magazine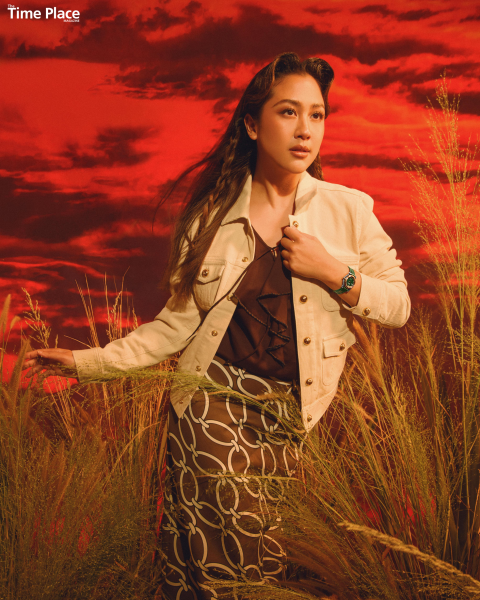 Watch: Chopard Happy Sport | Outfit: Celine Jacket, Lumine – Spick & Span Blouse, Valentino Maxi Skirt
Sherina Munaf holds a universe inside her mind. It is magical, and she grew up with a longing to share it with the world. The multitalented woman has always lived her life on her terms, and lived it in full force she did because, in her own right, she was a force herself. Sherina does not hold back, not even for one single second, to seize every golden moment as hers. Indeed, she was the author of her own adventure.
Eager and ever-curious since young, Sherina embraced a multitude of artistic pursuits for as long as she could remember. Each day was a new canvas for her to colour with the things she loved to do. "I get quite crazy greedy when it comes to art. I would force Mom to let me try out so many things. Ballet, martial arts, drawing, singing, performing…whatever it was that engaged me and allowed time to slip away without notice," the woman, now fully grown, cheekily admitted.
At 10 years old, she made her debut as 'Sherina' in "Petualangan Sherina (2000)", the movie that reeled her name to fame. Since then, from the playground to the red carpet, Sherina grew up under the scrutiny of the public eye. Although it brings its own benefits, the public eye can also be unkind, especially for a young girl navigating her way through womanhood, grappling with the imperfections that society has ruled out as unacceptable. "Just like other girls, I was presented with the same insecurities. At one moment in my career, my picture was heavily edited without my consent. I don't think we can even call it editing—they replaced my leg with someone else's," Sherina chuckled semi-incredulously.
Watch: Hublot Big Bang Unico Yellow Magic Sapphire | Outfit: Celine Shirt
In an era defined by social media, the world seems intent on anonymously and unanimously dissecting, amplifying, and peeling around one's flaws…much like peeling an orange. Every stroke, every note, and every word she said, the world was her audience, applause, and biggest critique. "I was like…is something wrong with my legs? Are they not supposed to look like this?" the actress pointed at her legs jokingly. "But I am glad that the conversation on perfection is going in a direction that is positive and empowering, like what they did with the "Barbie" movie! It truly is an exciting world that we live in today."
Being human, just like the rest of us, Sherina has faced periods when she felt uninspired creatively. "There was a moment when I didn't know what I wanted to do," she conceded. "So, I set out to explore things that have always sparked curiosity yet remained unfamiliar to me." And with that, she did it all: delved into animation, studied neuroscience in Australia, and travelled to Japan for two years to learn Japanese. Much like the little girl she portrayed in "Petualangan Sherina (2000)", the lady radiates unstoppable energy, always in pursuit of her next adventure.
Sherina swiftly realised that she had perpetually been in search of the same things throughout her endeavours: stories. Her true nature was and is a storyteller, in every sense of the word. "I was always trying to identify an idea for a story in every little thing I do so that I can start making a premise!" she said passionately. "Once I realised that I was made to tell stories, through whatever medium it may be—movies, books, songs, comics, animation—I headed back to the film industry and had so much fun shooting for the movie 'Wiro Sableng'."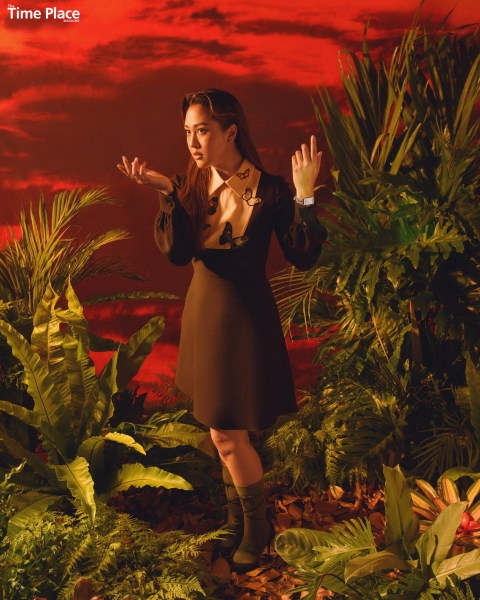 Watch: Jaeger-LeCoultre Reverso Classic Medium Duetto | Outfit: Valentino Contrast colored shirt dress
Twenty three years ago, Sherina had the beautiful opportunity to pour out the tales that dwelled within her through her work for "Petualangan Sherina (2000)". Memories of filming for the movie can be likened to a golden hour, snippets of a beautiful childhood that eventually became bittersweet as the sun set and everyone grew up. Those cherished childhood memories might have faded over time, yet as long as the sun continues to rise, golden hours will come again, as they did with the actress and the revival of the much-loved family movie, for its second chapter.
For the long-awaited sequel, the creative-minded woman assumed many roles: music director, composer, and the character of Sherina, all grown up. Without any formal training in filmmaking, the task of creating music illustrations, especially film scoring, posed a challenge for her. But with no questions asked nor any time to ponder about perfectionism or self-doubt, Sherina plunged into the task, relying on her instincts on what would best serve the film's vision.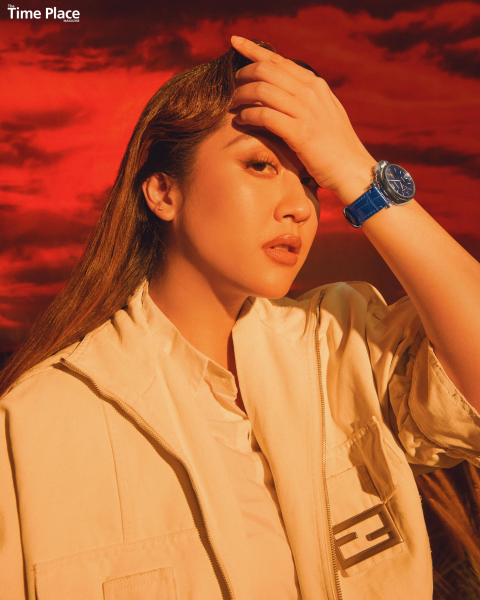 Watch: Panerai Luminor Due Luna | Outfit: Marc Jacobs x Fendi Bomber Jacket
Within a brief span of just one and a half months, the songbird managed to compose 40 songs. "I was genuinely surprised by my own abilities," Sherina beamed. Instead of becoming overwhelmed, the pressure propelled her to think creatively and create, create, create…until she recognised that there was no limit to what she could do as long as she let her passion guide her journey. "A journey that includes not only me but also my co-star, Derby Romero, and the entire production team as well as the audience who, like us, have grown up together since the release of the initial 'Petualangan Sherina'," the actress expressed in excitement.
When asked about what we can expect from this second installation, Sherina gushed, "Adventure, nostalgia, friendship, and lots and lots of singing and dancing! But most of all, I hope the audience gets to reflect on the person they have grown up to become, 23 years since the first movie was released." The idea that people will be viewing "Petualangan Sherina 2" alongside the very same friends or family they watched the initial film with fills her with so much excitement. "I imagine it, and it seems like a scene from a movie itself. Maybe some of them already have kids or grandkids, I don't know. But it warms my heart because as they've all grown up, I've grown up right with them." Sherina's eyes sparkled. Not to be missed, "Petualangan Sherina 2" will be hitting the big screens on September 28, 2023.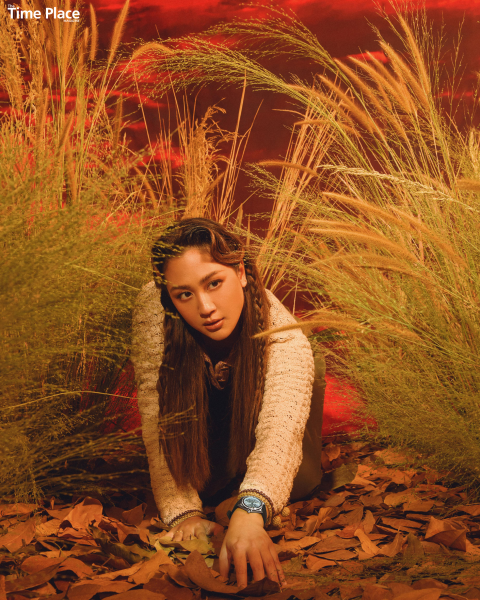 Watch: Breitling Chronomat Automatic 36 | Outfit: Tory Burch Jacket & Polo Shirt , Lumine – Redyazel Pants
Throughout the years, Sherina has matured with fluctuating fascinations and evolving ambitions. She grew up aspiring to leave a legacy, yet the topic of legacy can be a twisted thing. "Legacy. What is a legacy? It's planting seeds in a garden you never get to see," the lady quoted Alexander Hamilton, from the musical "Hamilton (2020)". The lyrics had stirred Sherina, "What is it that she is truly chasing? Is it happiness? Is it legacy?" she reflected. With everything painted in the permanence of impermanence, Sherina realised that none of it really mattered. "As long as I do my part in taking care of the people and the animals around me, it is enough," she paused, as if lost in her thoughts. "In the end, doing what you love will make you happiest. And if you can find a couple of people who love the same things, and would like to ride along the adventure with you, then you are very lucky."
With the sky ablaze and the sun, a brilliant, shining light, Sherina Munaf was a sight so stunning and unyielding. It seemed as though she was declaring, "The golden hour belongs to me," and despite the inevitably approaching night, Sherina knows that some memories will remain golden only if she lets them slip by.
Creative Direction: Erika Tania
Text: Charlene Atalie
Photography: Prabowo Prajogio
Styling: Anantama Rizky Putra
Make Up: Archangela Chelsea
Hair: Aloy Hairstylist
Decor: ARTE
#ReadAnywhere the latest issue of The Time Place Magazine

---
Petualangan Sherina
sherina
Sherina Munaf
the time place magazine
---