Her eclectic personality shines in the new Advertising Campaign shot by renowned Steven Meisel in New York. Florence Pugh enters the world of values of Maison Valentino and Pierpaolo Piccioli who perceives identity as an essential element of his creative process that portrays an imaginary made of self-expression. The actress reveals her body with an insouciant attitude and fierceness, that make her unique. She steps into Valentino designs making them become alive, aware that a moment represents a time, a place, a feeling. Despite her impressive talent, the actress brings new relevance to the contemporary scenario with her vitality and humanity. Florence has been embraced across the globe for her extraordinary talent in conveying complex characters on screen as well as an outspoken advocate for being your authentic self and embracing non-conformity.
View this post on Instagram
The new Valentino Advertising Campaign is an Encyclopaedia of Feelings. Florence has the power to express a character maintaining her identity. The range of emotions she is able to represent through her body language and facial expressions makes her presence both personal and universal. She has been photographed by Steven Meisel in an authentic way: from crying, to screaming and laughing – a series of portraits that amplify different emotions that are relatable and compelling.
View this post on Instagram
The storyboard of the campaign continues with a series of shots featuring also new talents. Florence takes on the role as the leading actress in the images that depict a group of individuals engaging in a lively conversation, with animated expressions and gestures. The white photographic background conveys a timeless scene that portrays a snapshot of everyday life. The subjects could be scenario to socialize and connect, such as friends catching up over coffee, colleagues chatting during a break at work. The images capture the energy and warmth of human interaction and emotions that Florence magnifies and embodies into a character. She is convincing no matter what persona she embodies with the kaleidoscope of emotions, characteristics, personalities and essence of each individual brought to life in such an extraordinarily real way.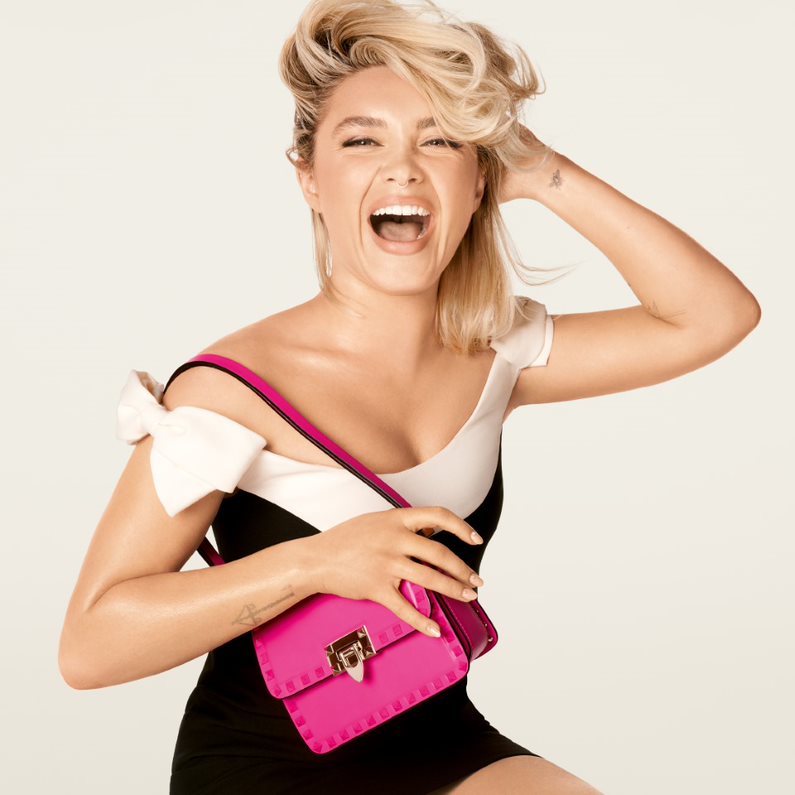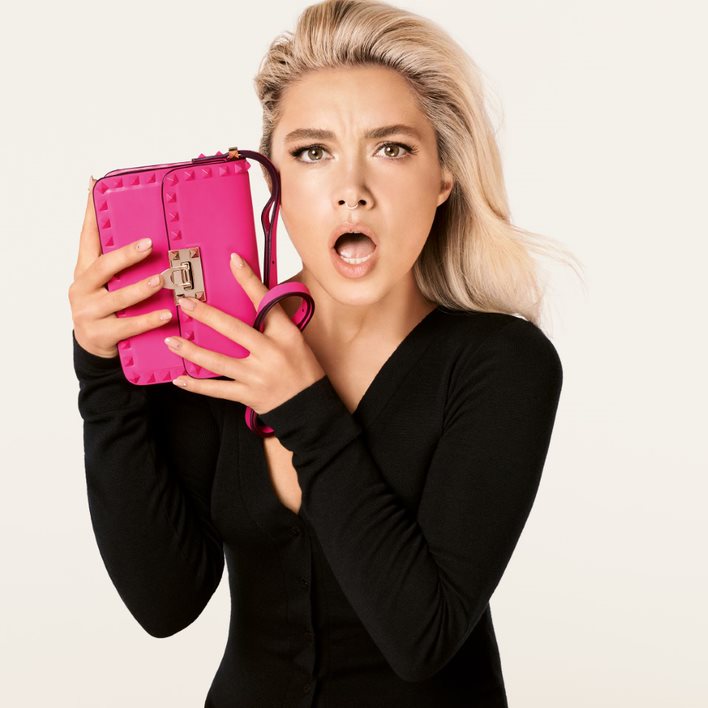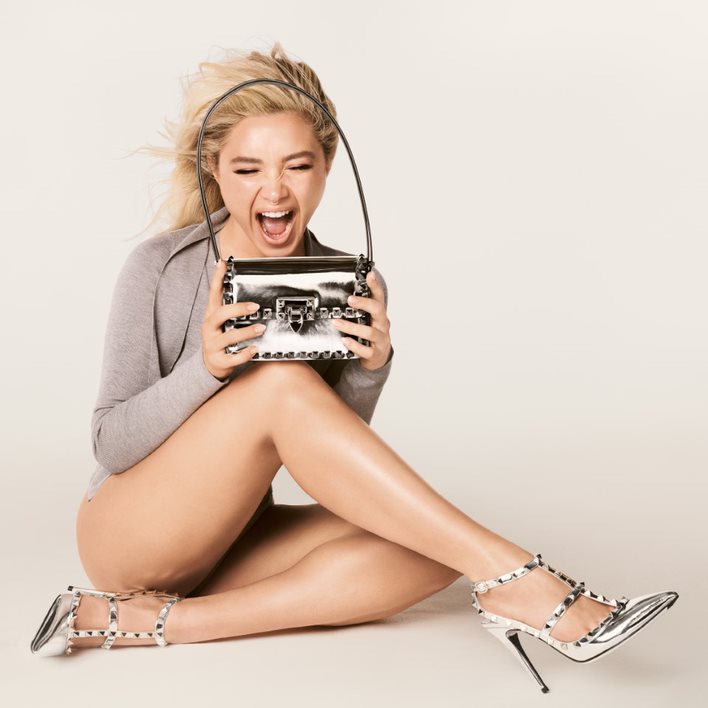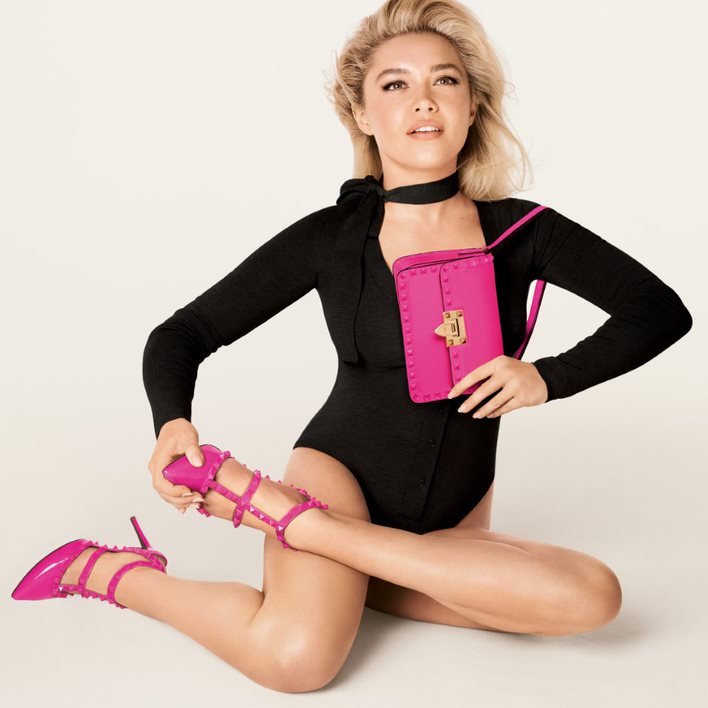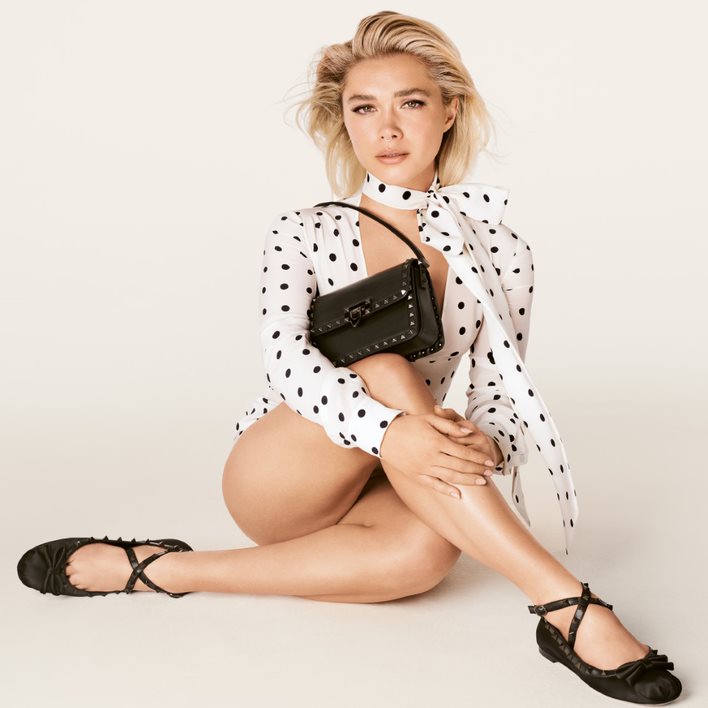 Florence acts with the new Valentino Garavani Rockstud23 bag within the campaign. Trademark of the Maison, the iconic pyramid-shaped stud – inspired by Roman palace doors – are daringly reinterpreted through new and bold refined designs of the Valentino Garavani Rockstud Accessories. The values that they celebrate are even stronger: identity and non-conformist attitude shift towards an aristo-punk vibe. The heritage is not just a glorious past, it is also the Valentino recent past. I mean…it's Rockstud!
Pierpaolo Piccioli continues his process of resignification of the iconic codes of the Maison, where reality and dream, high and low, punk and aristocracy, couture and street cohabit.
---
Florence Pugh
rockstud
Rockstud23
Valentino
Valentino Garavani
---