July 2020, Los Angeles, California: Rising music superstars Chloe x Halle have been selected as the newest faces of the Fendi #MeAndMyPeekaboo series of videos, given these sisters have emerged as a voice of their generation and for their activism.  For the first time, FENDI has given complete creative control to the talent to conceive and collaborate with the creative team of their choice.  Shot in Los Angeles, California, the video embodies the creativity and modern elegance of the music duo.
Art Director Andrew Makadsi's ideas meet the vision of videographer Derek Milton and teamed with  photographer Julian Dakdouk,  the work captures the intimacy between the two sisters, celebrating their unbreakable bond.
As the LA sun rises, the day kicks off with a stylish breakfast accessorized with FENDI Peekaboo bags.  After a dive into the water, Chloe's and Halle's natural beauty shine as they enjoy a summer day at the pool.  While preparing to perform their latest hit, they get themselves glammed up, creating their own hair and makeup looks.
A stunning, ladylike and powerful wardrobe is styled by Zerina Akers, the duo's stylist and personal stylist and wardrobe curator to Beyoncé.  Chloe x Halle's confidence shines in FENDI's Pre-fall 2020 collection, complete with the newest Peekaboo bags.  The track, 'Busy Boy' from their newly-released and critically-lauded sophomore album, Ungodly Hour, plays to Chloe x Halle's bold creativity and daring style, the perfect match to their FENDI Peekaboo bags.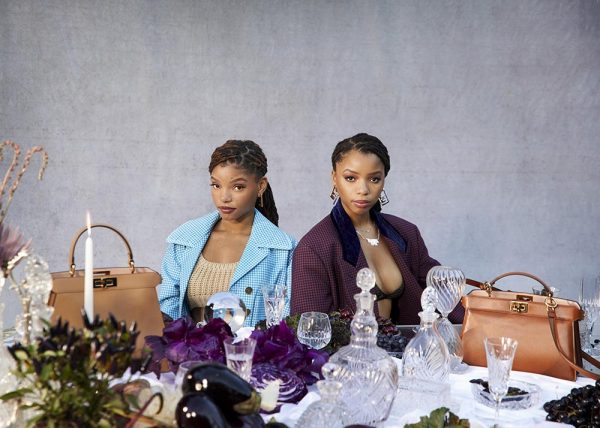 The ongoing #MeAndMyPeekaboo series celebrates the relationship between the FENDI Peekaboo bag and family, with previous episodes starring Kim Kardashian West, Kris Jenner and North West, sisters TK Wonder and Ciprianna Quann, sisters and J-Pop stars Ami and Aya, and more.
"#MeAndMyPeekaboo celebrates the intimate family relationships that represent inseparable bonds," said Silvia Venturini Fendi, Fendi Creative Director, "and there is no more visible pair of sisters right now than Chloe x Halle."
"We have been more than happy to be part of this project. We have always been huge fans of FENDI and working side by side as sisters is truly a blessing",said Chloe X Halle.
Presented for the FENDI Fall/Winter 2020-21 Collection in February, the new Peekaboo features a new accordion-frame shape, to open in a deep 'smile' featuring inside pockets which can be interchangeable in smooth leather or precious skins and personalized with one's initials.
The #MeAndMyPeekaboo campaign is set to launch globally from the end of July, while the new Peekaboo bag will hit stores from August.
---
chloe X halle
FENDI
fendi peekaboo
me and my peekaboo
---