'Matter Matters': discover the craft, experience the future.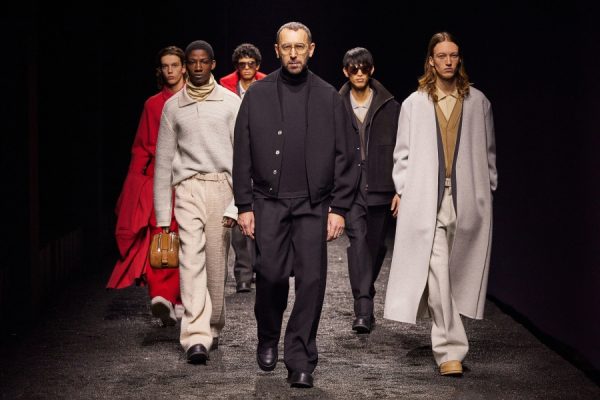 ZEGNA had recently held The Oasi of Cashmere, the Winter 2023 fashion show. The magnificent show took place on January 16, 2023, taking place in Milan, and debuted as part of Milan Fashion Week. Oasi Zegna represents a quest for excellence and beauty that is captured succinctly in Oasi Cashmere, the ultimate expression of sartorial excellence. Oasi Cashmere development is central to ZEGNA's Road to Traceability, and they commit certifying its fibres as fully traceable by 2024.
Artistic Director Alessandro Sartori keeps expanding the idea of ZEGNA's sartorial re-set by matching functions with shapes, silhouettes and textures. Materiality is key to his vision: 'At ZEGNA I have the unprecedented opportunity to create fabrics from weaving through to finishing, challenging our manufacturers, pushing them to explore uncharted waters. This allows me to mould our silhouettes right from the matter, making sure that our commitment to innovation and excellence is rooted in every step of the process. The result is an all-encompassing language that is truly progressive'.
Guests attending the Winter 2023 Fashion Show are invited to experience a crucial phase in the production of Oasi Cashmere fabrics. Fibres float and precipitate in an air chamber — a key process in their eventual transformation into fine cloth. The magic of this often-unseen process is an intrinsic part of the fabrics used in the Oasi of Cashmere Collection.
A notion of soft precision runs through the collection and is highlighted in the volumes of neatly designed items; cropped Bomber Jackets, elongated Coats, Anoraks, Blousons, Polo Shirts, Cardigans and Blazers that forego both lapels and collars. New sack-inspired Jackets feature cropped sleeves while trousers are full. Airbrushed folds and drawn geometric patterns over longline Blousons complement corduroy and pleated suedes to imbue the collection with a vertical rhythm. Below are the favorite looks from the collection.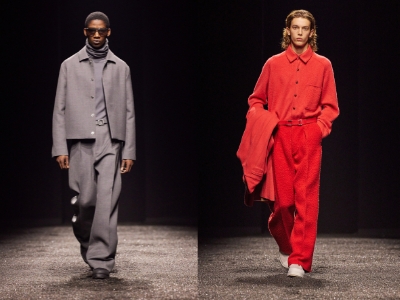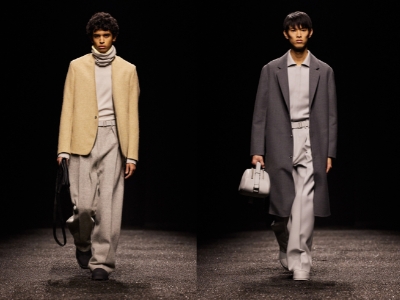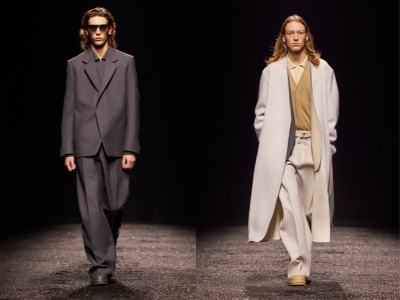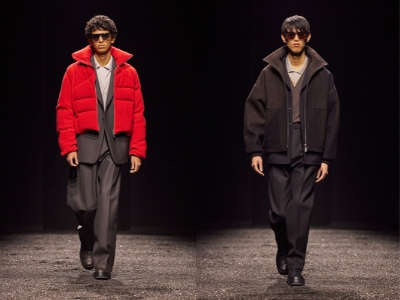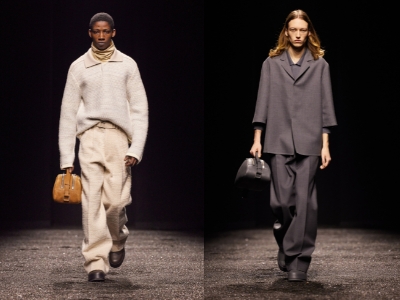 ZEGNA's global creative community including Mads Mikkelsen, Daniel Brühl, Tawan Vihokratana (also known as Tay Tawan), and Jorge López, attended the show to experience the innovation and craftsmanship behind Oasi Cashmere, wearing looks designed by Artistic Director Alessandro Sartori.
View this post on Instagram
View this post on Instagram
View this post on Instagram
---
Alessandro Sartori
Born in Oasi ZEGNA
ermenegildo zegna
Mads Mikkelsen
OASI CASHMERE
Oasi Zegna
zegna
ZEGNAFW23
---