Chopard presents two new offerings in the renowned Happy Diamonds range
By The Time Place Magazine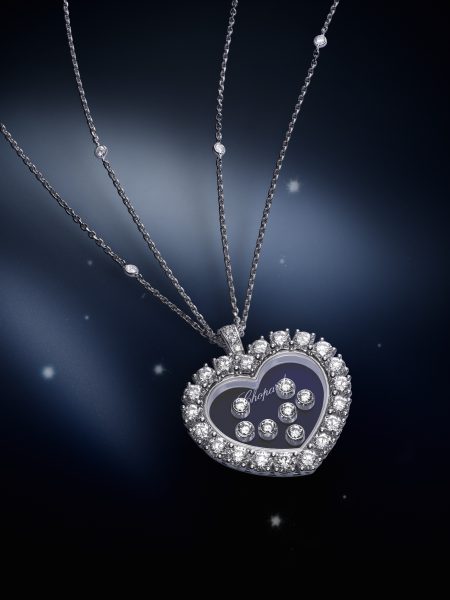 The world of artisanal jewellery allows for an unlimited amount of creativity and imagination, and Swiss luxury jeweller Chopard takes its signature Happy Diamonds collection to new heights with Happy Diamonds Joaillerie and Happy Diamonds Planet.
Invented by Chopard in 1976, Happy Diamonds are far more than an ingenious concept: they bear within them the freedom of women who are continuously capable of enchanting their lives by reinventing their trajectory. This all-conquering movement gives the light, swirling diamonds their own kinetics, defying the laws of gravity to signify their perpetual joie de vivre.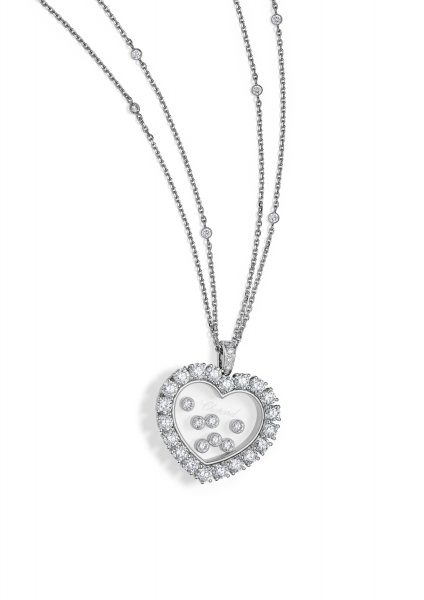 Happy Diamonds Joaillerie
In line with Chopard's motto and the name of its signature line, Happy Diamonds Joaillerie is a symbolism to joie de vivre. The Maison keeps the heart emblem, yet abandons the traditional bezel setting and replaces it with a precious crown to complement the more generous gem size. The 18-carat ethical white gold heart pendant surrounded by brilliant-cut diamonds totalling 5.20 carats houses seven Happy Diamonds, like stars in the sky.
The unique dimensions and gorgeously curved feminine shapes of this heart provide an ideal setting for seven dancing diamonds that twirl in a unique choreography, constantly renewed in symbiosis with the movements of the wearer. Furthermore, the pendant is held around the neck by a double-link chain in ethical 18-carat white gold graced with eight diamonds. It is worth noting that Chopard is one of the few jewellers to craft its own chains based on expertise inherited over generations within its Manufacture.

To complement the collection, Chopard also presents a variety of magnificent bangles associated with a selection of coloured natural stones. Caroline Scheufele, Artistic Director and Co-President of the Maison, reinterprets Chopard's dancing diamonds with a new family of bracelets in ethical gold adorned with natural stones. Available in different versions, the tips of these bangles feature a pair of dancing diamonds and a colourful bead.
The bangle in ethical 18-carat rose gold, features a dancing diamond set with a choice of either green agate, blue lapis lazuli, black onyx or pink rhodochrosite bead. In addition, there is also the option of 18-carat white gold with a dancing diamond and a stunning set of diamonds, for an even glamourous look. These vast palettes of colour produce infinite combinations, allowing the wearer to suit it to their current mood or outfit.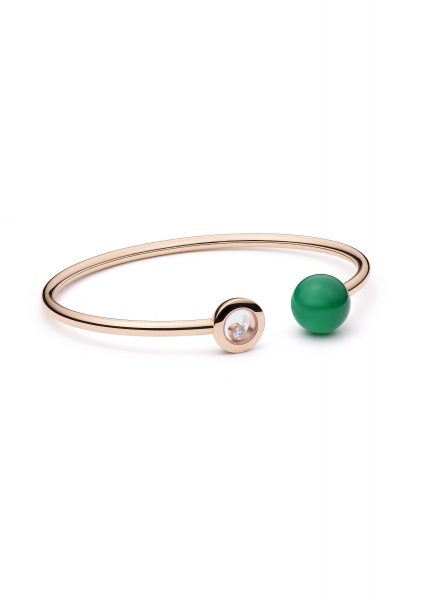 Happy Diamonds Planet
These creations indeed encapsulate the grandeur of the cosmos. The bead-like forms of the stones and the roundness of these bracelets orchestrate a stunning encounter with the mesmerising beauty of the stars, like a call to contemplate the infinite expanse of the celestial universe.
Resolutely committed to its Journey to Sustainable Luxury, Chopard consistently invests in conscious luxury. Above and beyond the joie de vivre inherent in its dancing diamonds, the Happy Diamonds Planet jewellery captures the beauty of our Mother Earth and the richness of nature that deserves to be cherished.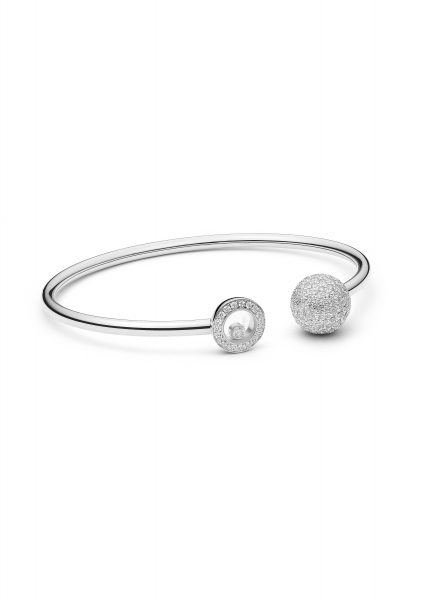 #ReadAnywhere the latest issue of The Time Place Magazine

---
chopard
chopard happy diamonds
happy diamonds
the time place magazine
---