THE CELINE 18 – MEN'S WINTER 2023 SHOW IS TAKING PLACE AT THE LEGENDARY LE PALACE IN PARIS.
View this post on Instagram
A PLACE DEAR TO HEDI SLIMANE THAT HE FREQUENTED MOST NIGHTS DURING HIS YOUTH STARTING FROM THE AGE OF 16 – LE PALACE REMAINS A SENTIMENTAL PLACE WHICH TRIGGERED HIS FUTURE AS A COUTURIER AND WHERE HE CELEBRATED HIS 50TH SURPRISE BIRTHDAY PARTY IN JULY 2018. ORIGINALLY BUILT AS A THEATRE DANCE HALL IN THE 17TH CENTURY, BUT ALSO KNOWN FOR ITS YEARS AS A NIGHTCLUB, IN 1978 LE PALACE WAS TAKEN OVER BY RENOWNED IMPRESARIO FABRICE EMAER, WHO ANIMATED THE PARIS NIGHTLIFE AT THE TIME. COMMISSIONED BY EMAER TO REIMAGINE THE SPACE, ARCHITECT PATRICK BERGER PARTICIPATED IN REVAMPING ITS RICH ART DECO INTERIOR, INSTALLING THE EMBLEMATIC AND MODERN CHANDELIER OF NEON LIGHTS, PLAYING A MAJOR ROLE CENTER STAGE LIGHTING UP THE WALLS EMBELLISHED WITH GÉRARD GAROUSTE PAINTINGS. ONCE CONSIDERED A FRENCH VERSION OF NEW YORK'S STUDIO 54; THE ICONIC LE PALACE WAS ONE OF THE FIRST NIGHTLIFE VENUES WHERE A VARIETY OF COMMUNITIES COULD MIX FREELY WITH EXUBERANCE, ATTRACTING THE LIKES OF YVES SAINT LAURENT, GRACE JONES, PRINCE, KARL LAGERFELD, ANDY WARHOL, SERGE GAINSBOURG, MICK JAGGER, JERRY HALL AND MANY MORE WHO ENJOYED MASKED BALLS AND LIVE PERFORMANCES BEFORE MAKING THEIR WAY TO THE BASEMENT TO LE PRIVILÈGE PRIVATE CLUB.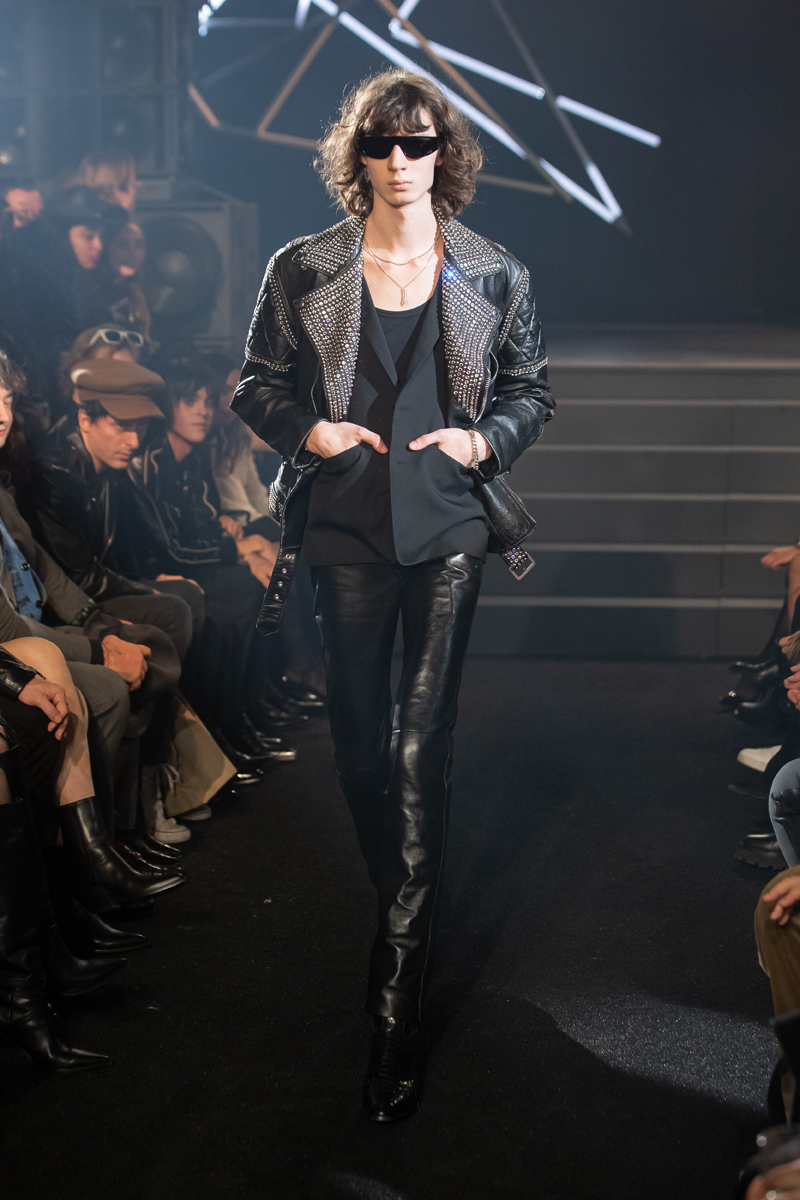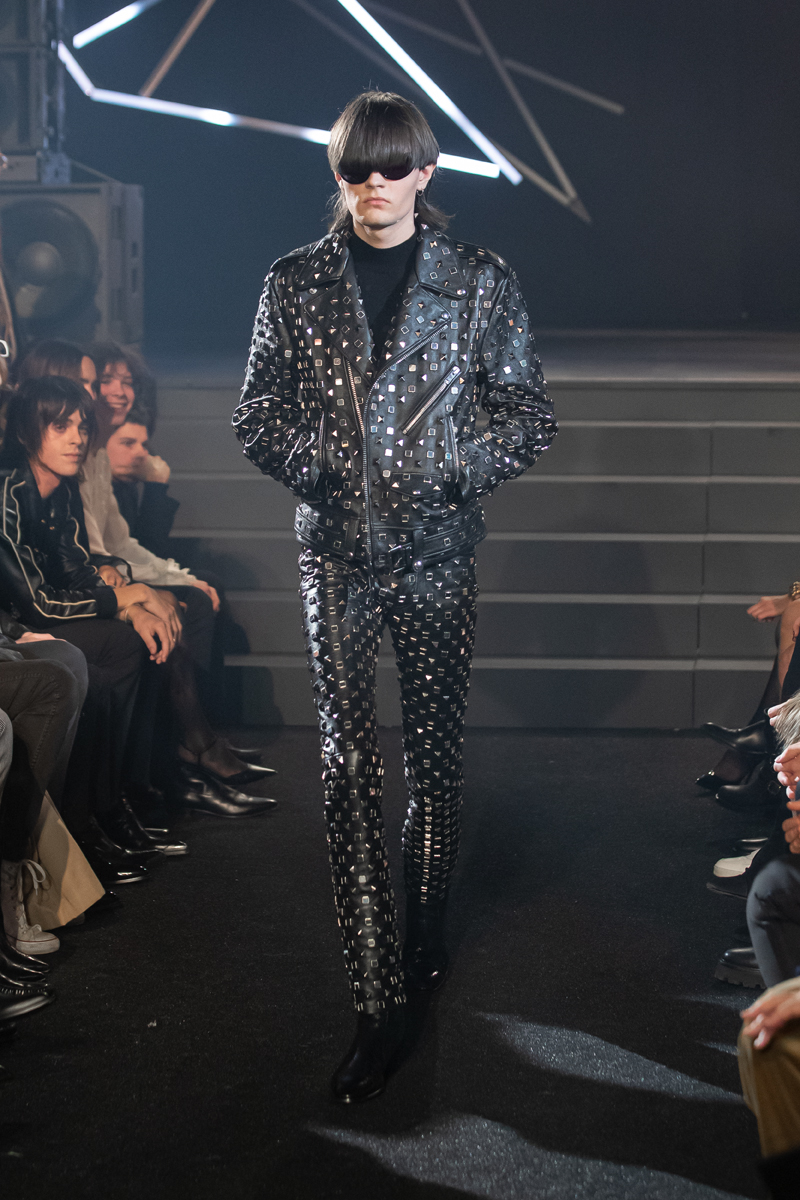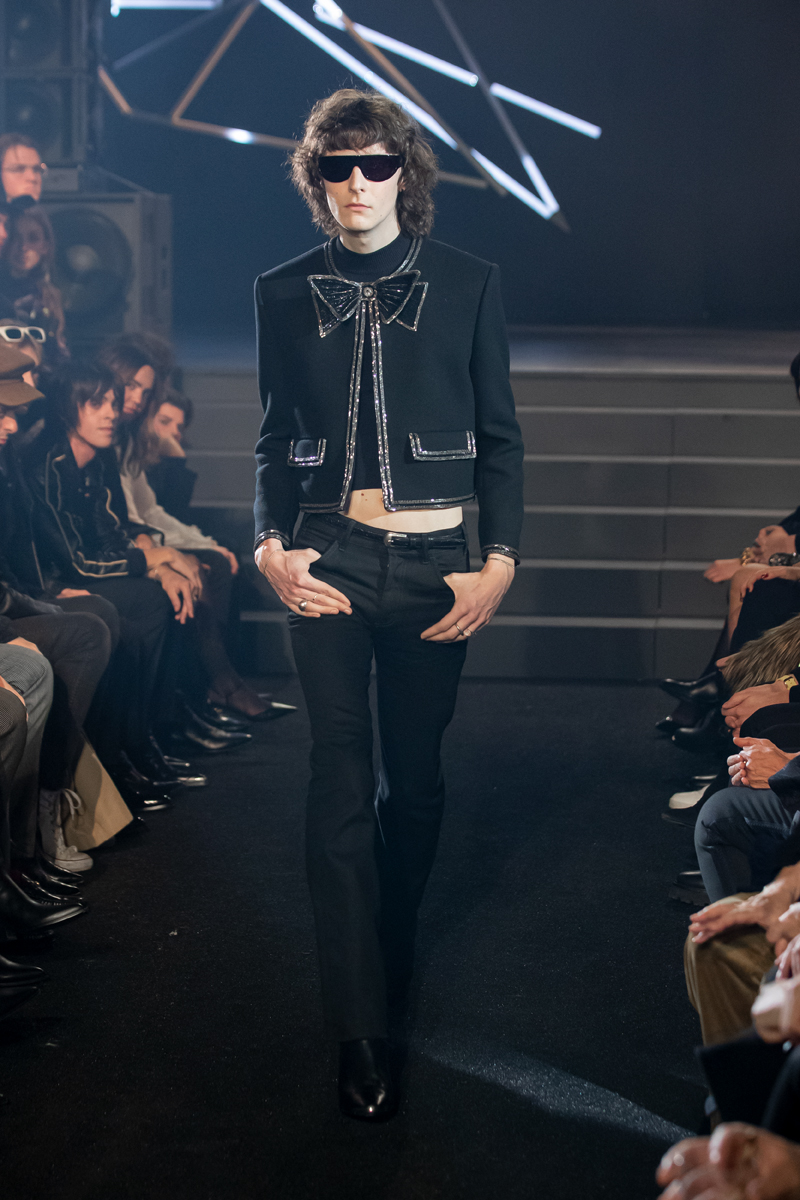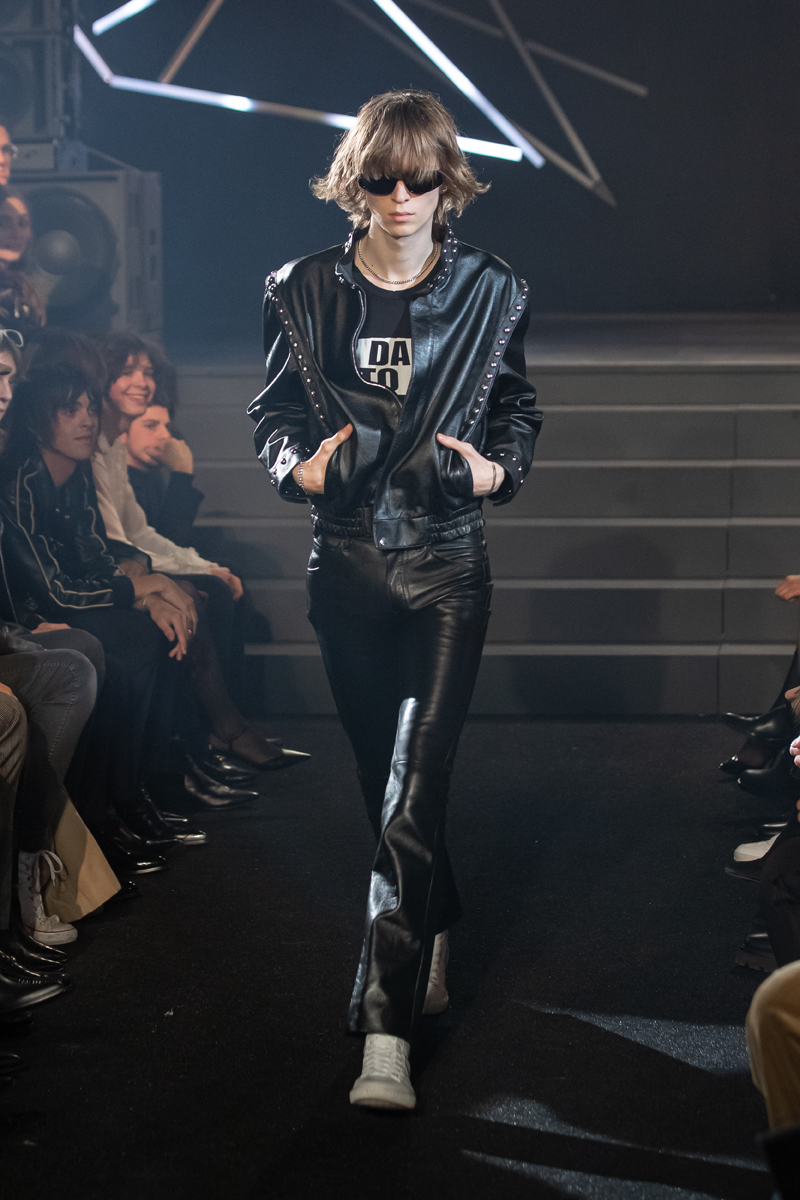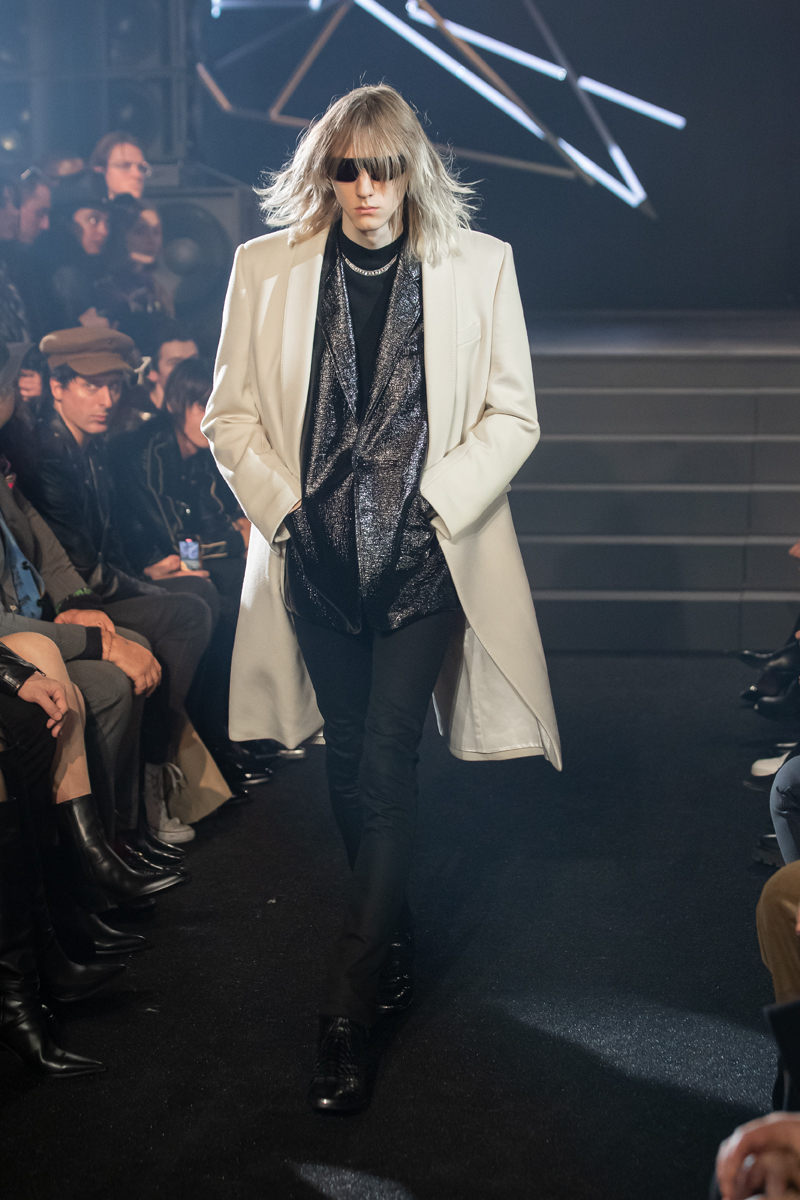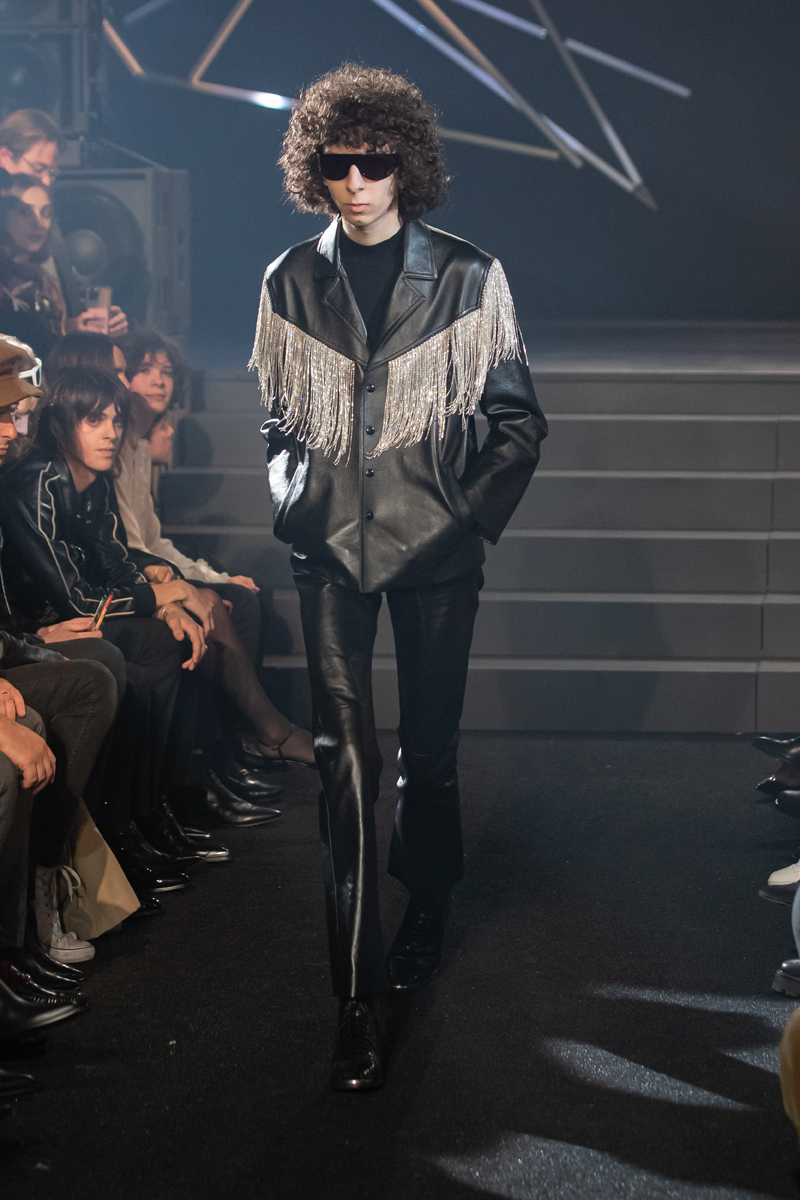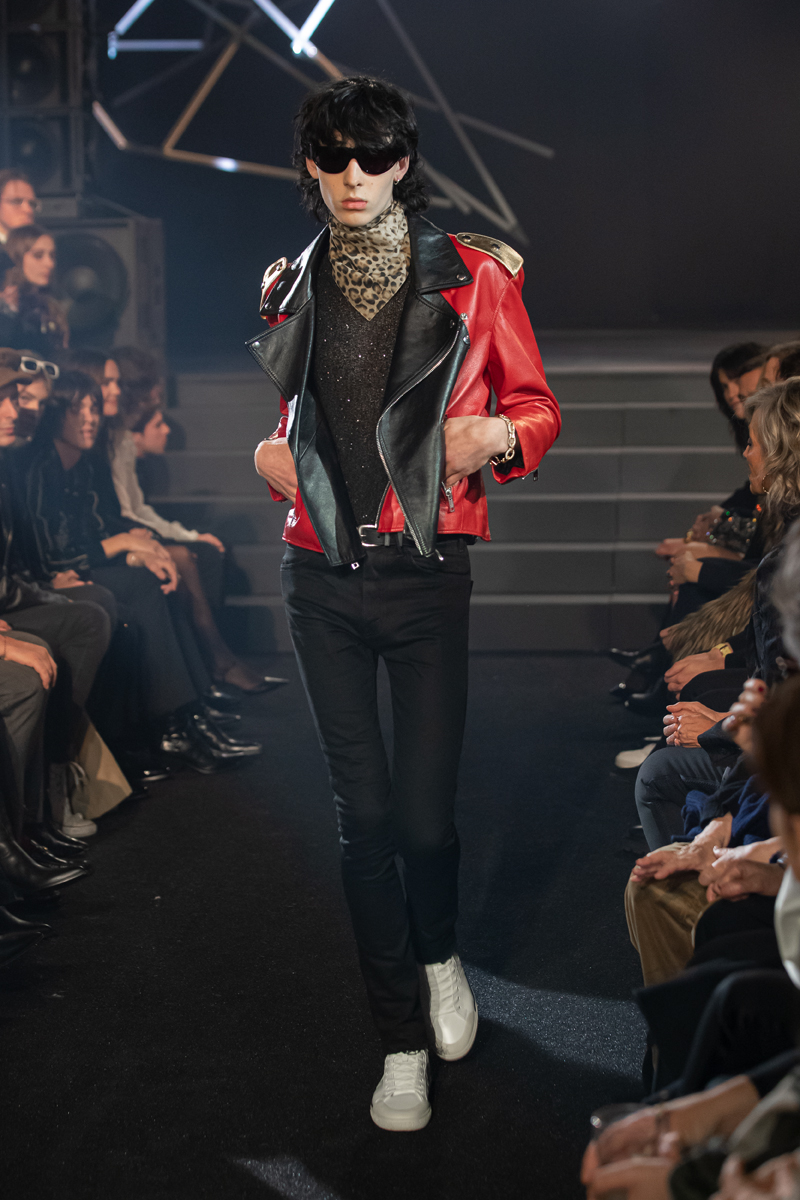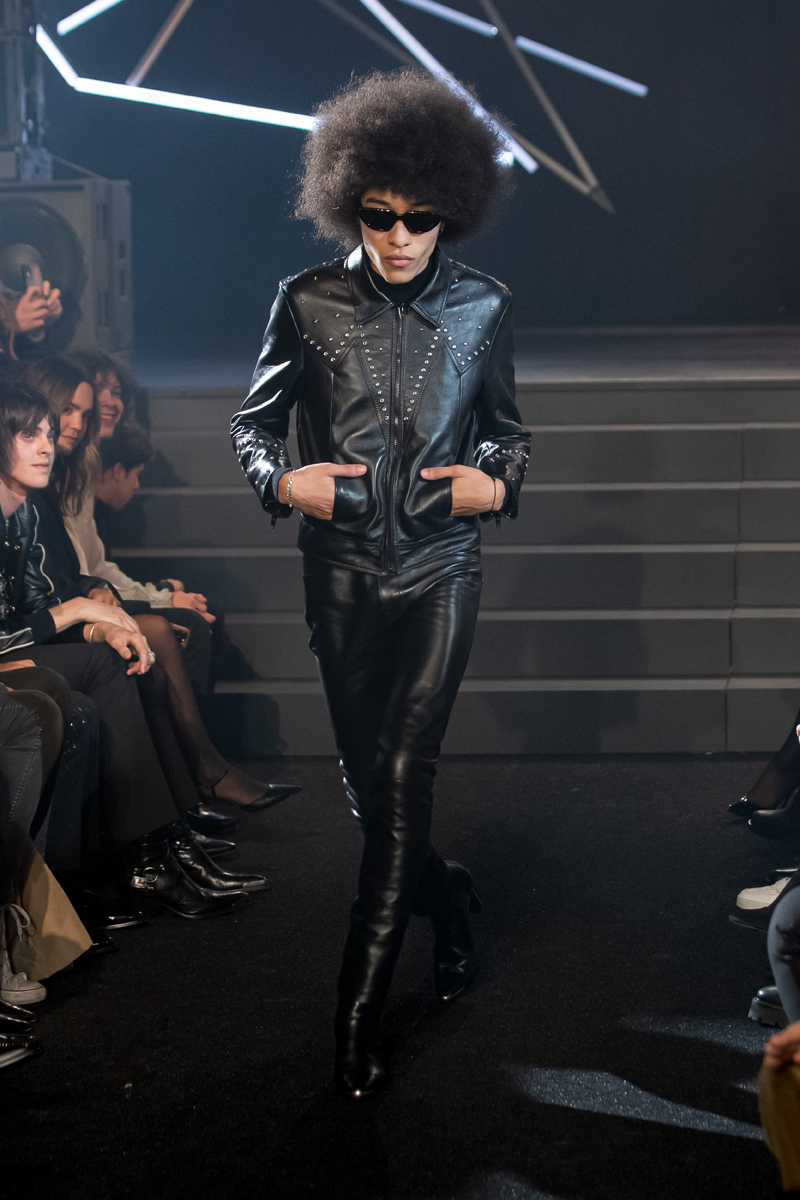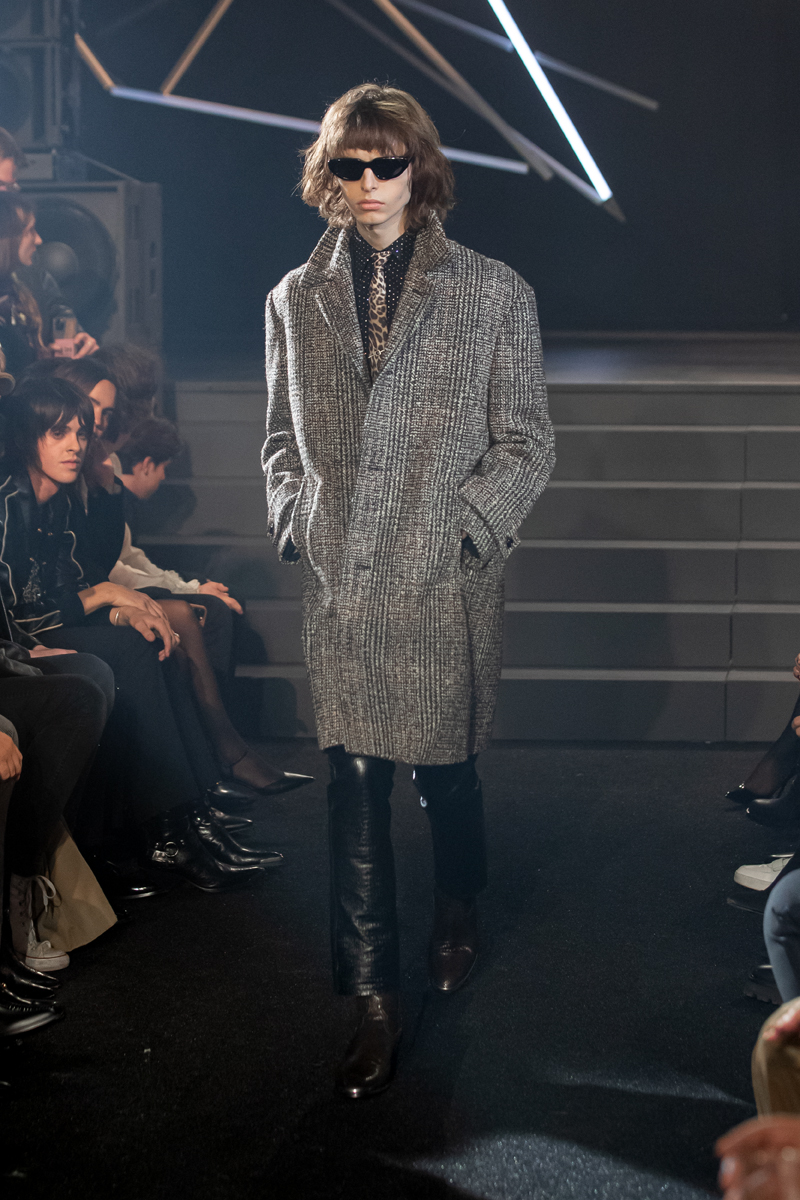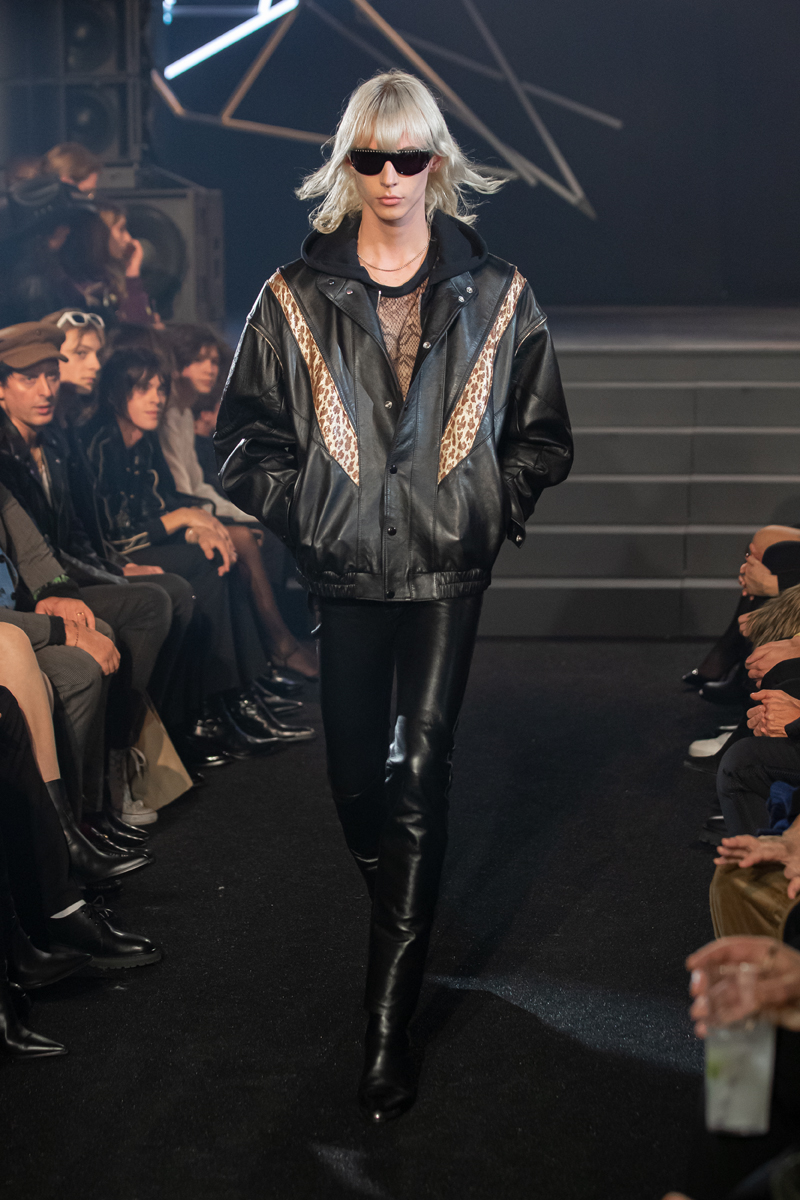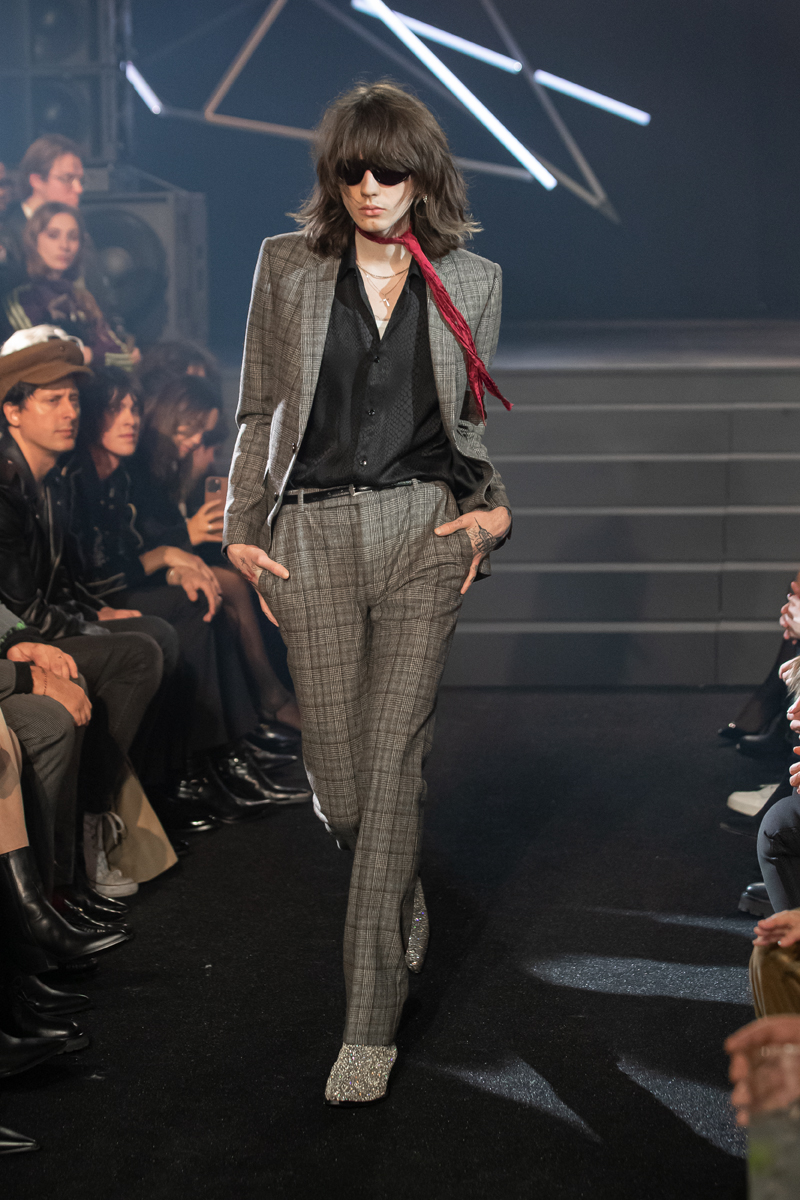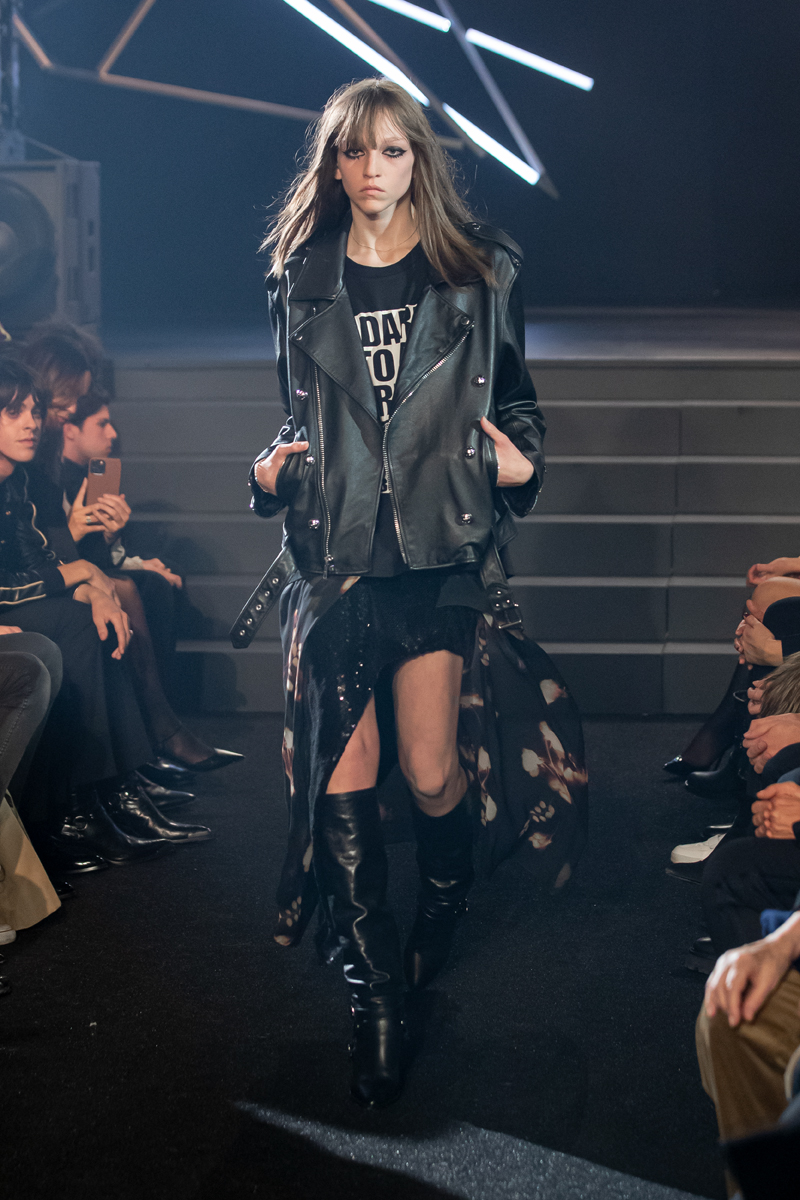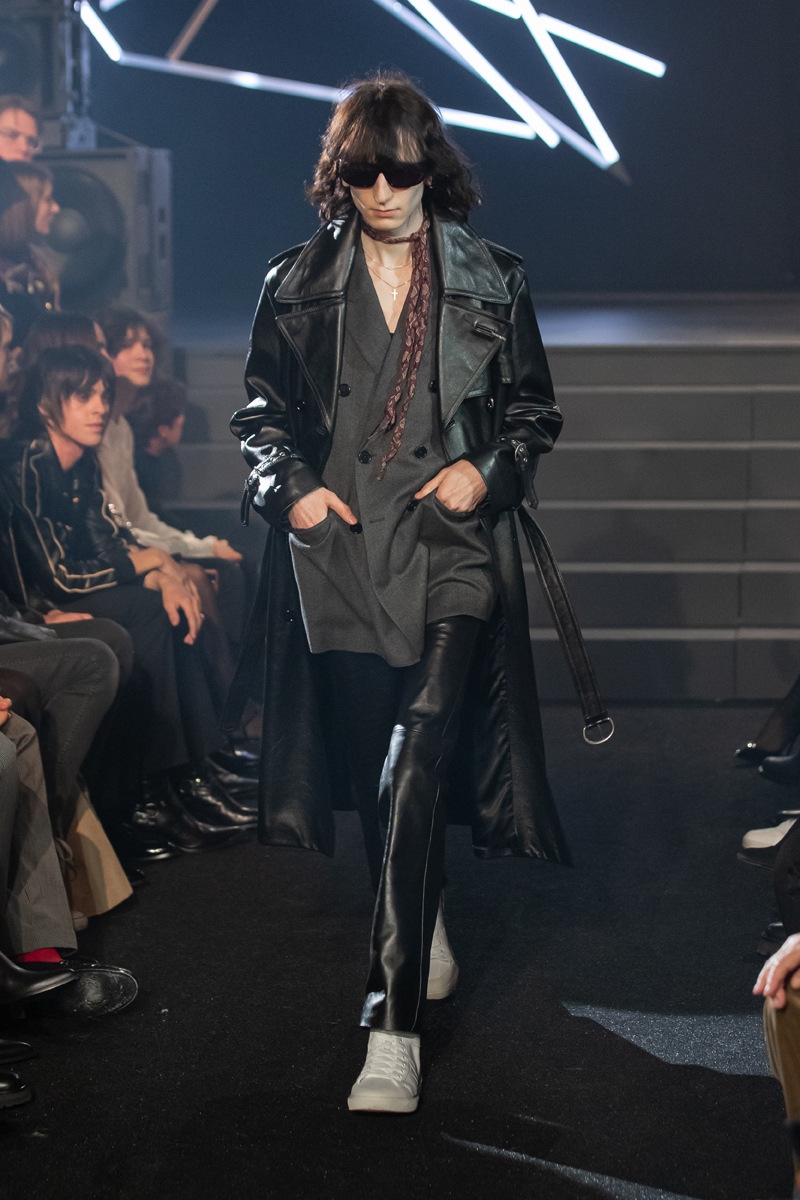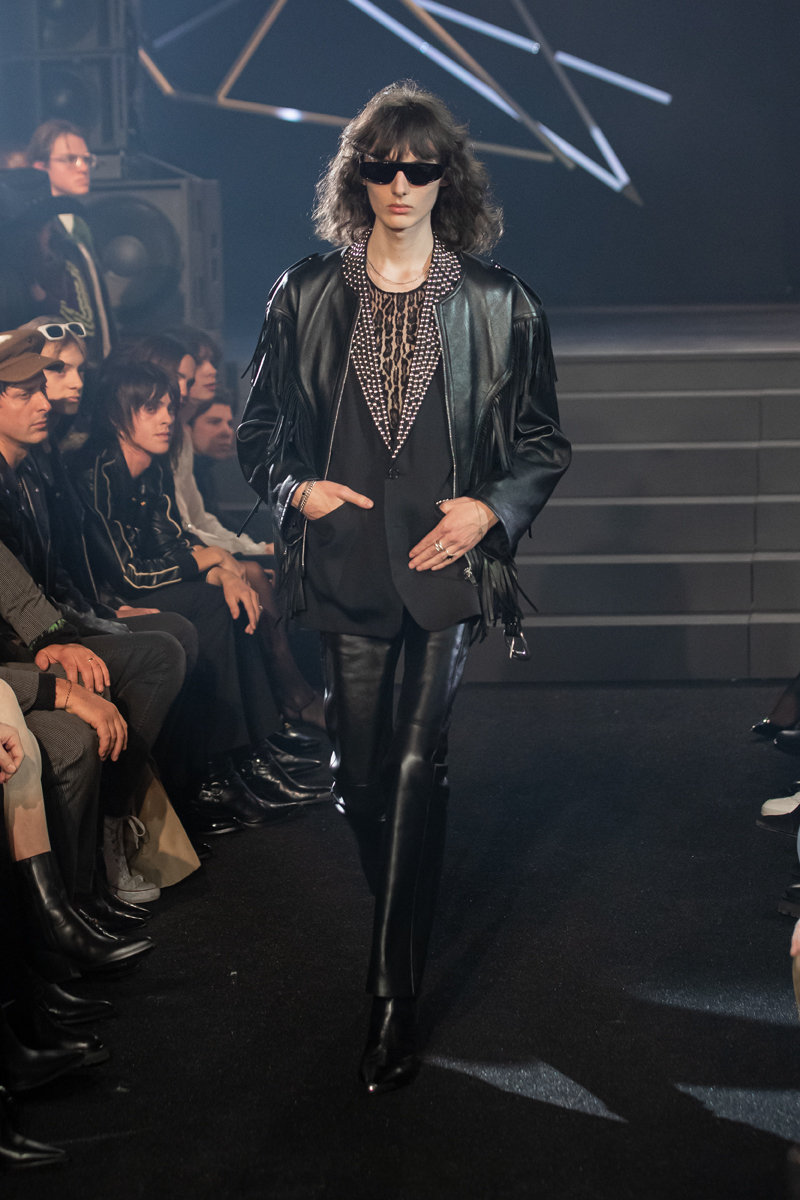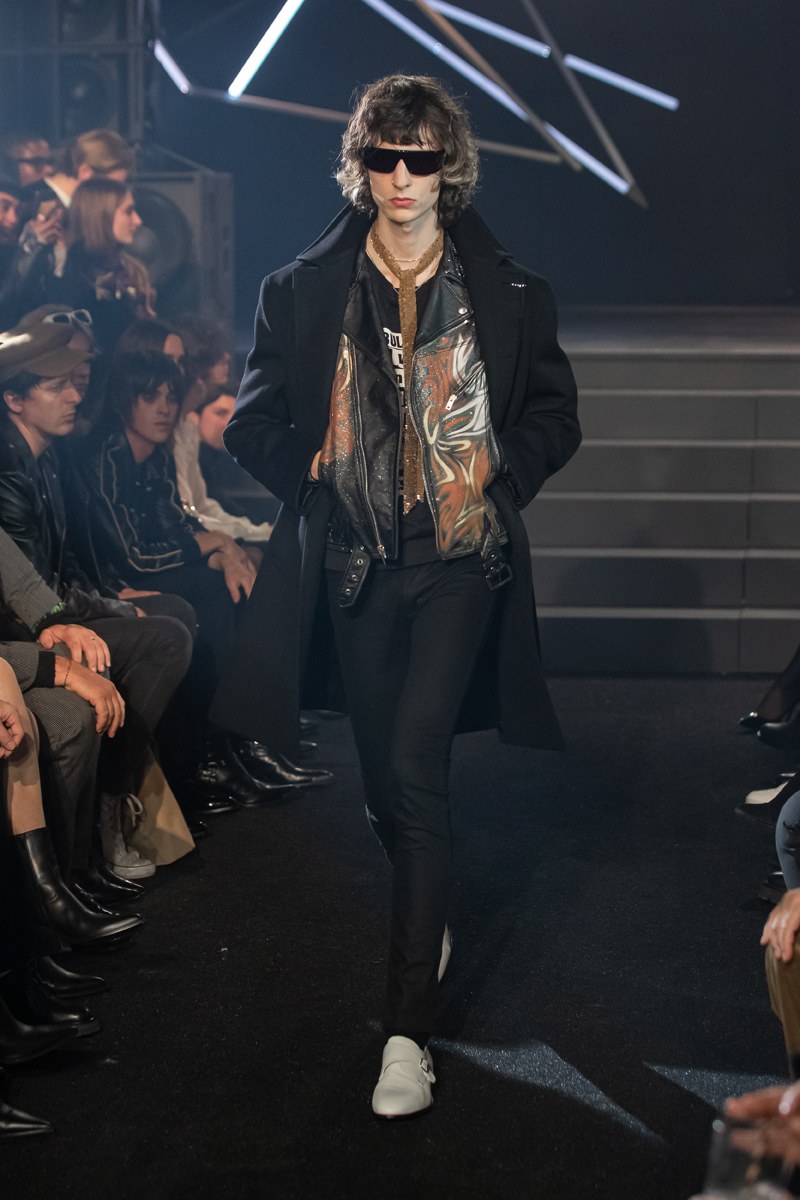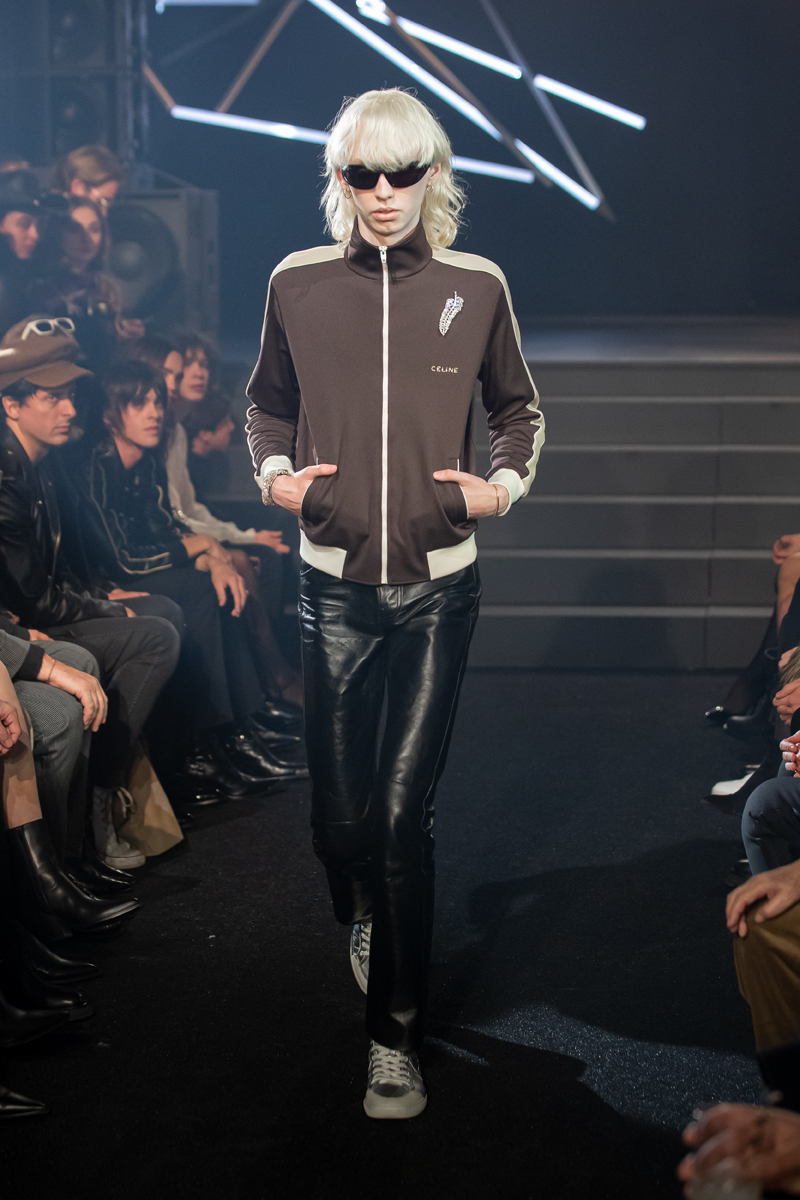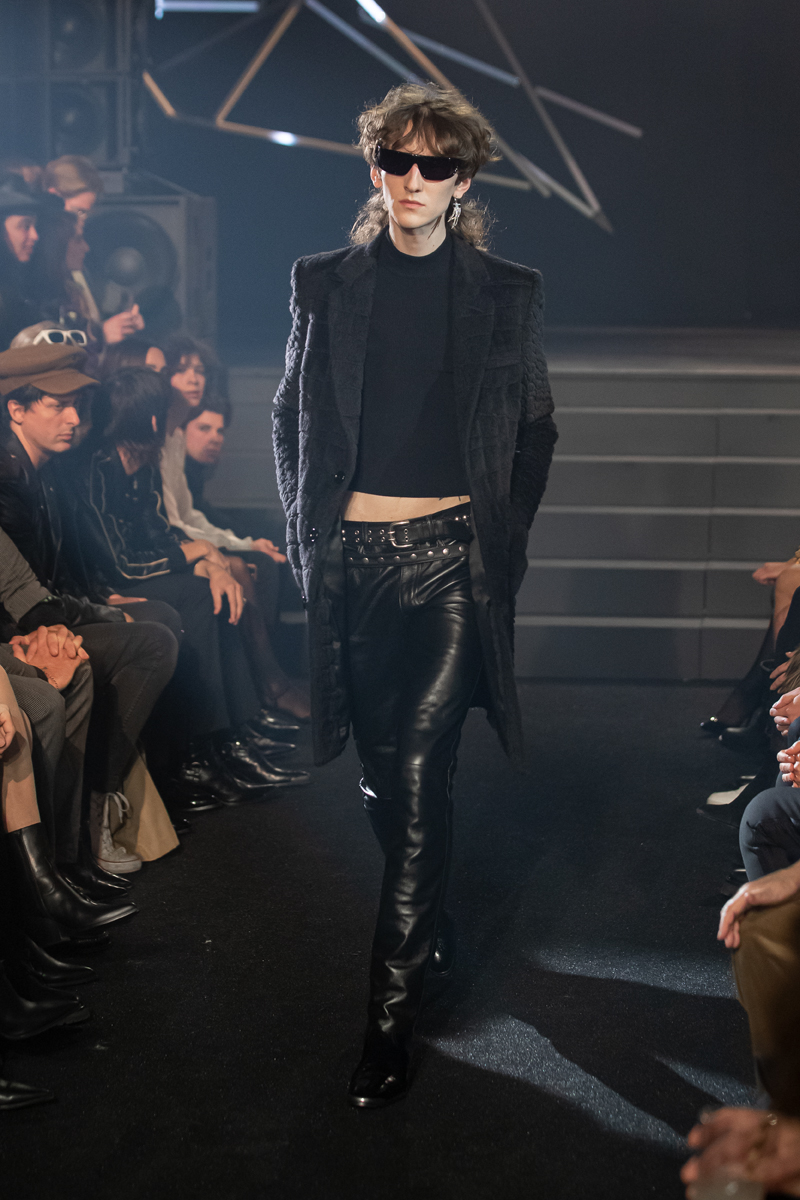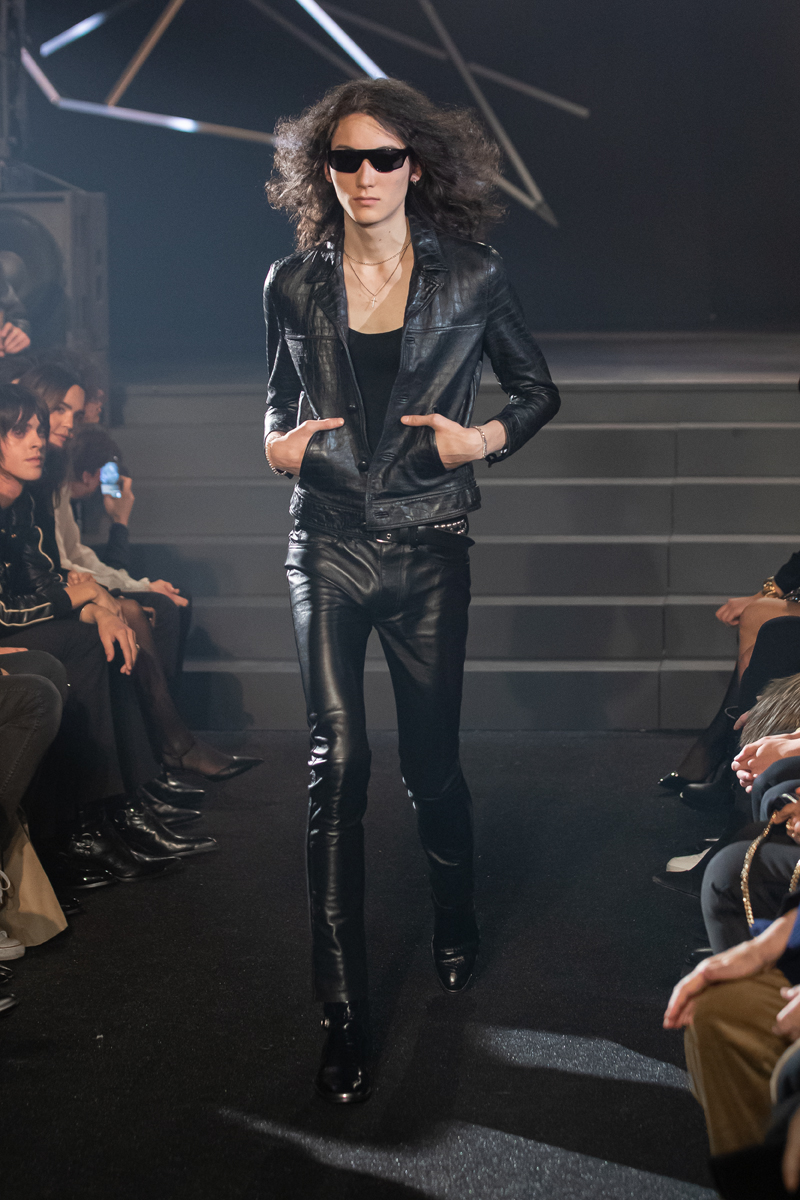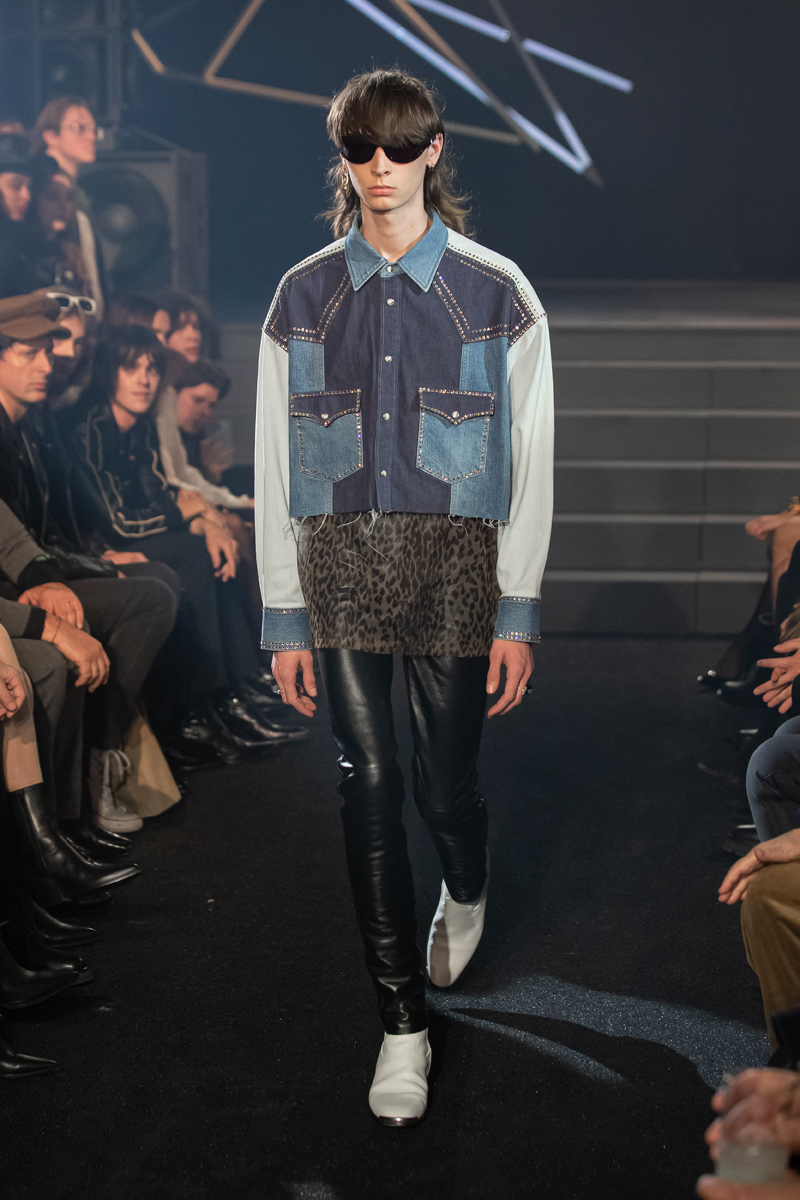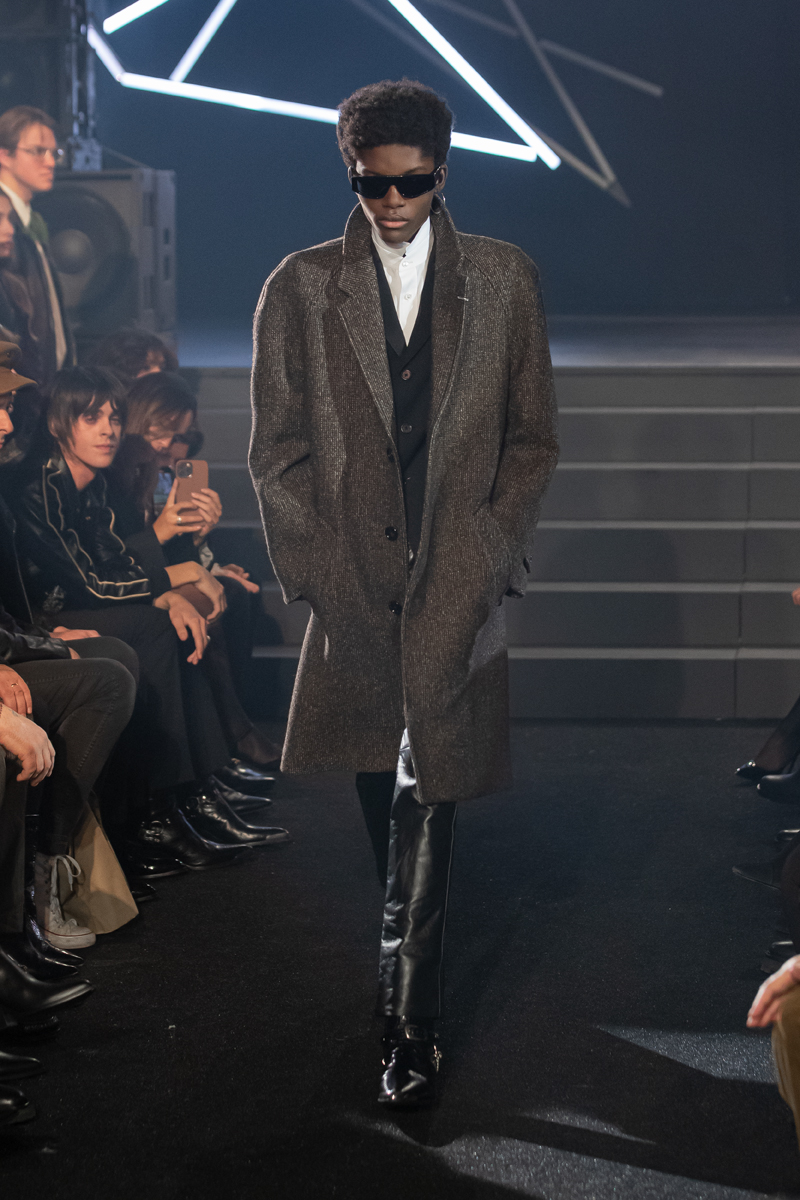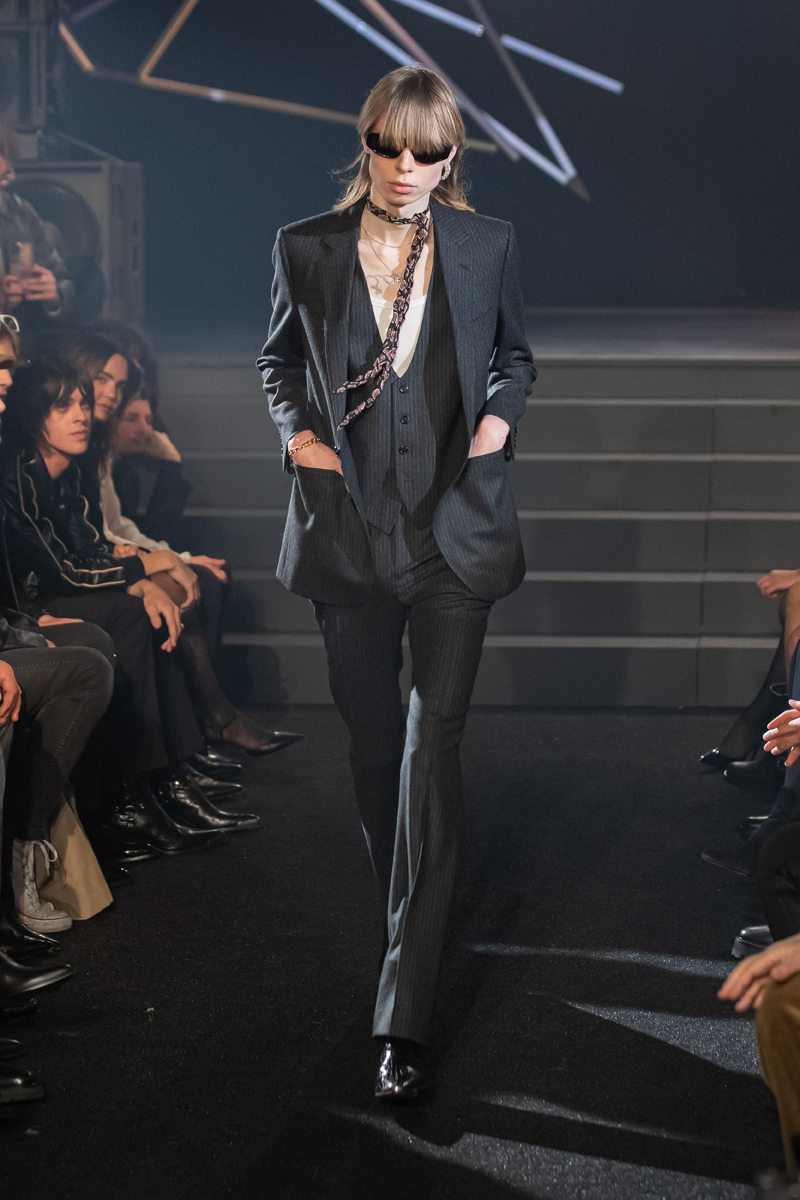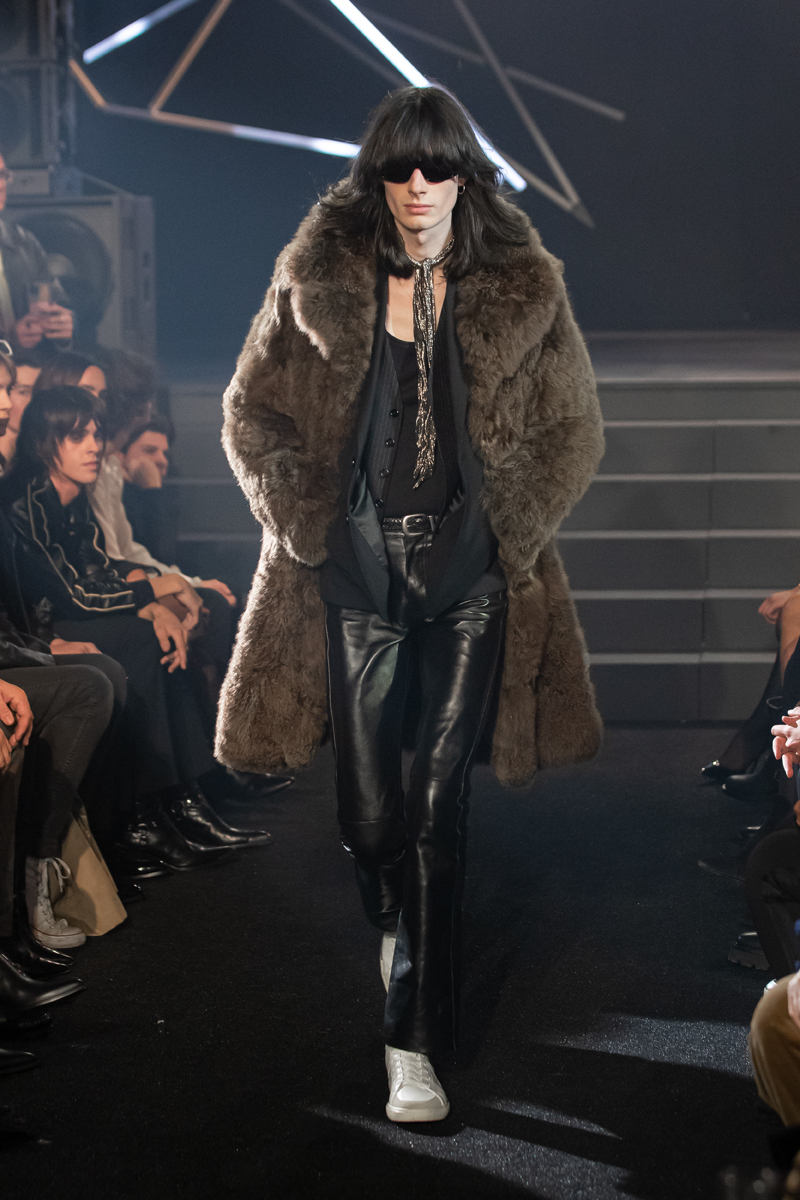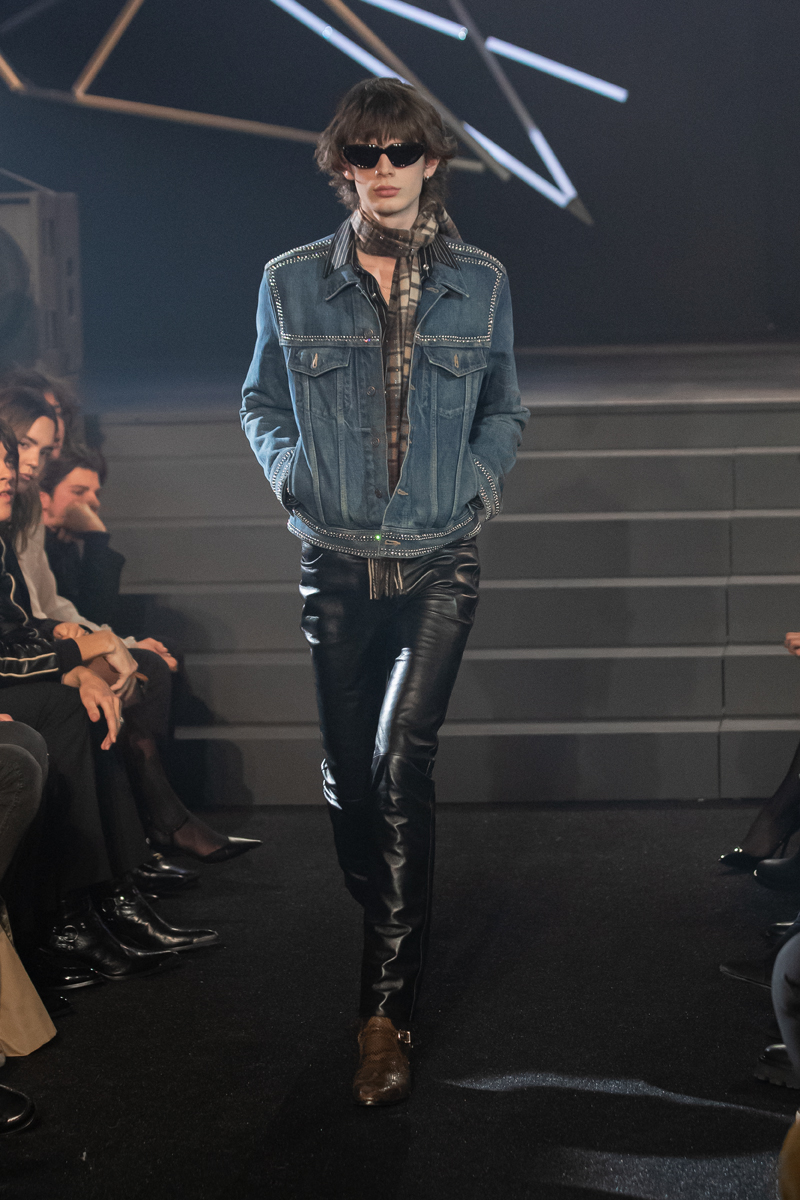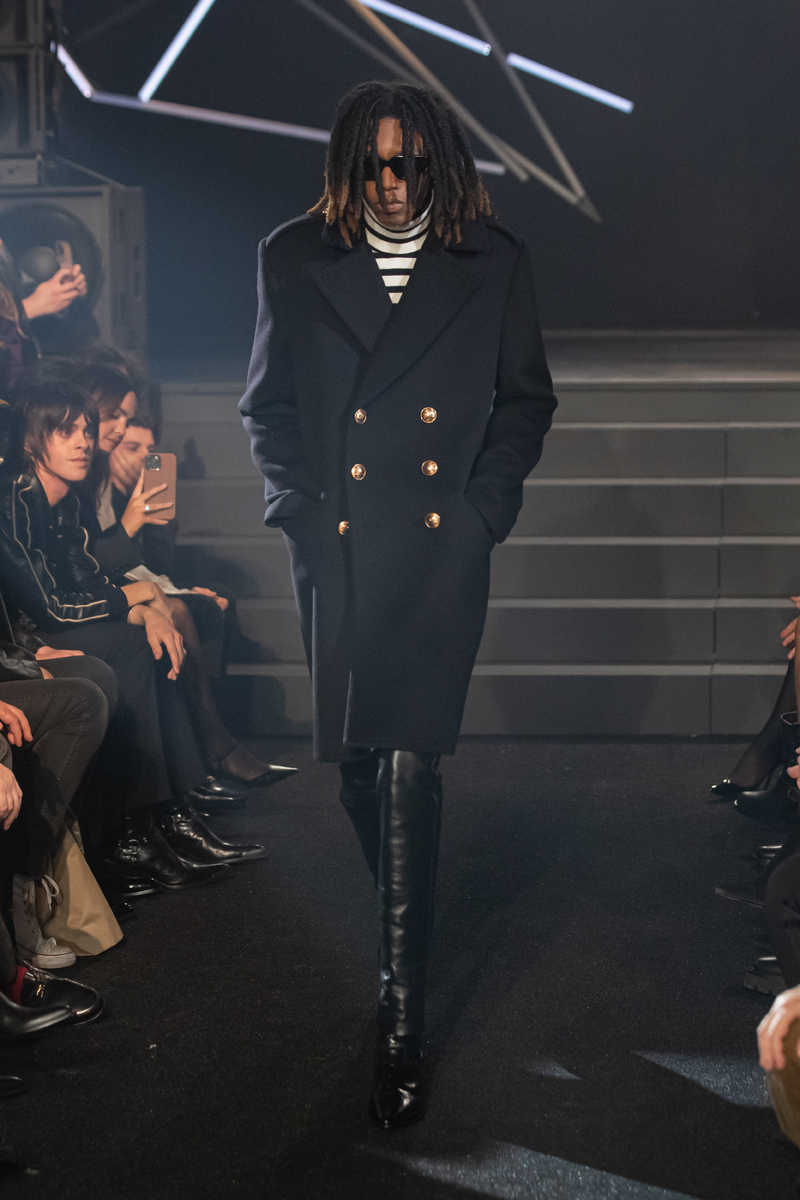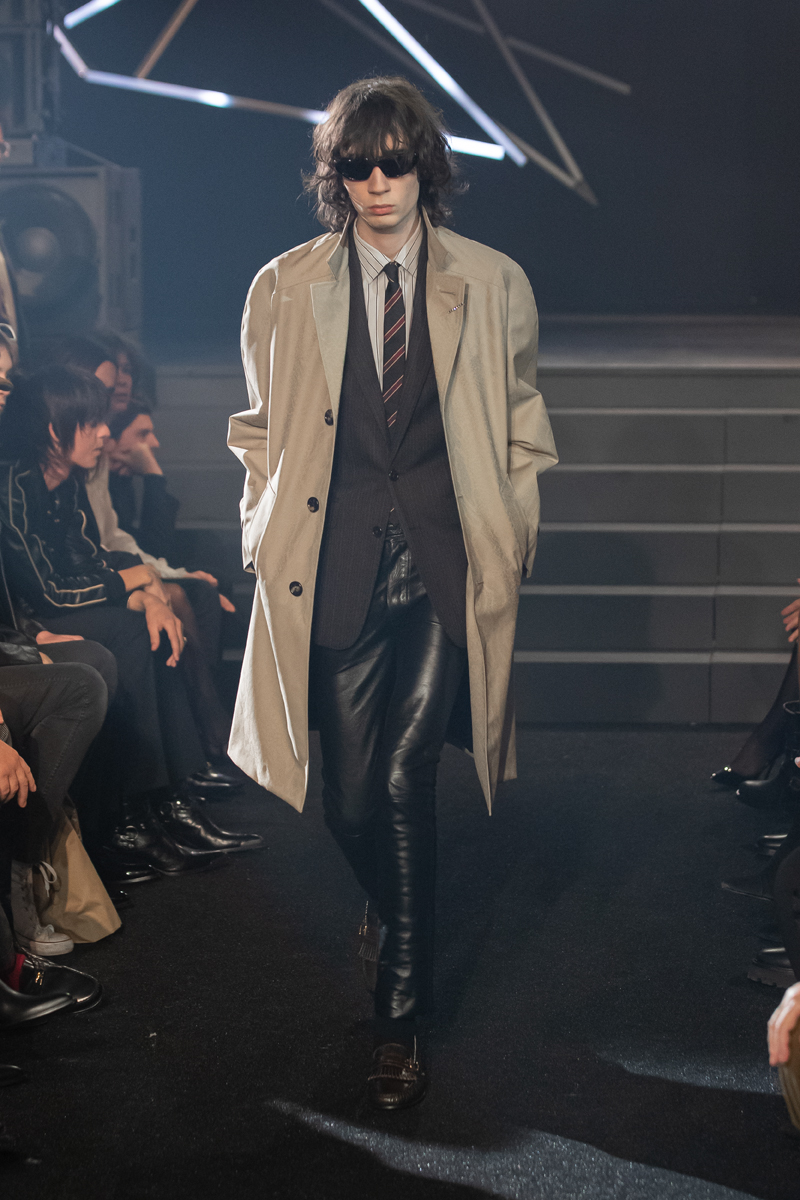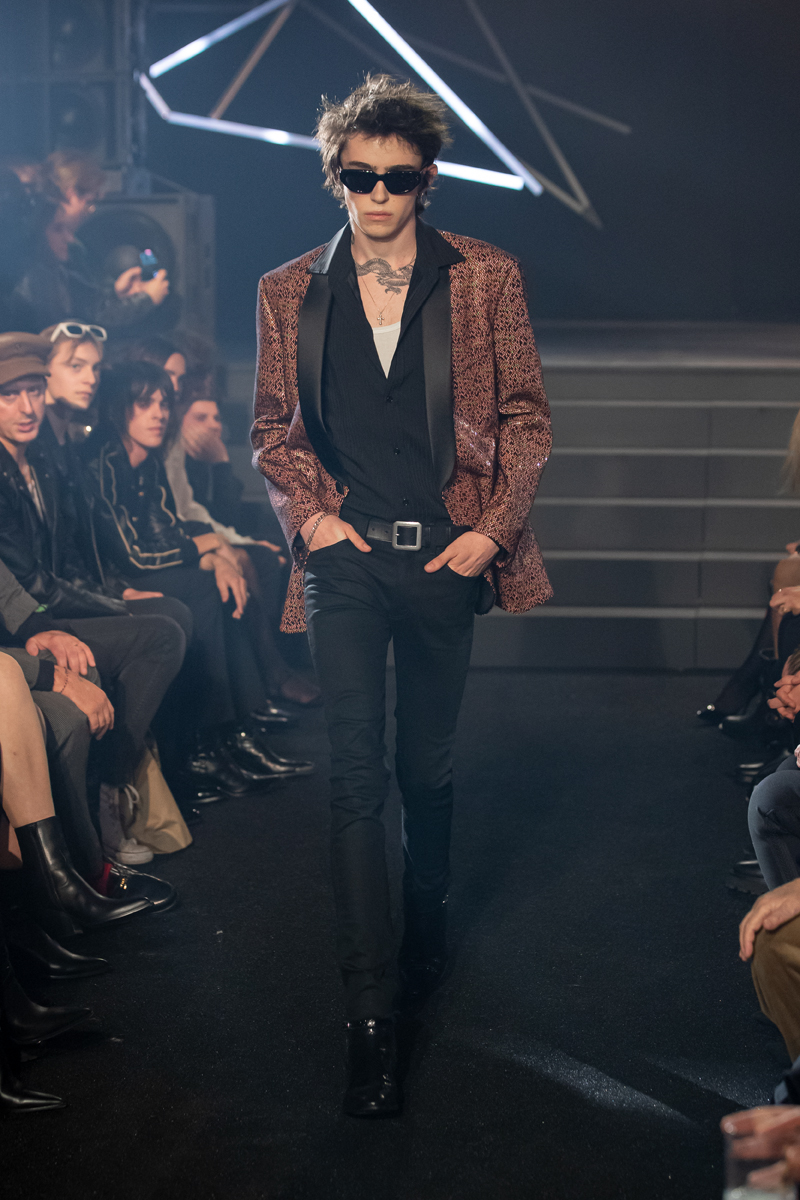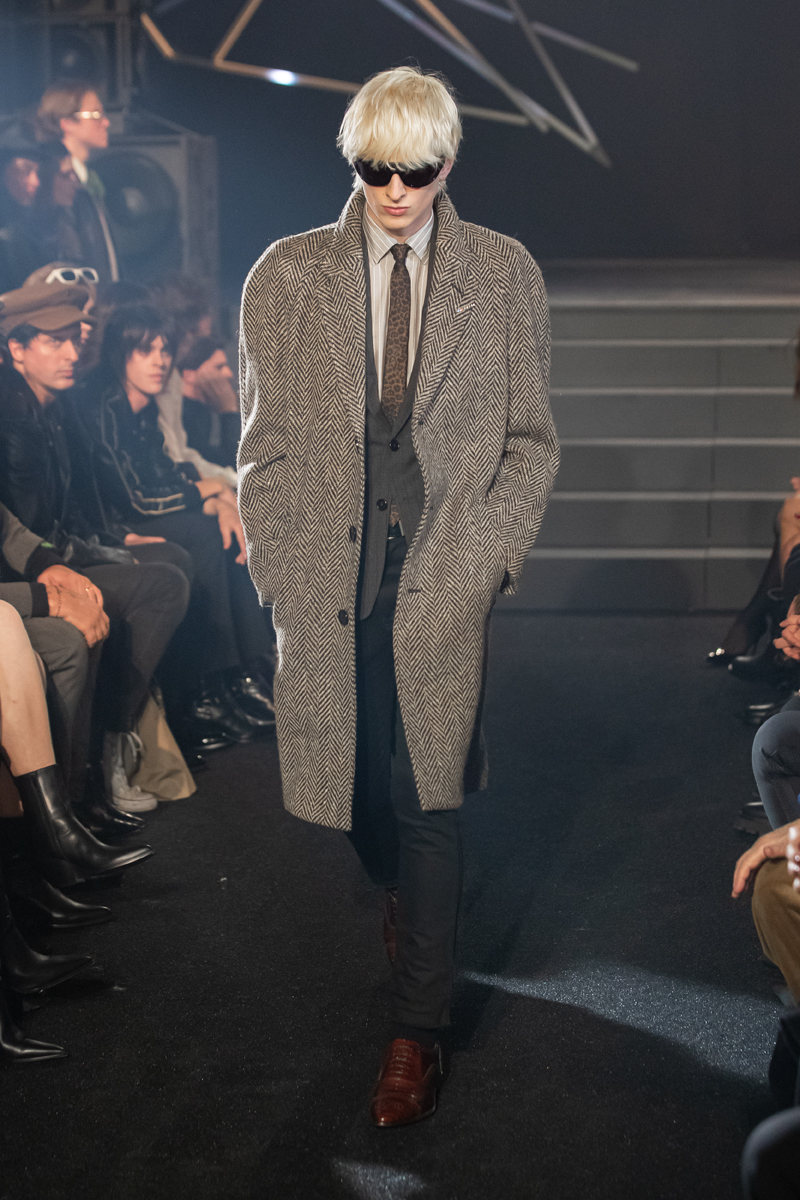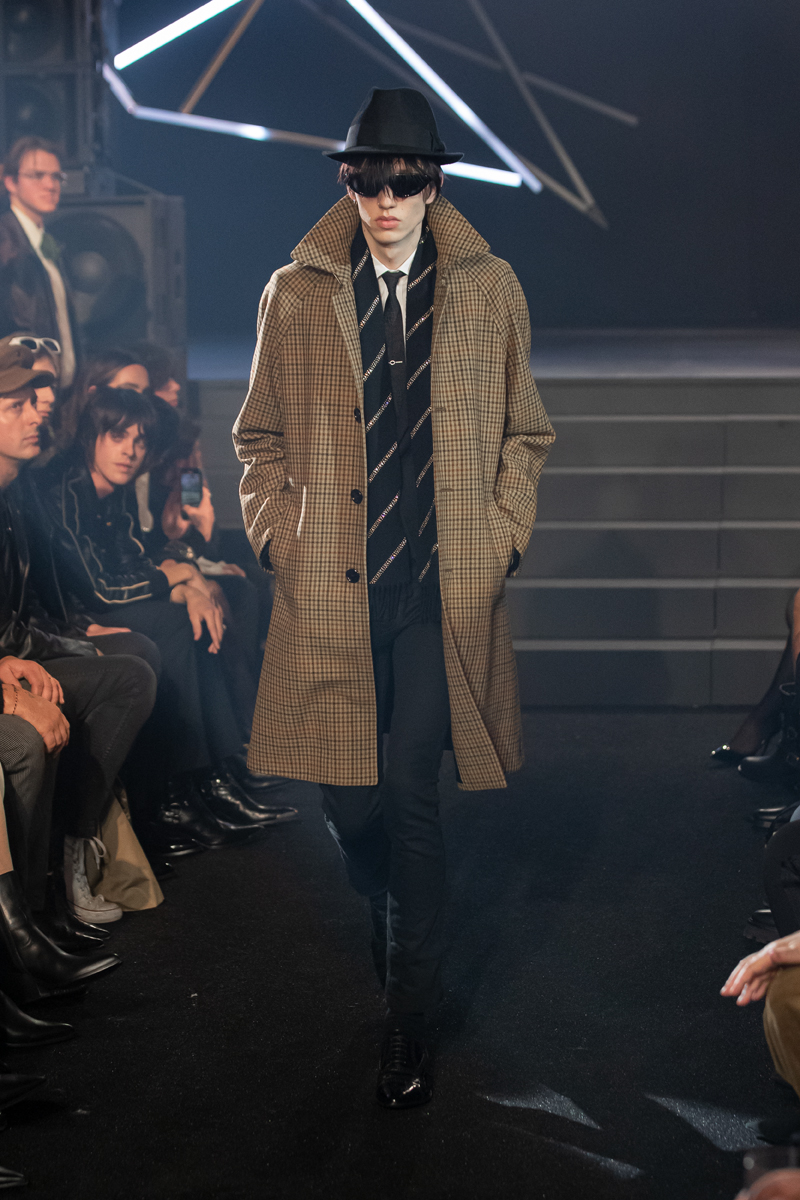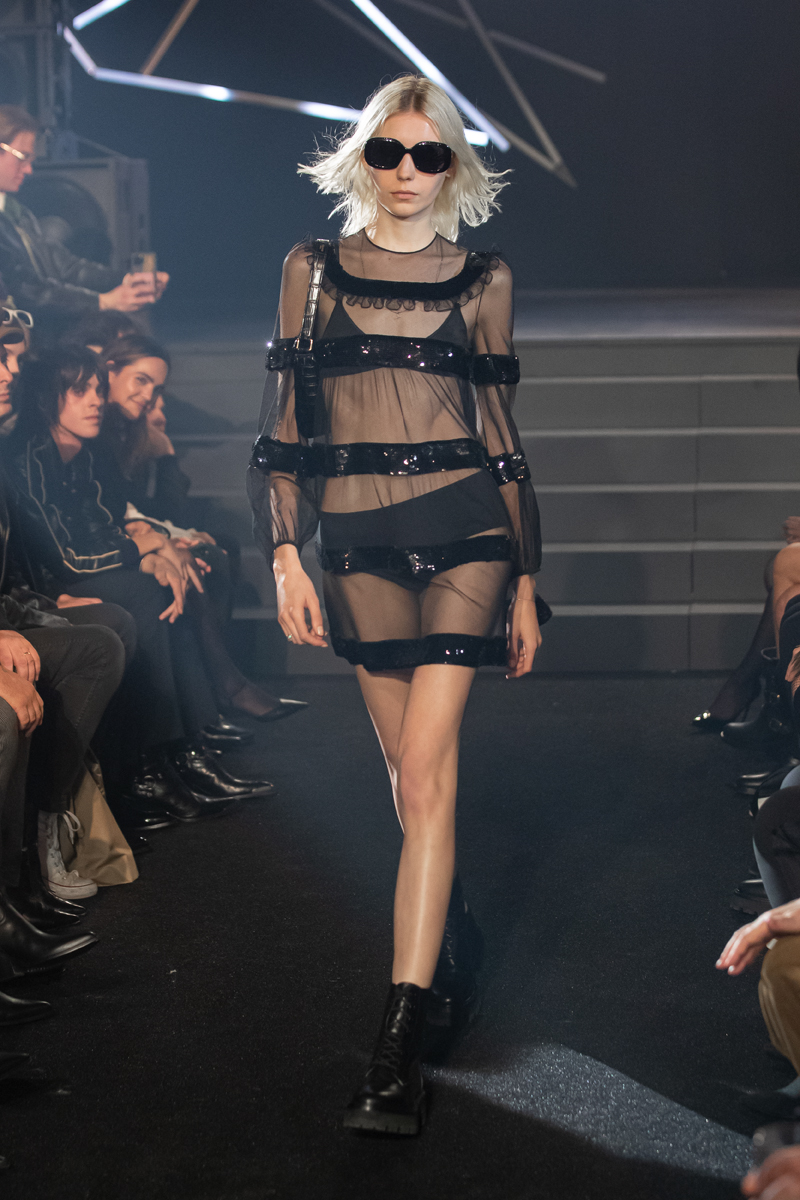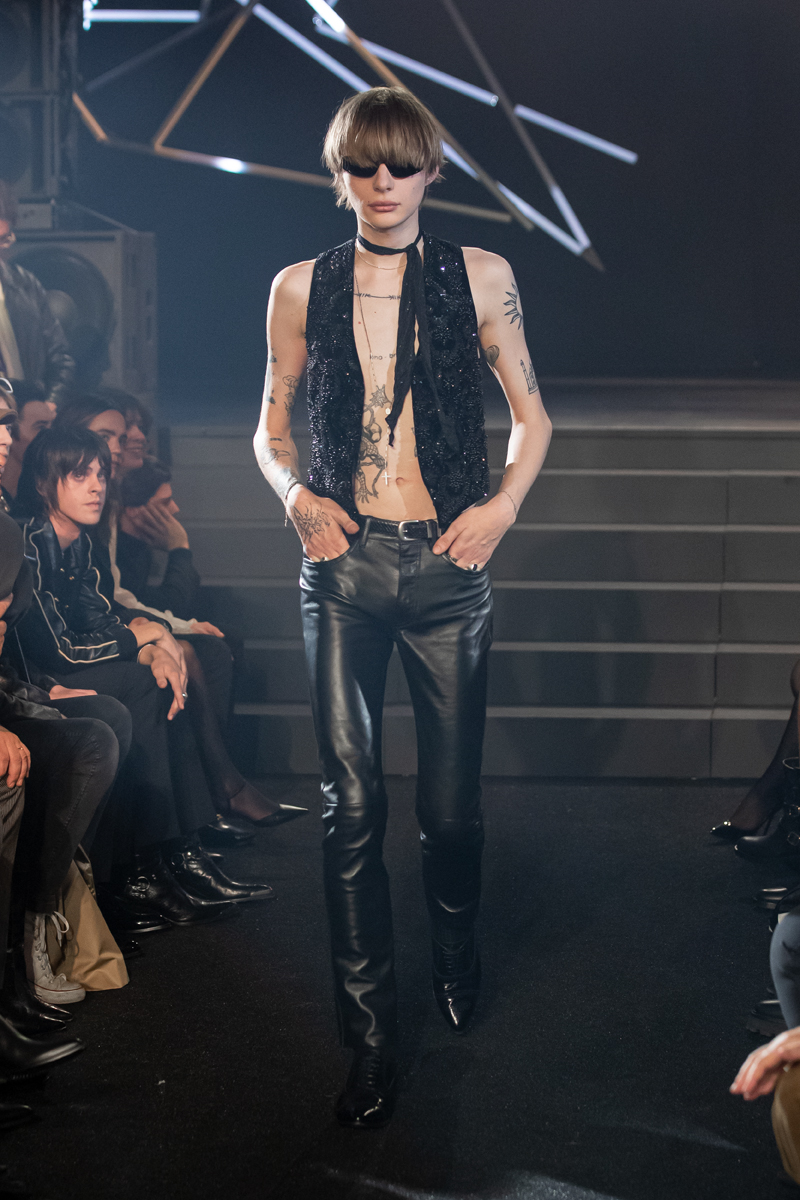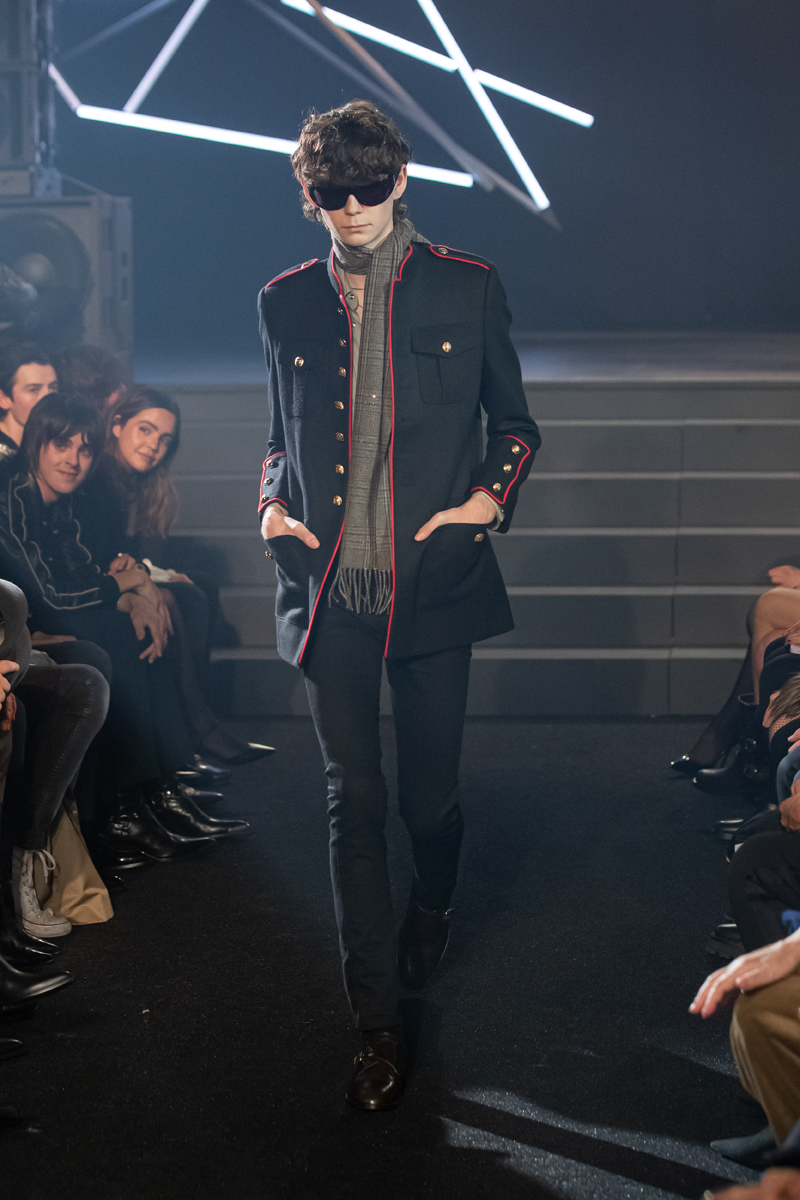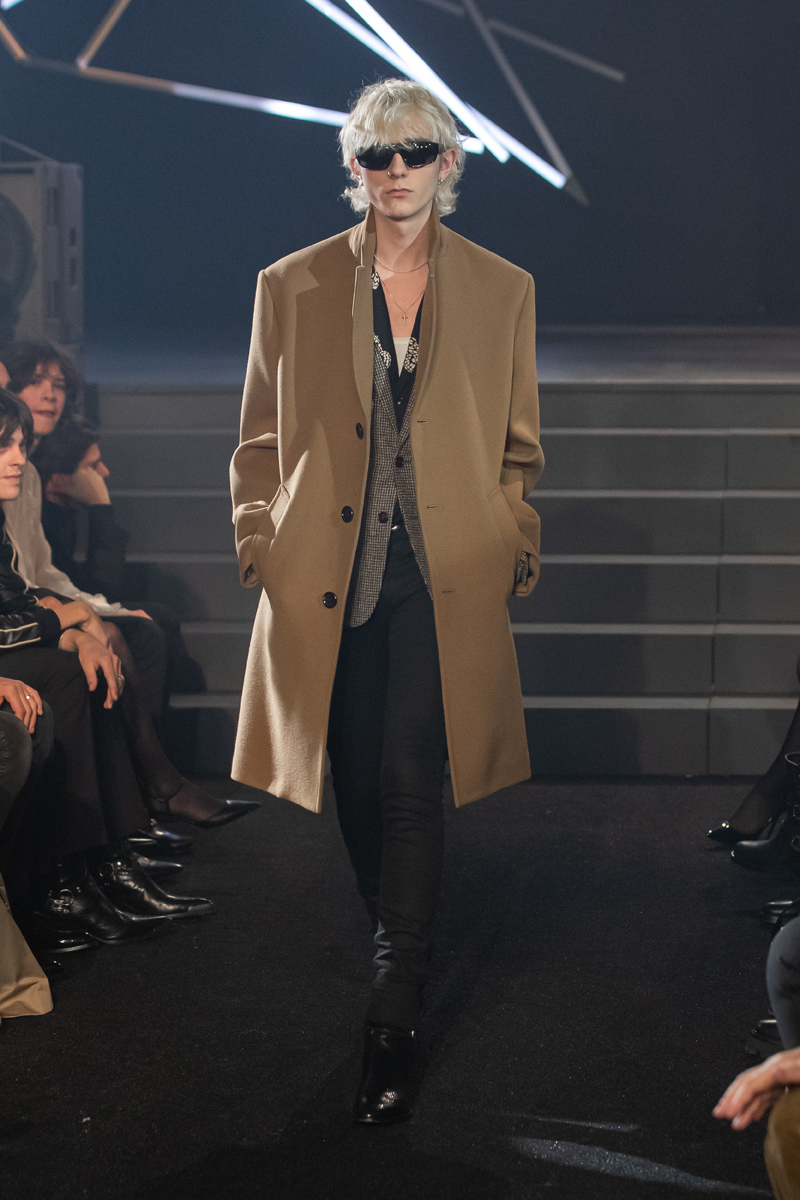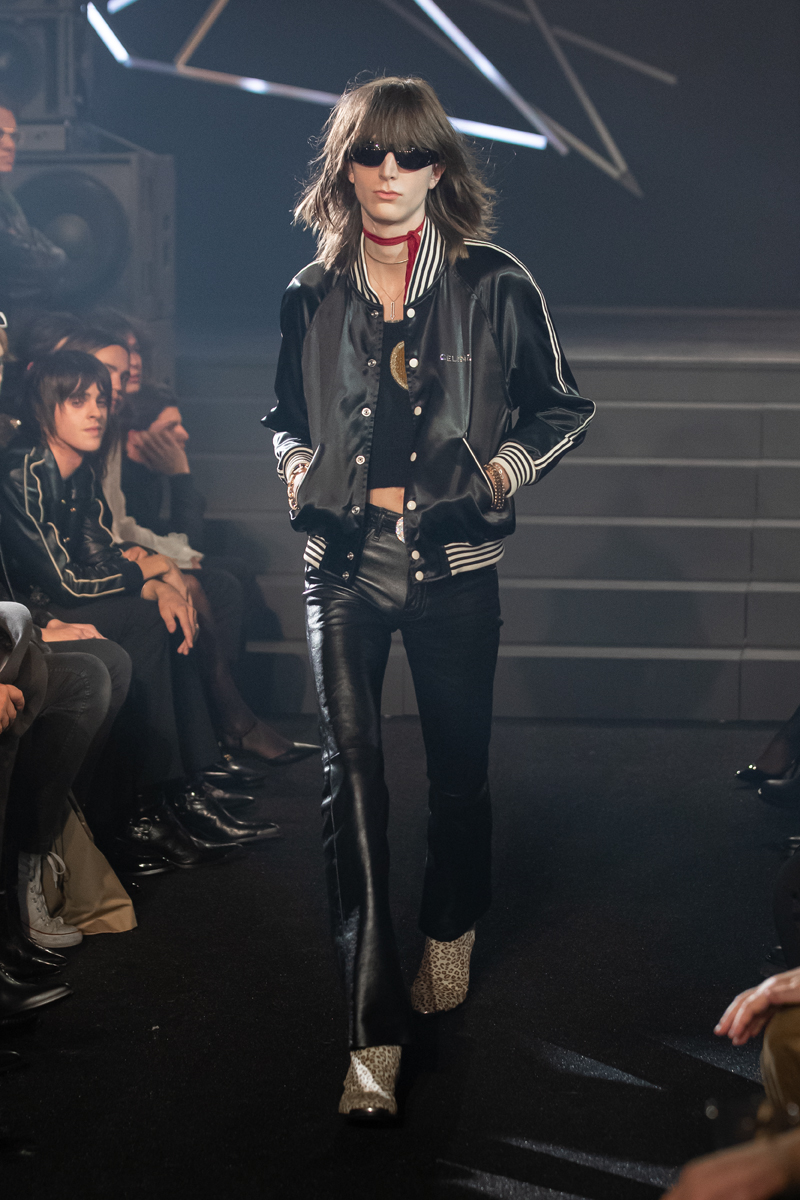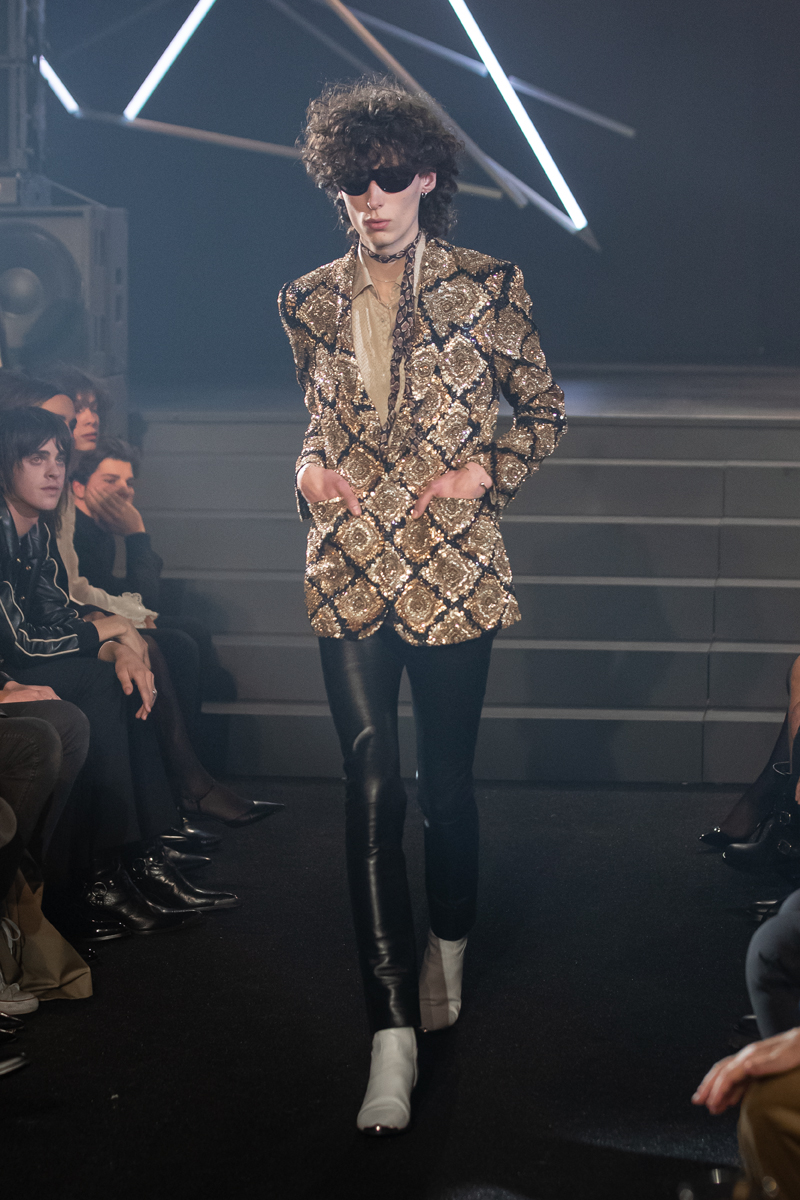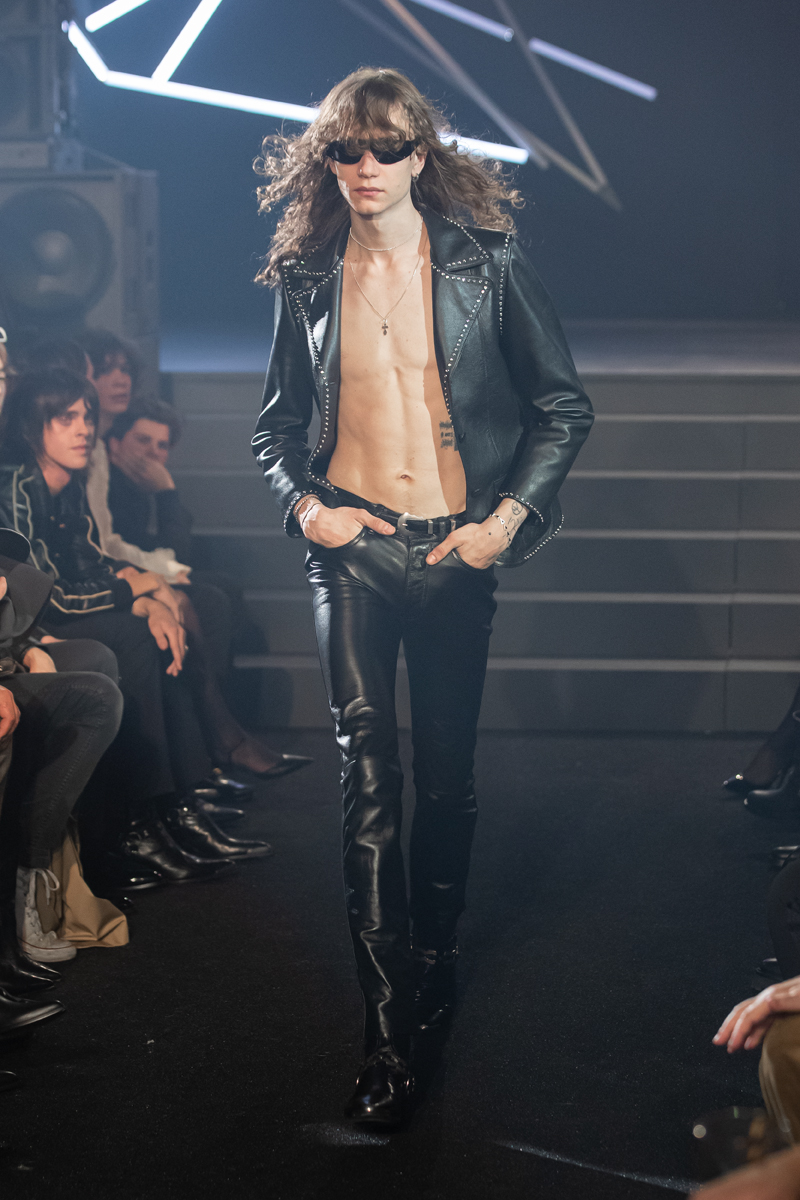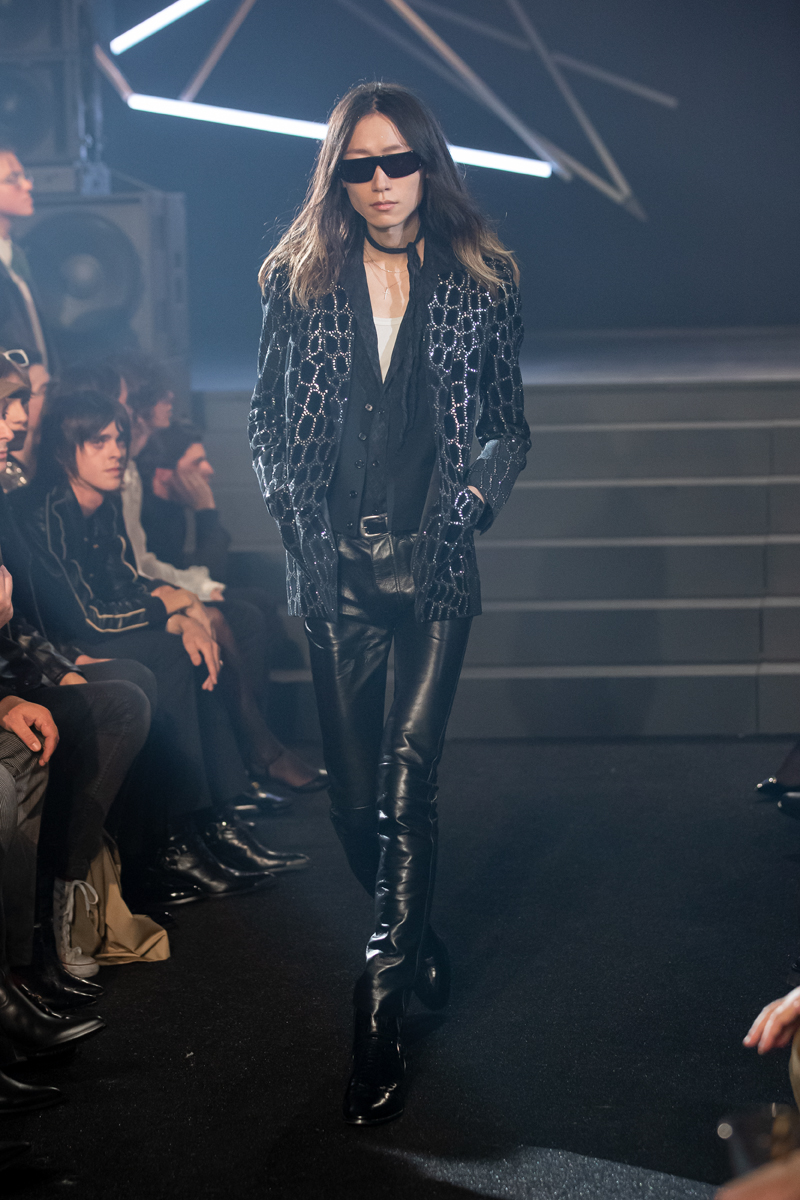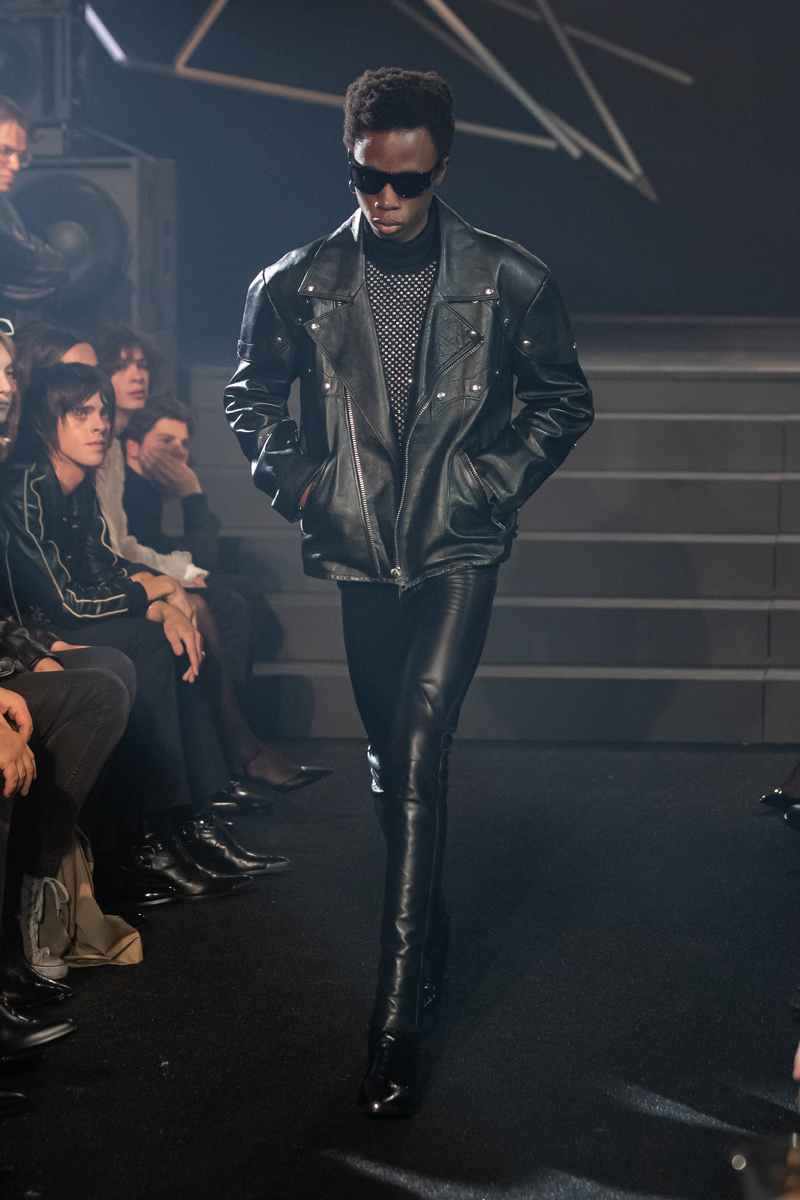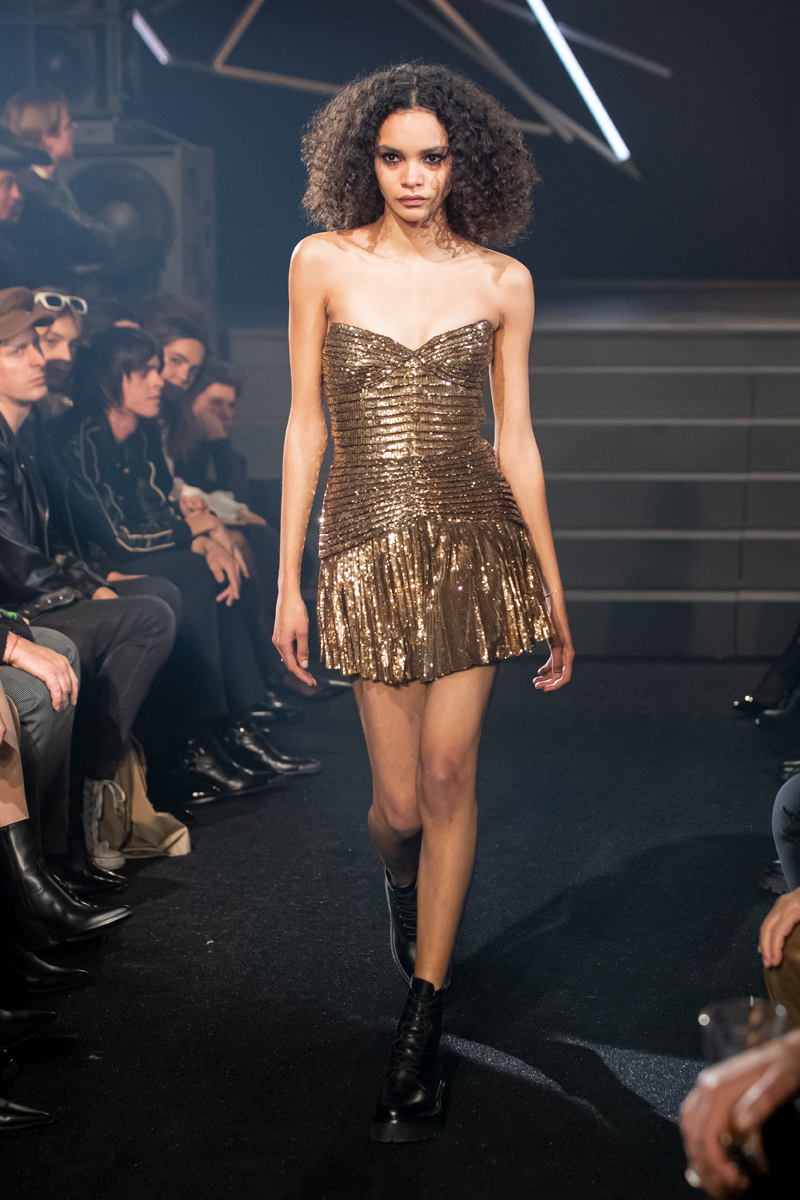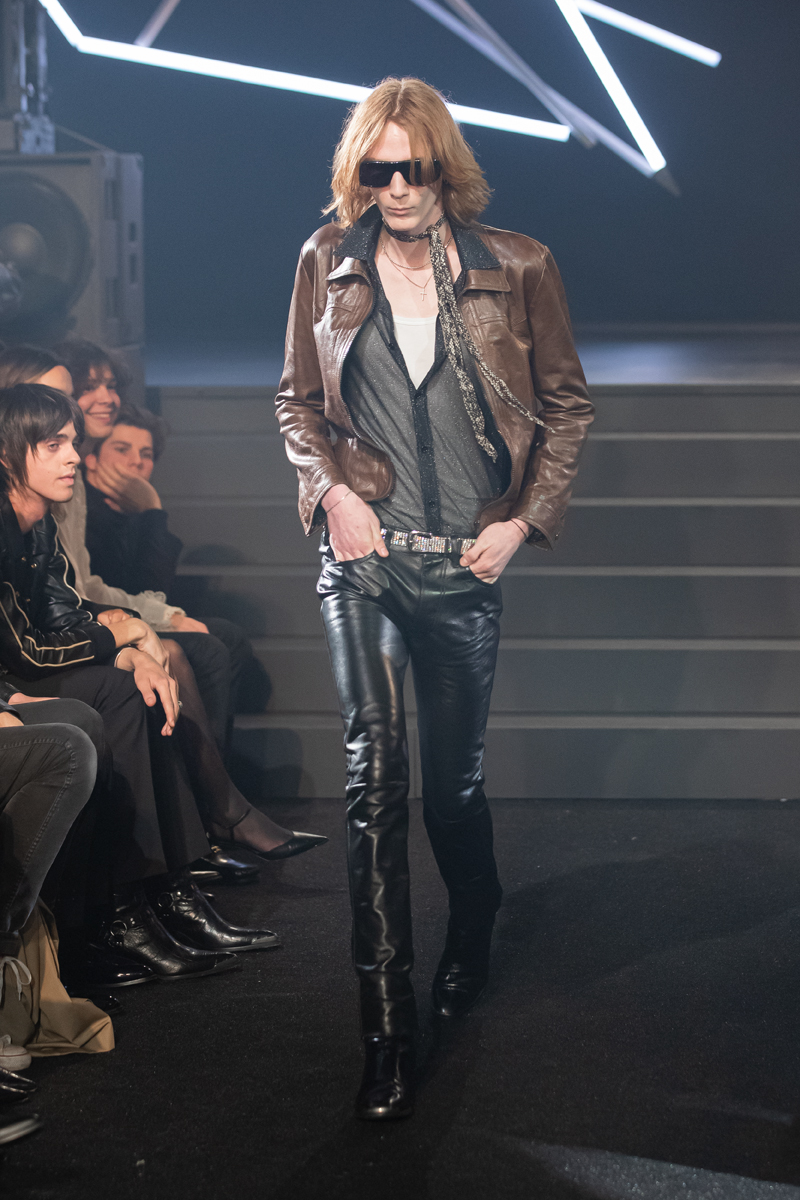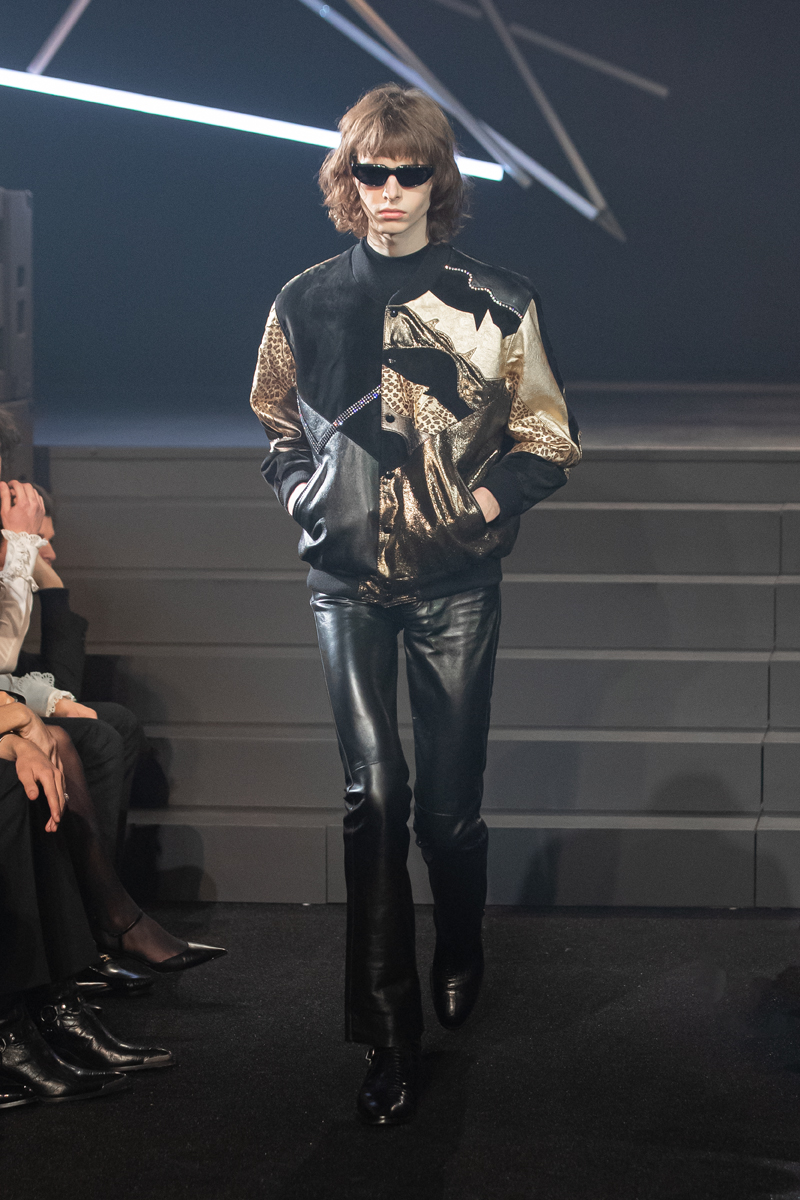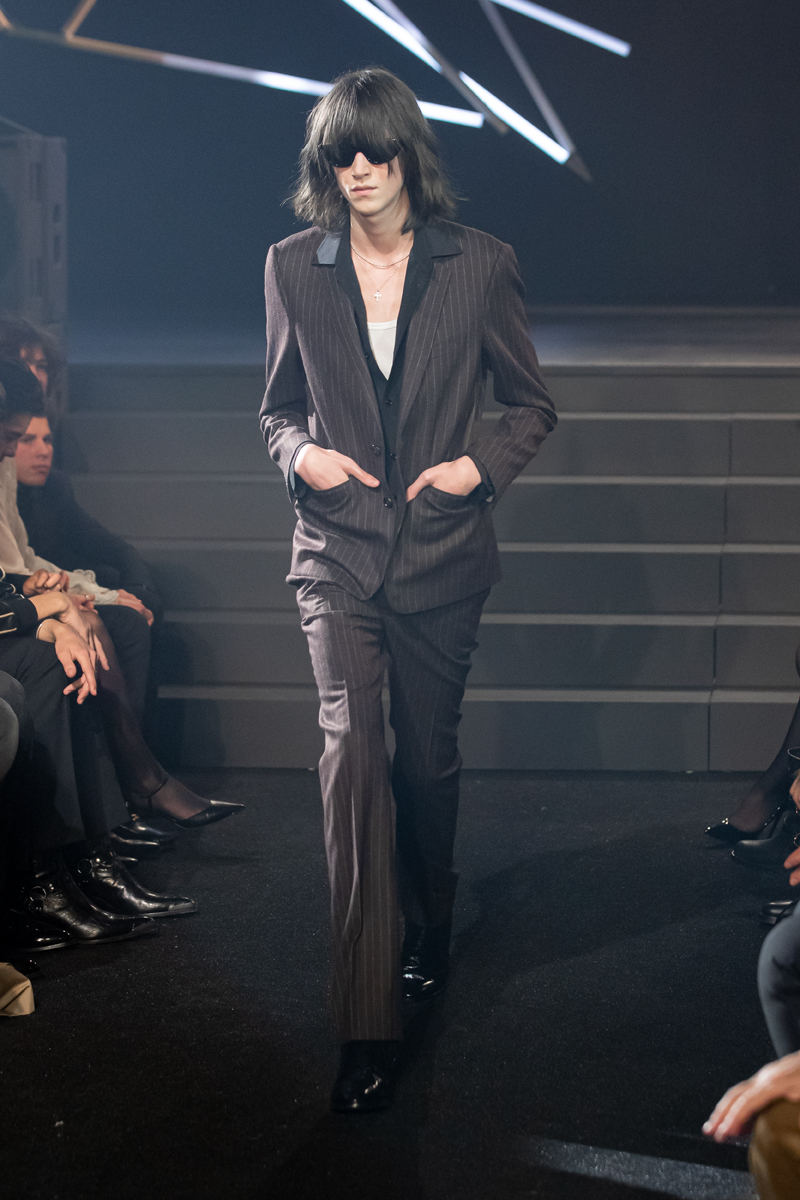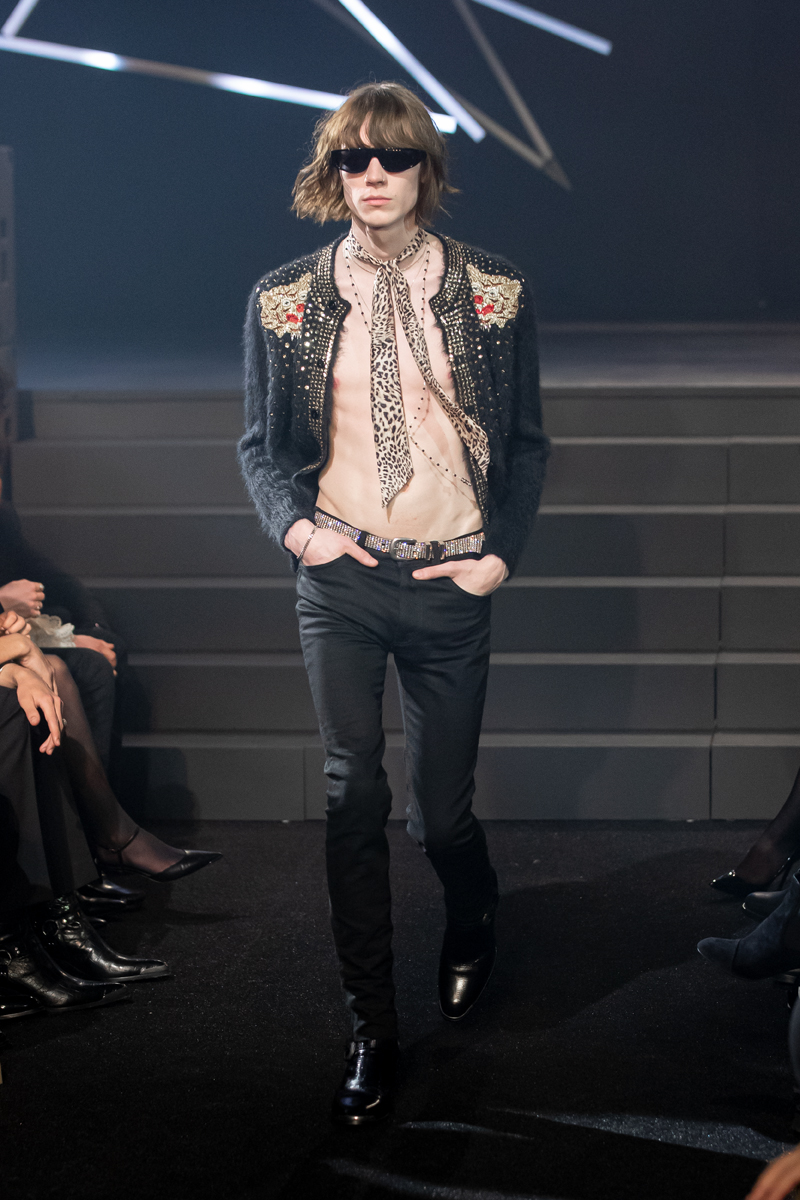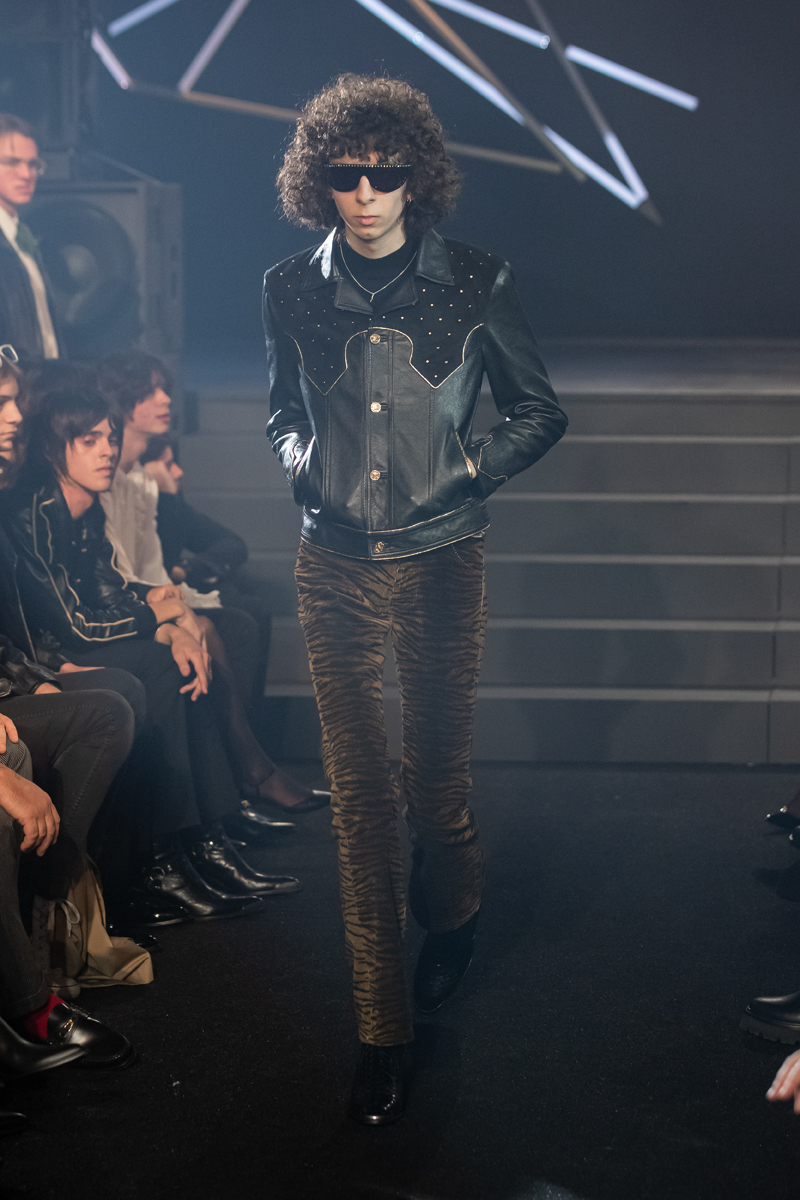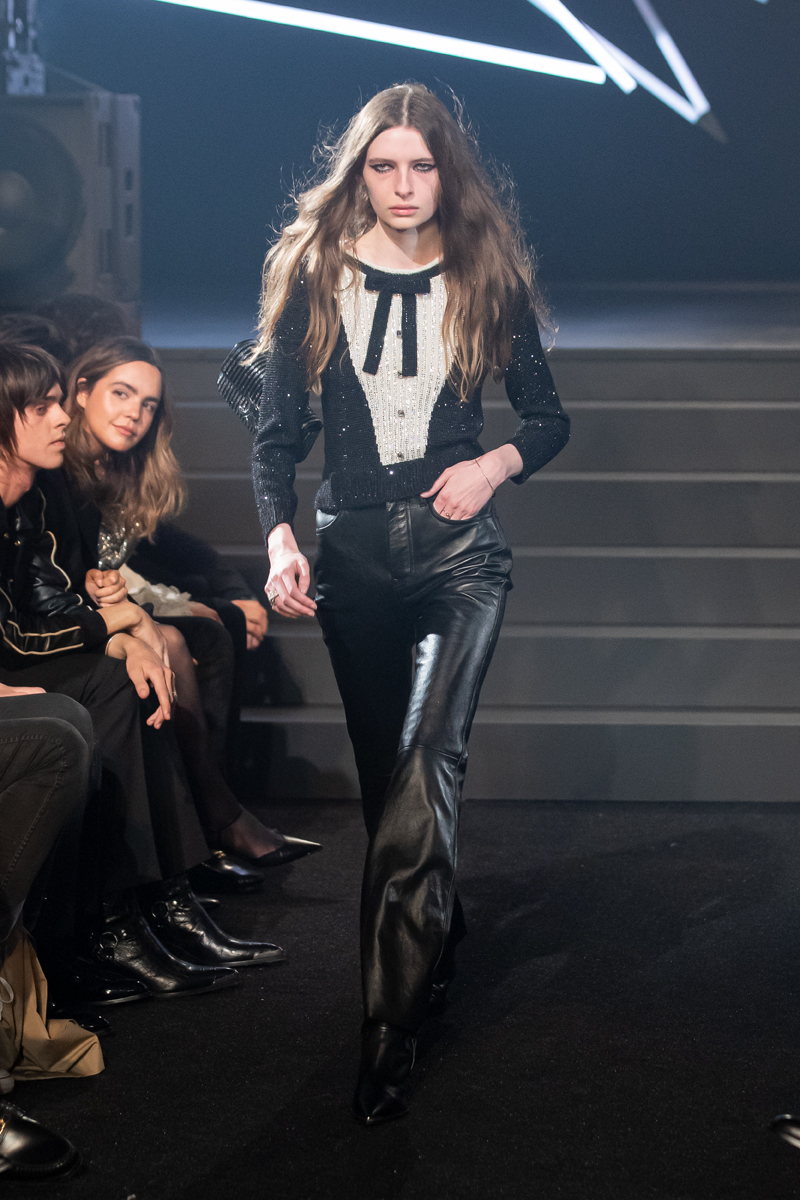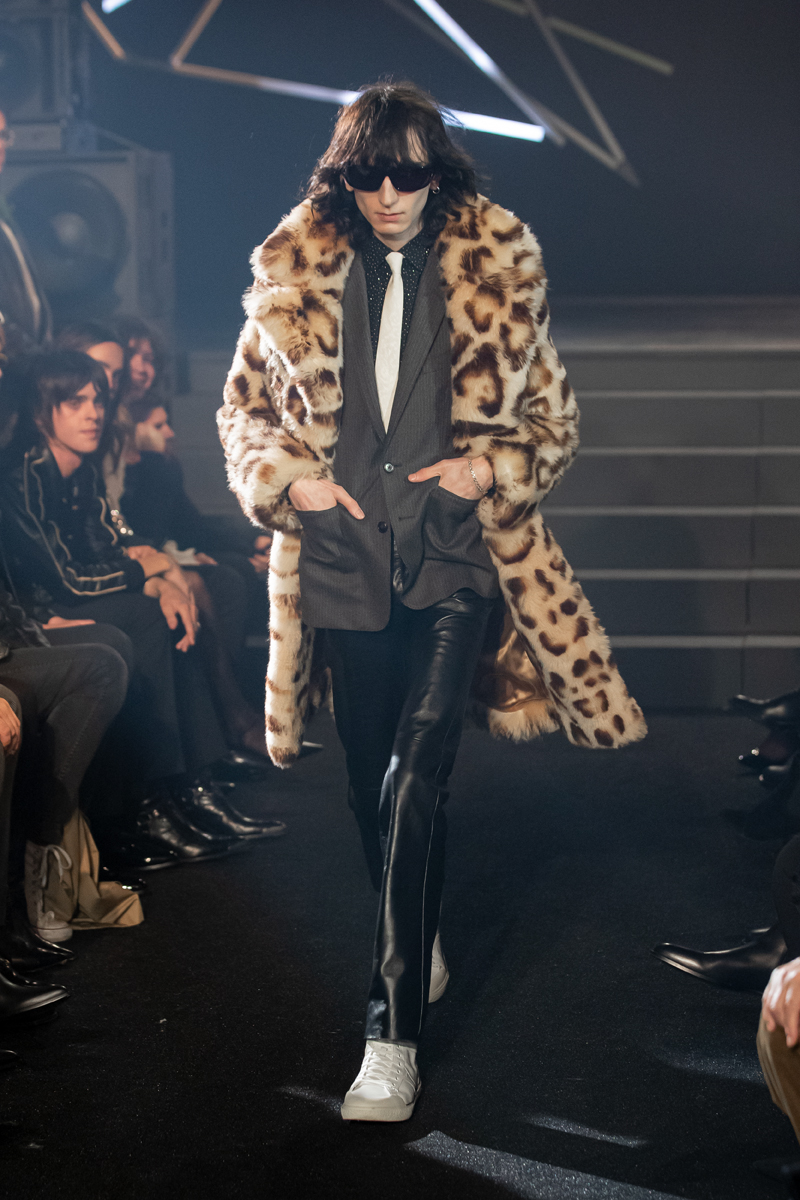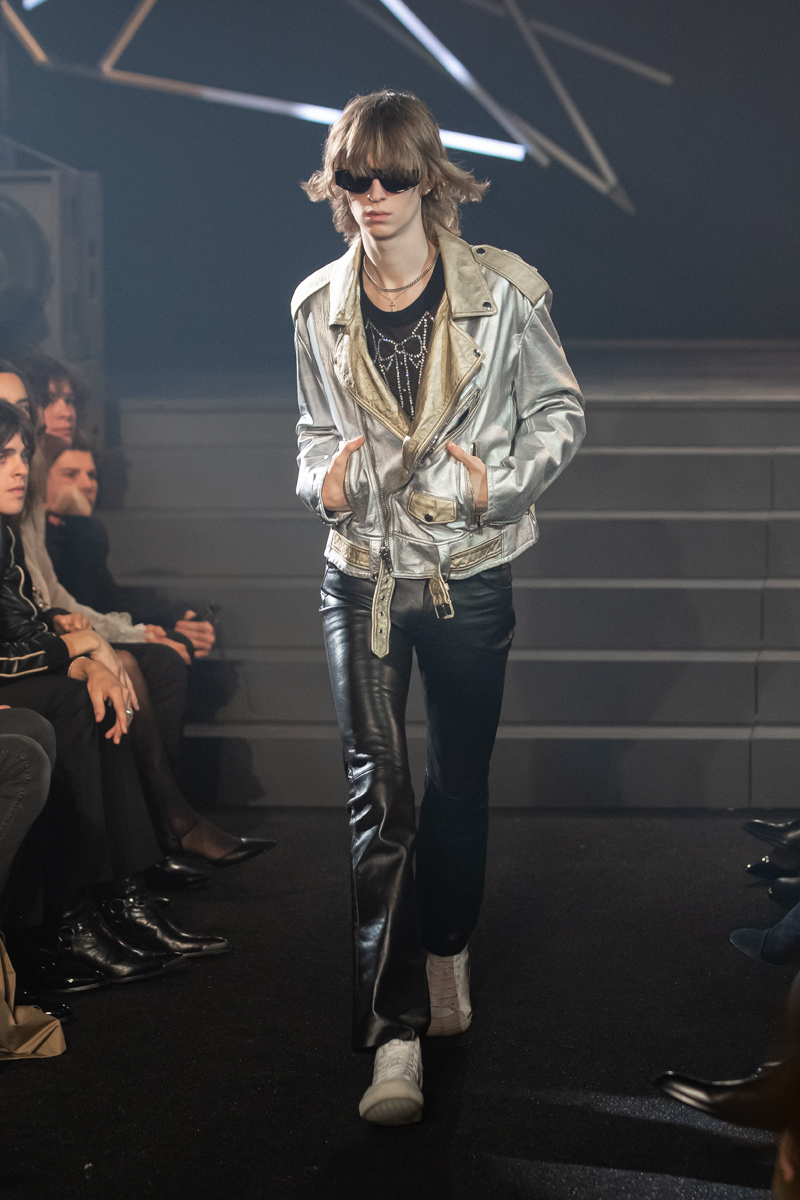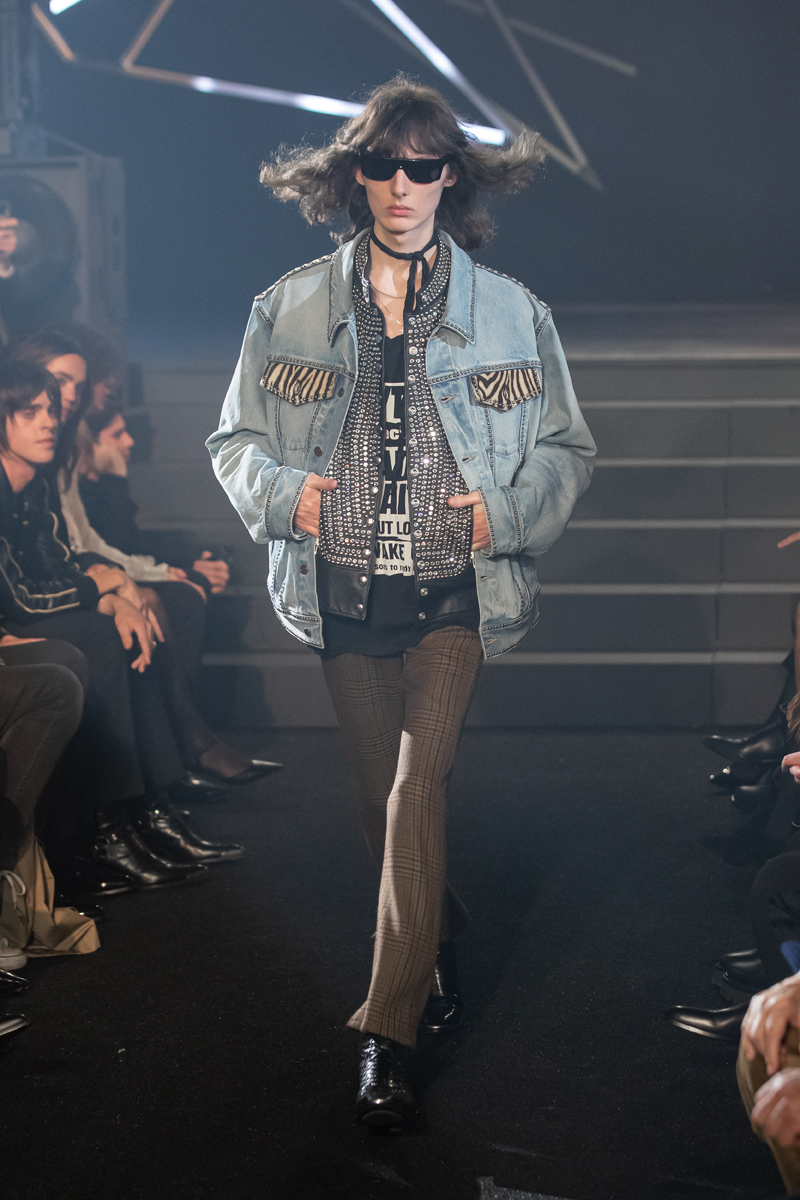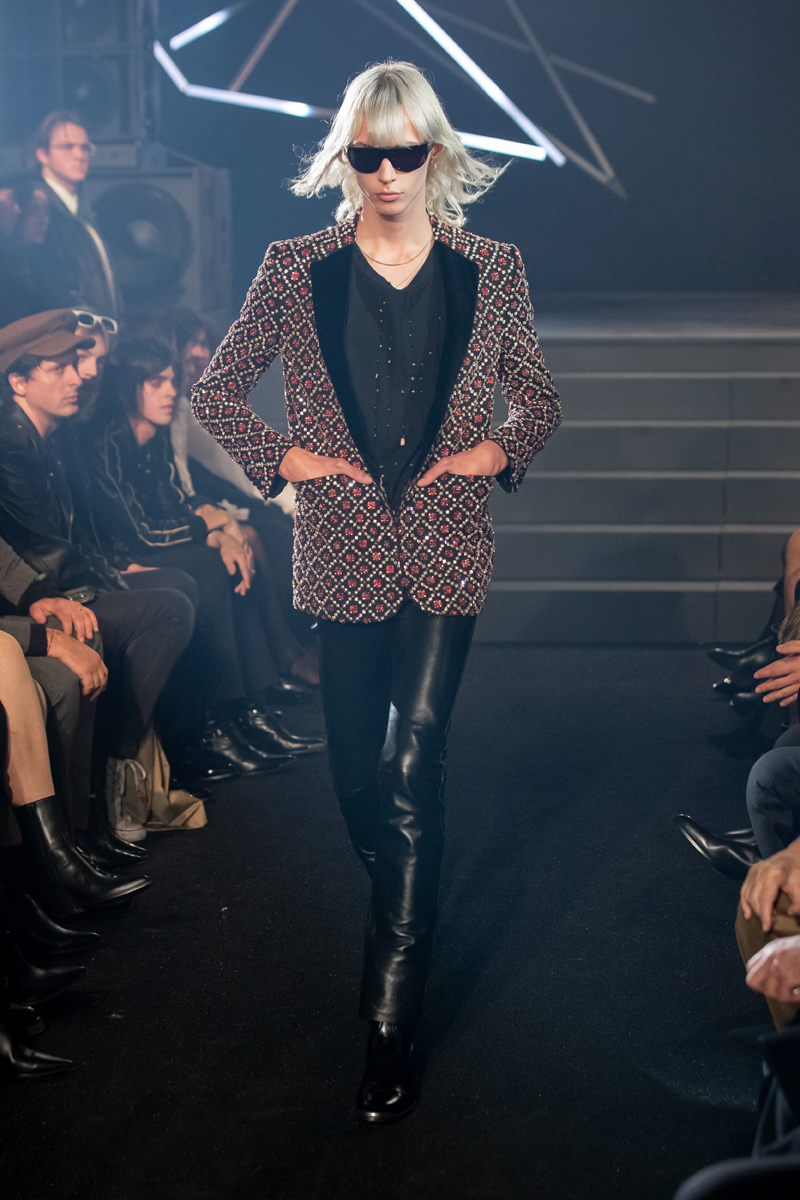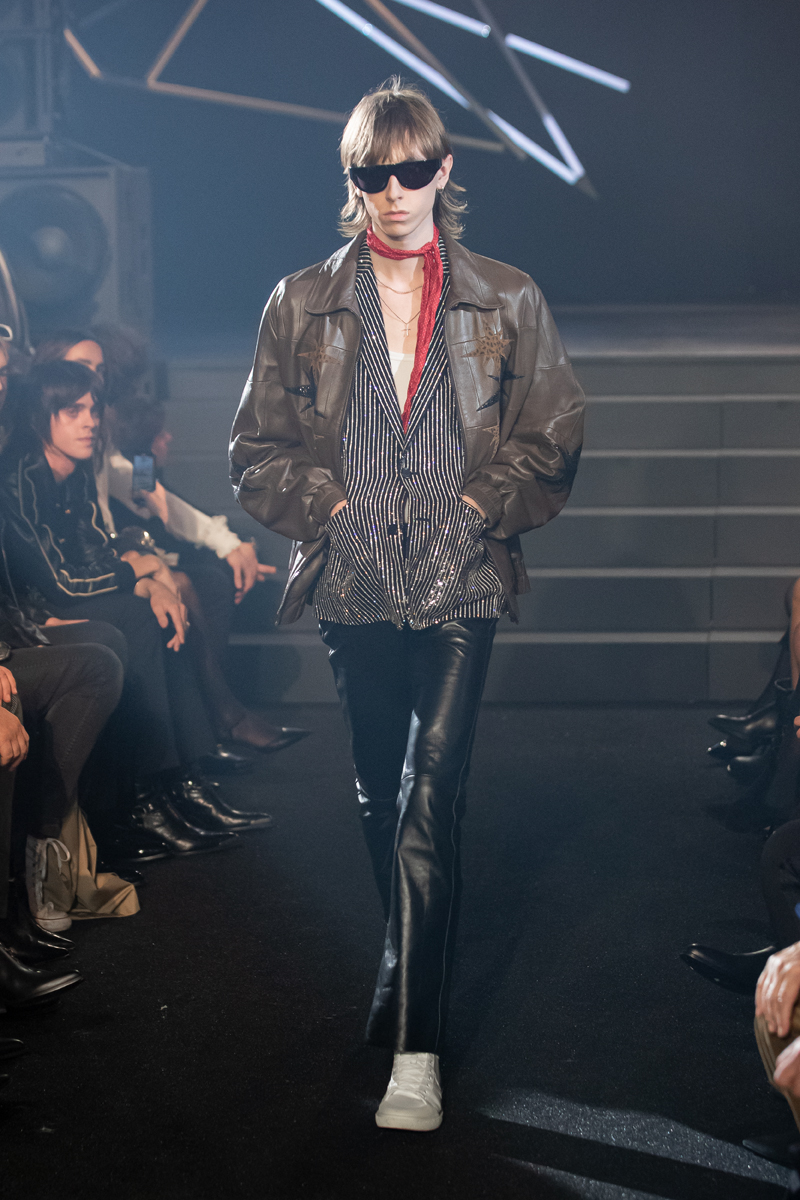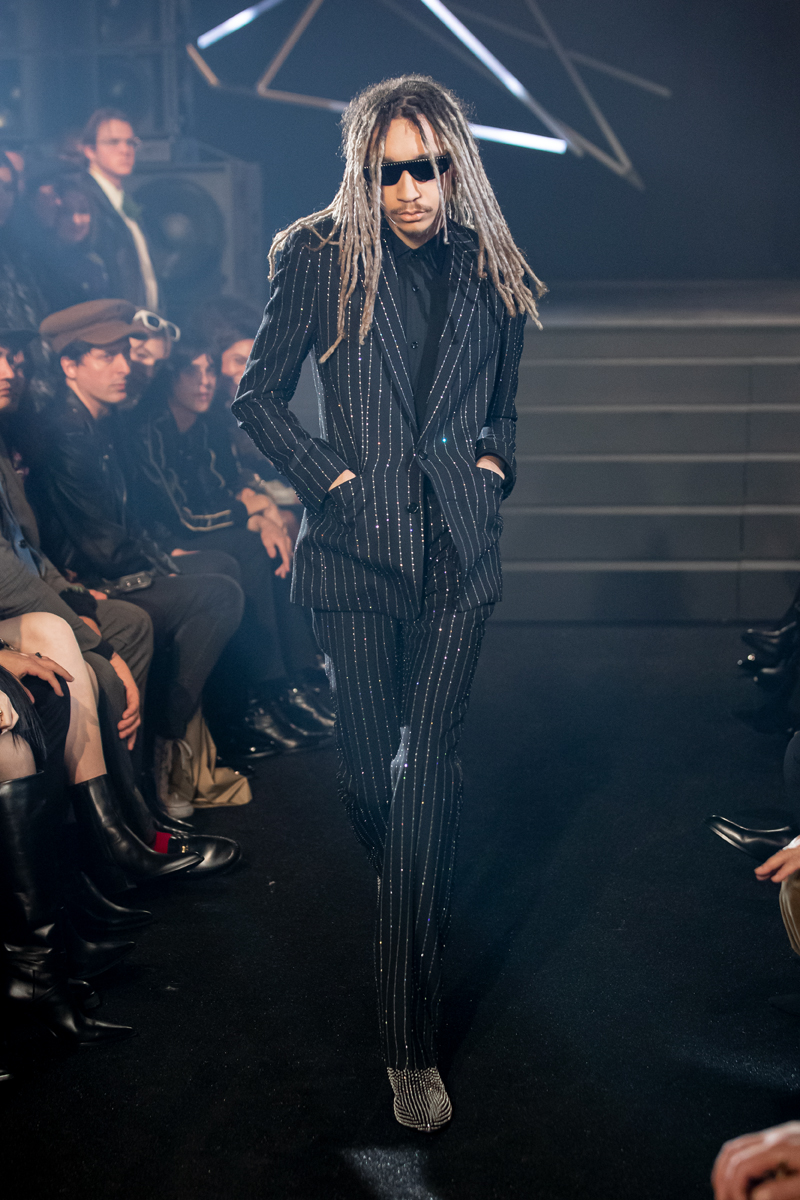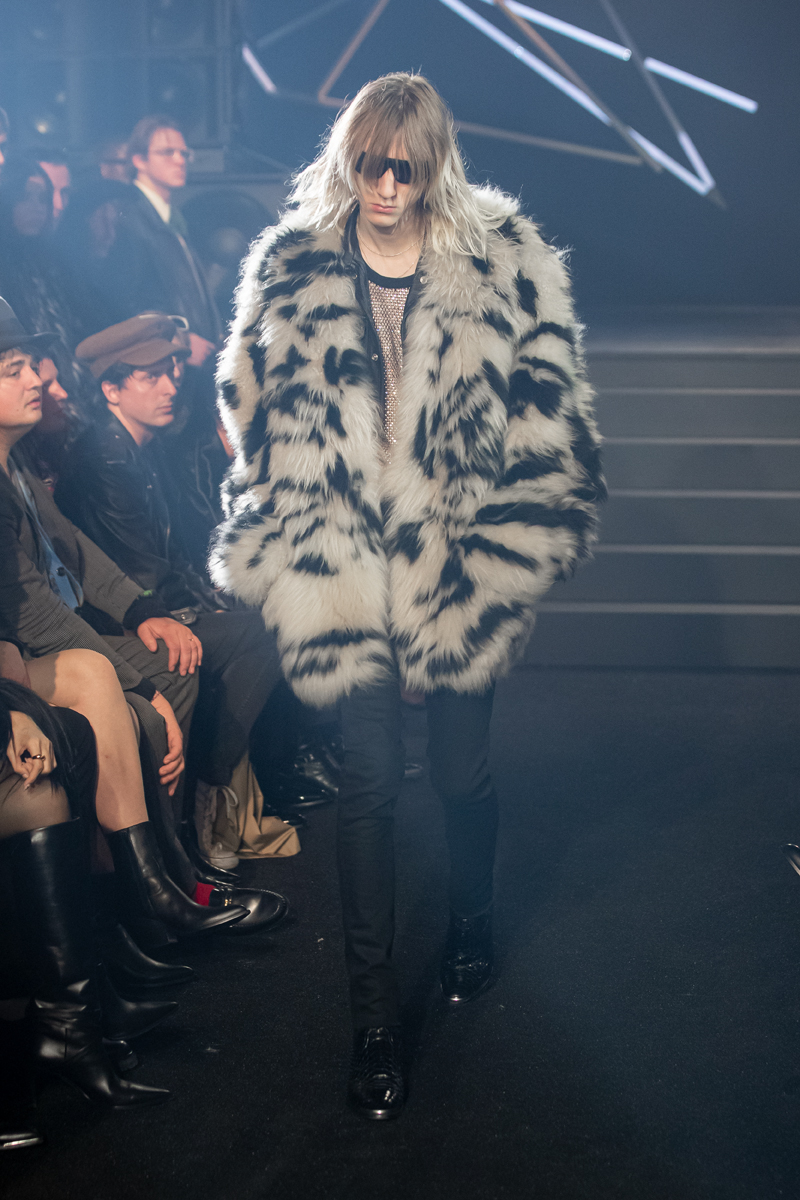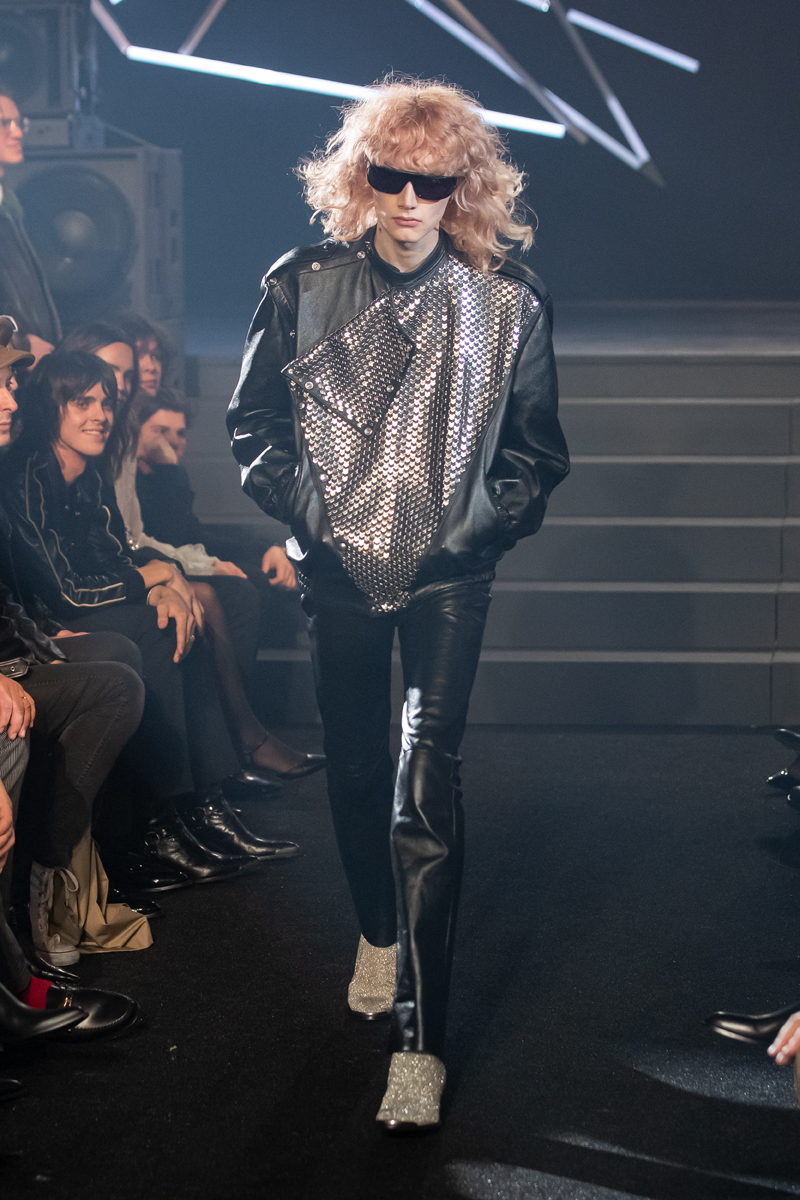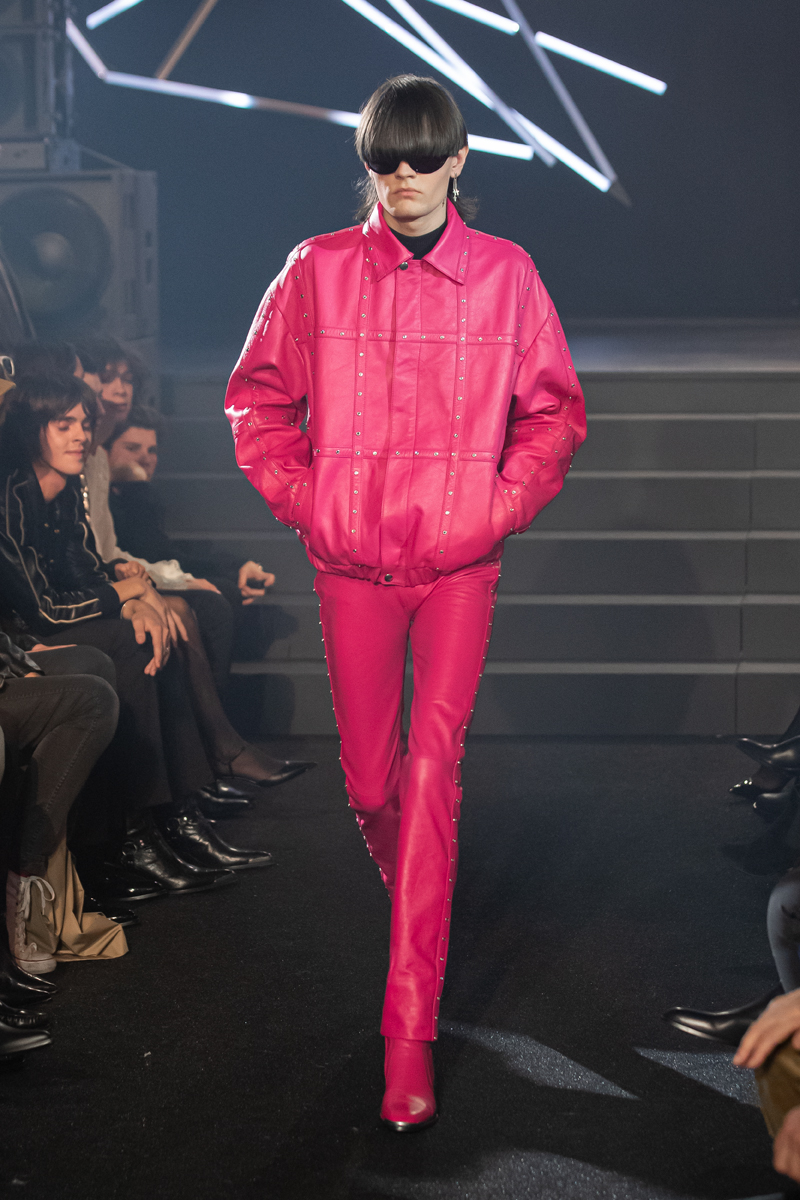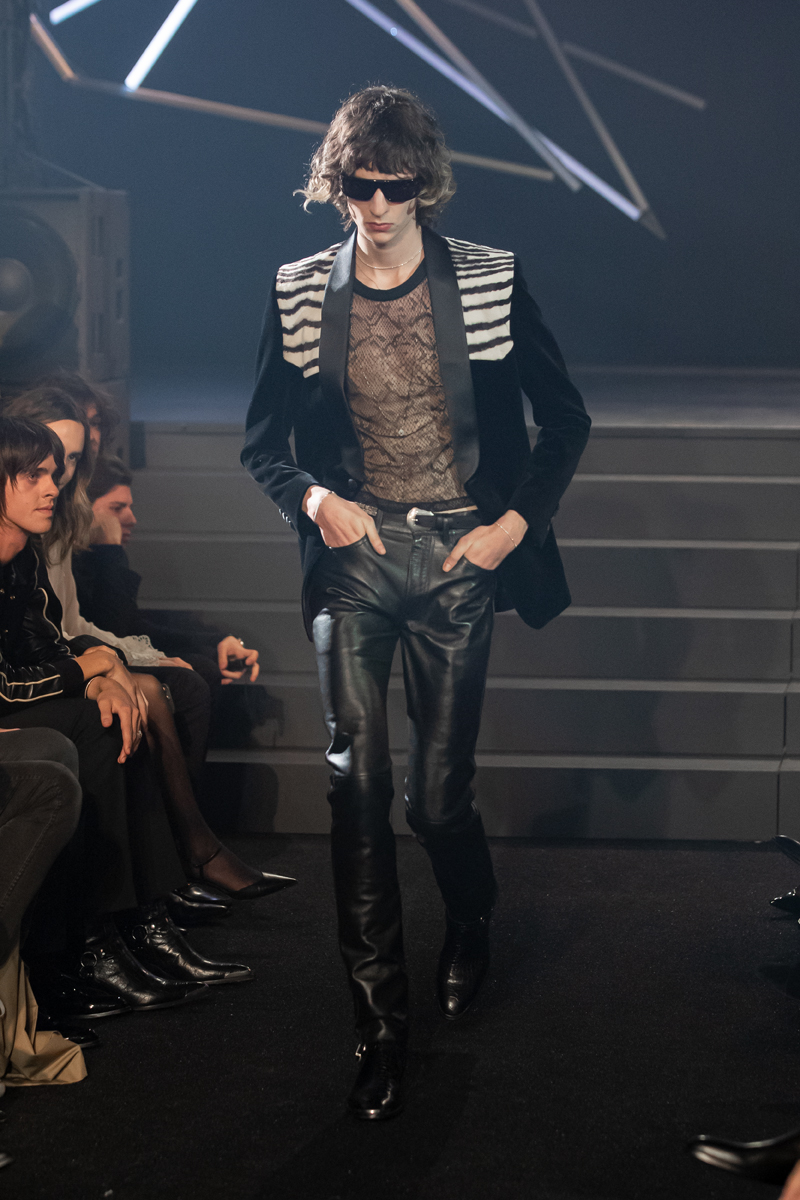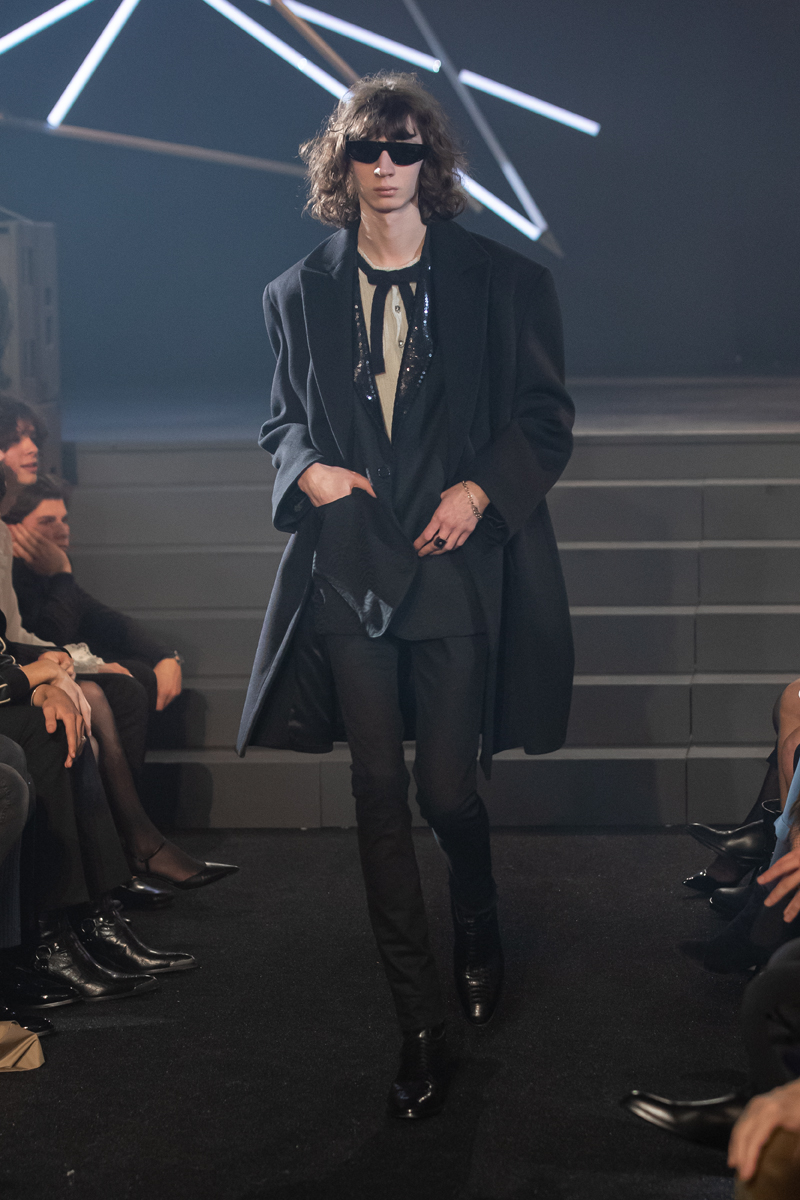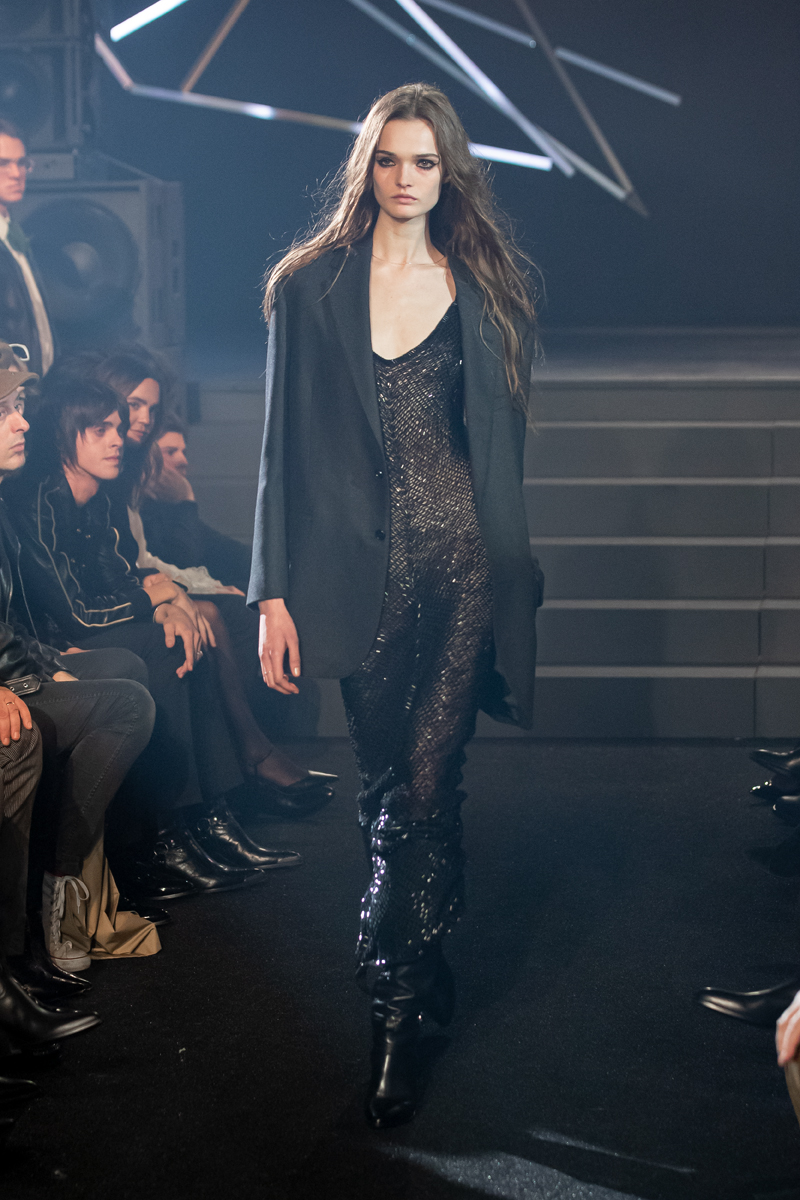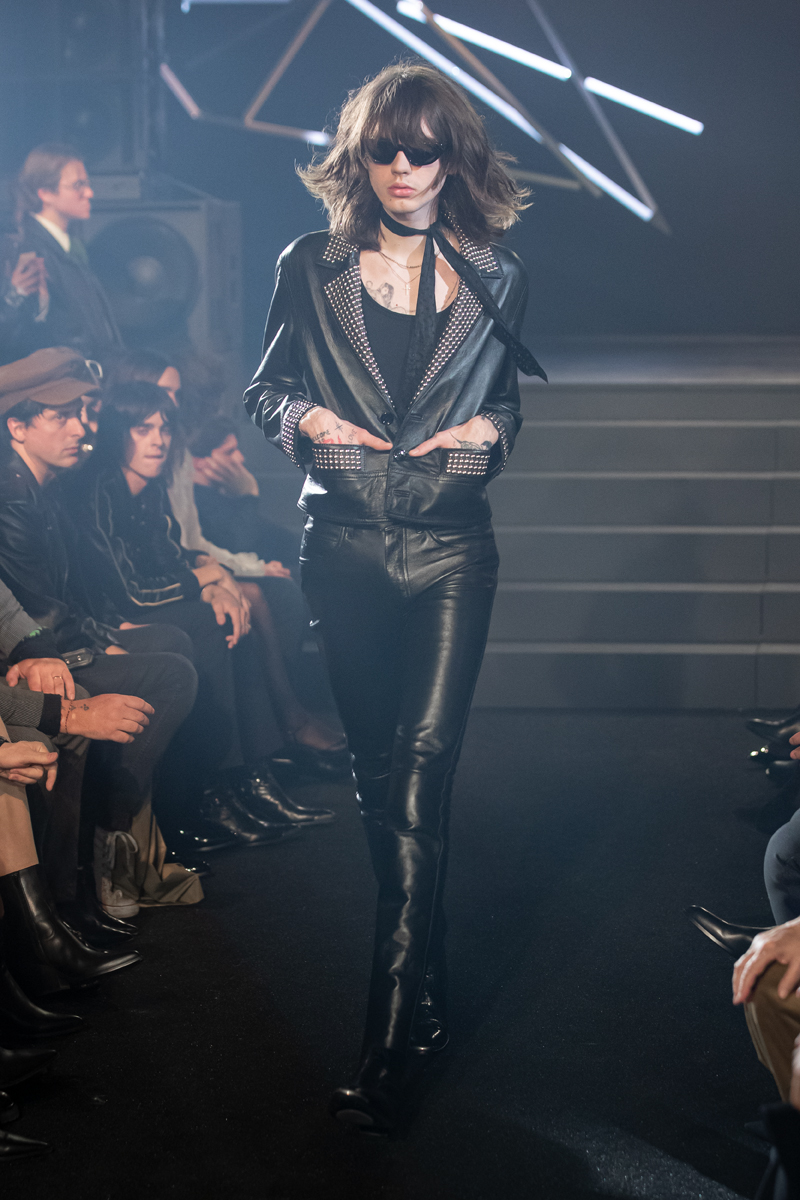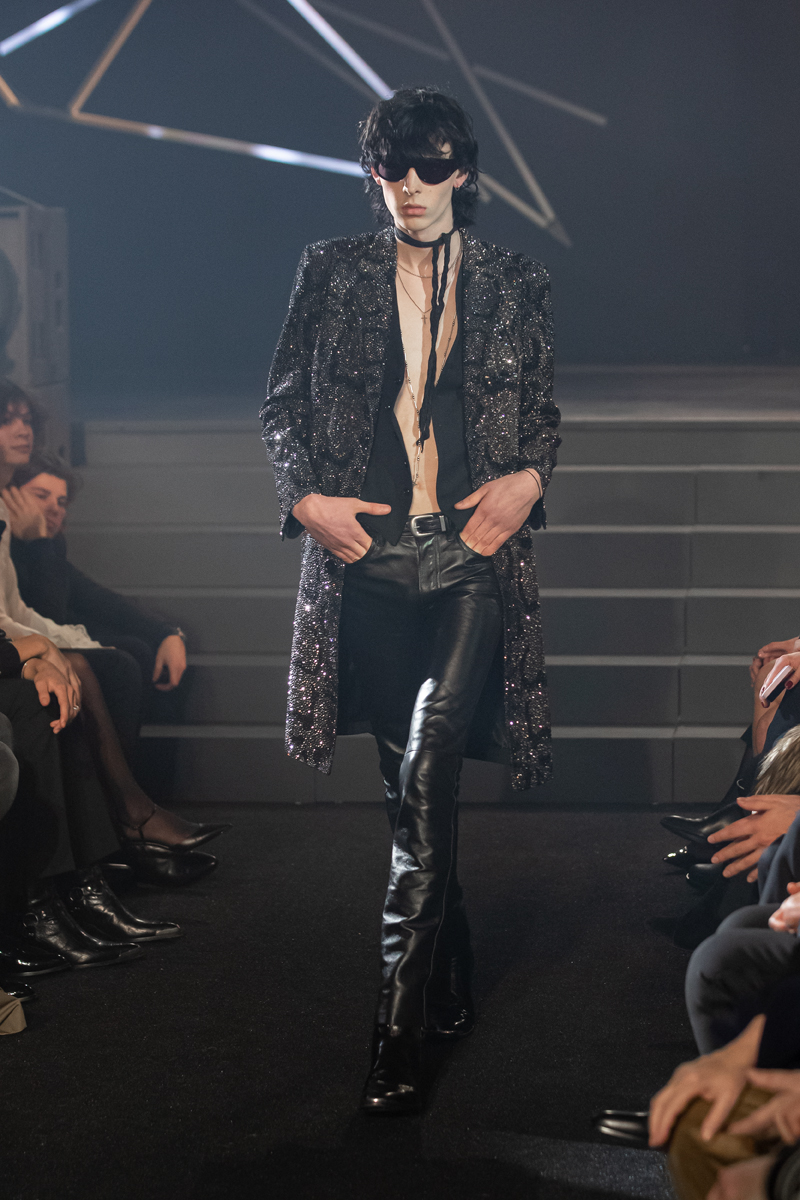 HEDI SLIMANE DELVES INTO TODAY'S YOUTH'S REDISCOVERY OF THE 2000'S ELECTRO CLASH AND ELECTRONIC ROCK SOUNDS AND SCENES, A MOVEMENT APPEARING IN MAJOR CITIES LIKE PARIS, LONDON AND NEW YORK. HE PAYS TRIBUTE TO NEW YORK'S CULT PROTO-PUNK BAND SUICIDE FORMED IN 1977 BY ALAN VEGA AND MARTIN REV, A BAND WHO IN 2023 STILL INTRIGUES AND INSPIRES THE EMERGING MUSIC SCENES.
KEY TO THE COLLECTION, THE TIGHT BLACK LEATHER CELINE PANTS, ARE PAIRED IN "DOUBLE LEATHER" WITH BIKER AND RACER JACKETS CUSTOMIZED WITH STUDS OR RHINESTONES. THE CELINE COATS ARE WORN OVERSIZED AND ARE CUT OUT OF CASHMERE OR ENGLISH TWEEDS RECREATED ON A TRADITIONAL LOOM. THE CELINE SUITS ARE SLIGHTLY RAISED, WORN WITH CROPPED FLARED TROUSERS. THE EMBROIDERIES ARE HANDMADE IN THE PARISIAN COUTURE ATELIERS. THE GIANT LEOPARD AND TIGER PRINTED COATS ARE MADE FROM SHEARLING CASHMERE.
THE MODELS WEAR "NIGHTCLUBBING" PERFUME, PART OF THE CELINE HAUTE PARFUMERIE COLLECTION. THE PIECES THAT PAY TRIBUTE TO LE PALACE ICONIC YEARS ARE LIMITED EDITION.
---
celine
celine by hedi slimane
LE PALACE
---