Tory Burch just held their Spring/Summer 2024 fashion show live from New York Fashion Week. The show was held on Monday, September 11, at The Richard Gilder Center for Science, Education, and Innovation, the latest addition to New York's historic American Museum of Natural History.
View this post on Instagram

The Tory Burch Spring/Summer 2024 runway reclaimed crinolines, boning and hair nets — things that restricted women — to create silhouettes that move freely. Symbols associated with restricting women's movement, like the crinoline, are reworked into futuristic swirling structures in unexpected places. At the shoulders, miniskirt hems and torsos of knit dresses and skirts that accentuate the body's natural curves.
"In a chaotic world, we thought about what 'effortless' means now. Clothing that frees up space in your mind. For Spring/Summer 2024, it is defined by modular tailoring, feather-weight materials, and dynamic layers that build structure and volume without bulk. We evolved our signatures and experimented with new shapes, like micro-mini goddess dresses. Sculptural blazers and tunics with plunging U-necks mirror the aerodynamic curve of accessories. Handbags are molded to rest on the hip, sunglasses wrap around the face, and shoes are constructed entirely of round edges. This collection is designed to be lived in, to move with you, and to instill a sense of lightness and optimism." — Tory Burch
What's more, familiar faces were spotted attending the show. Take a look at these celebrities below, serving their best Tory Burch looks!
Uma Thurman, Tory Burch, and Naomi Watts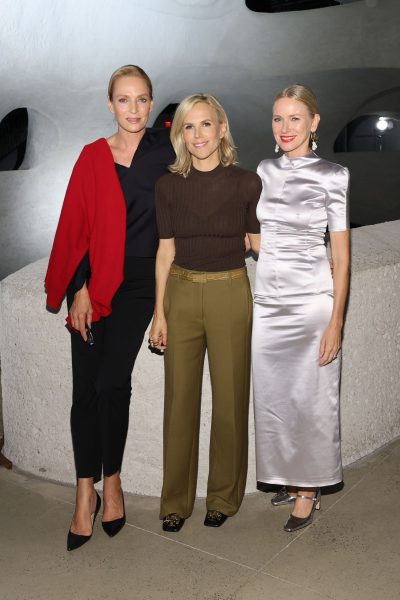 What Uma wore: Wool V-Neck Sweater, Cotton Poplin Tunic, and Stretch Faille Pant
What Naomi wore: Resort23 Look 2, the Shrunken Tee and Slip Skirt, Bon Bon Spazzolato Mini Bag, Banana Mary-Jane Pump, Carved Semi-Precious Ring, and Pearl Drop Earrings
Suki Waterhouse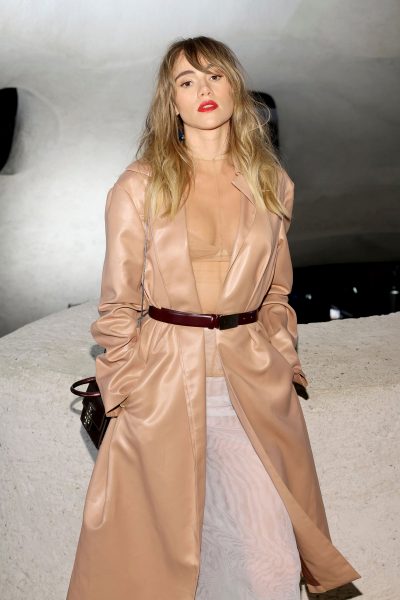 What Suki wore: RE23 Look 7, Coat, Mesh Bra, Picot Trim Long Sleeve Shirt and Pencil Skirt, Metal Plate Belt, Bon Bon Metallic Mini Bag, Banana Tall Boot, and Mismatch Earrings
Emma Roberts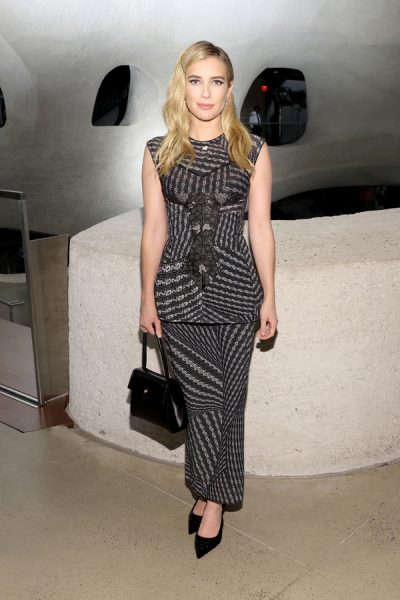 What Emma wore: FW23 Look 35, the Printed Mesh Top and Skirt, Small Deville Bag, Eleanor Pave Slingback, and Kira Pave Pearl Drop Earrings
Madelaine Petsch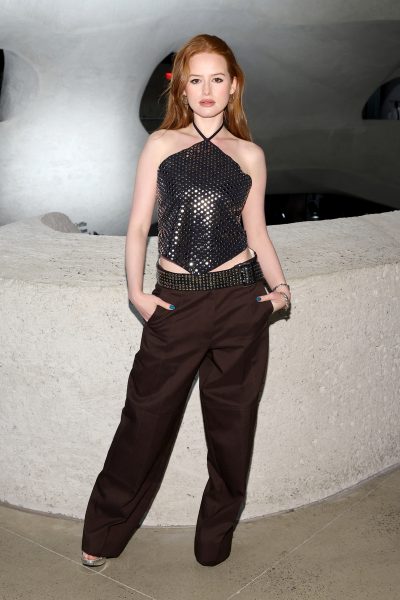 What Madelaine wore: RE23 Look 12, Embellished Halter Top, Twill Cargo Pant, and Studded Belt, Night Owl Crystal Embellished Mini Bag, Patos Wedge Sandal, Twisted T Cuff and Twisted T Rope Cuff
Maddie Ziegler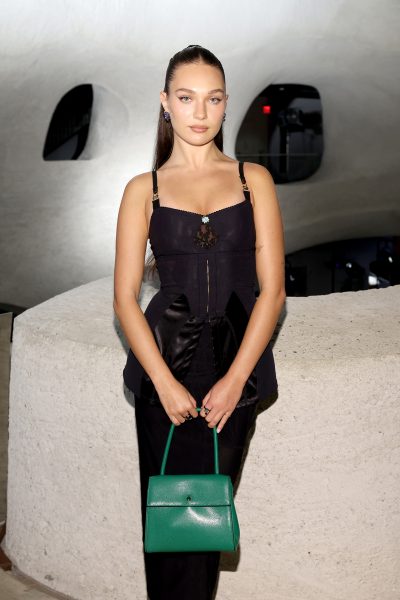 What Maddie wore: FW23 Look 36, the Spaghetti Mesh Strap Top and Skirt, Small Deville Bag, Broken Heel Pump, Rectangular Double Stud Earrings, and Runway Rings
Hari Nef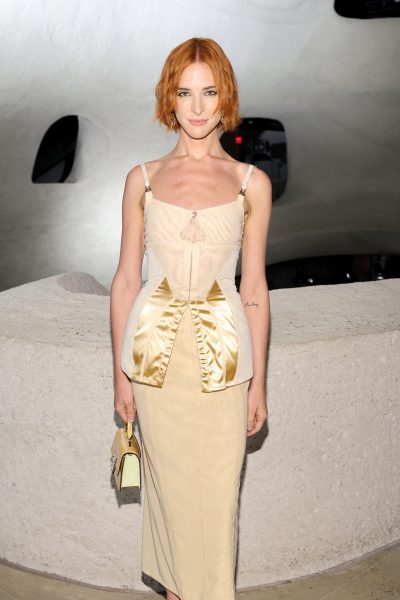 What Hari wore: FW23 Look 33, the Spaghetti Mesh Strap Top and Skirt, and Bon Bon Textured Patent Mini Bag
Halima Aden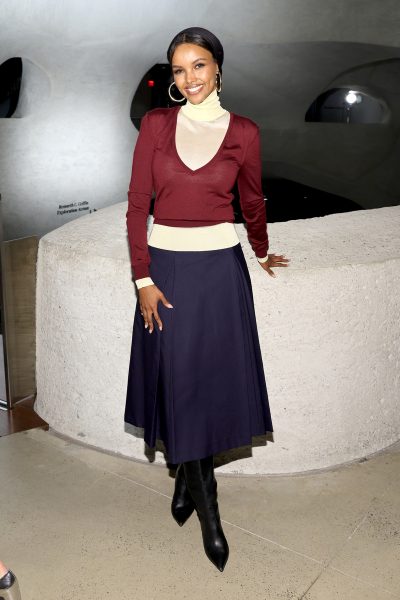 What Halima wore: Resort23 Look 16, the Double Layer Mockneck Pullover and Pleated Twill Skirt
Lori Harvey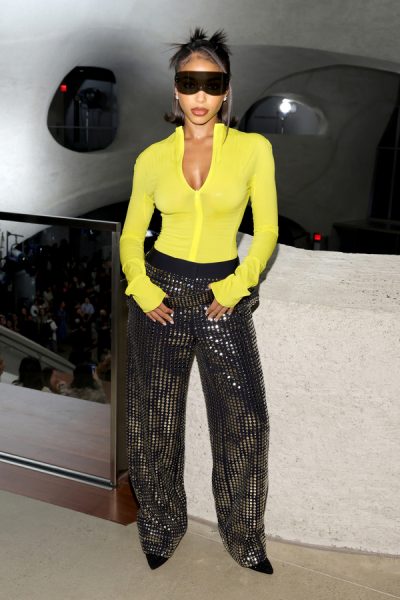 What Lori wore: RE23 Look 17, the Embellished Pants, and Look 21, the Georgette Top, Eleanor Spazzolato Bag, and Studded Pump
Kilo Kish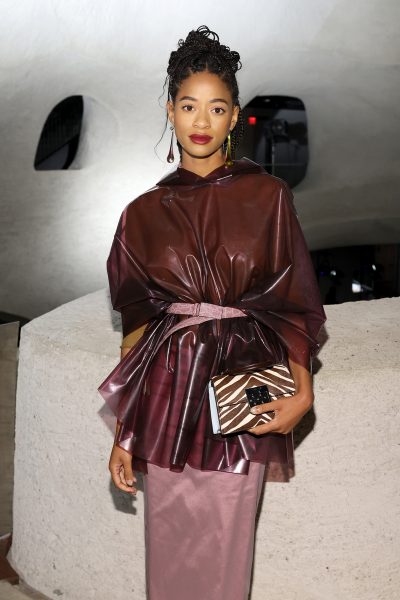 What Kilo wore: Resort23 Look 10, the Hooded Cape, Stretch Skirt, Boatneck Georgette Top, and Embossed Plate Belt, Bon Bon Zebra Mini Bag, Pierced Heeled Slingback, and Teardrop Earrings
And lastly, Indonesian singer Rossa was also there! See her Tory Burch fashion show journey below!
View this post on Instagram
Click here to discover Tory Burch's latest collections.
---
Emma Roberts
naomi watts
new york fashion week
Rossa
Suki Waterhouse
TORY BURCH
Tory Burch Spring/Summer 2024
Uma Thurman
---