A collaboration between BMW and Jeff Koons turns the BMW 8 Gran Coupe into a rolling sculpture
By The Time Place Magazine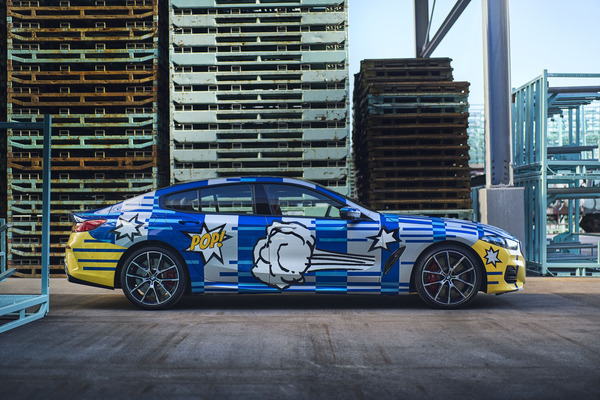 Nothing says luxury than exclusivity. This much can be said about the BMW 8 Gran Coupe, which thanks to a collaboration with famed artist Jeff Koons, has been turned into a much-coveted work of art. Recently unveiled to Indonesian VIPs and art connoisseurs at the Museum Macan, the car is part of a very limited 99-piece global offering and is the only one available in Southeast Asia, making it a truly valuable commodity.
A follow-up to BMW's initial collaboration with the famed artist in 2010 (with the M3 GT2), this latest art partnership is showcased on the BMW 8 Gran Coupe. Jeff Koons applies his artistic touch on the sleek, top of the line vehicle and turns it into his dream car. Under his deft hands, the minimalist and conceptual BMW 8 Gran Coupe has been wonderfully transformed into a sporty and flashy automobile, one that goes POP! POP! POP!

A predominantly blue and yellow colour palette was applied for the interior of the multi-hued vehicle, while the exterior reflects the vivid tones used for superheroes in comic books. This lively evocation of power is a stark reflection of the BMW 8 Gran Coupe's high performance.
A true rolling sculpture, the car is not meant to just be displayed in the museum as it was created and elevated to dominate the road. With 285 hours taken to apply the exterior paintwork alone, the BMW 8 Gran Coupe by Jeff Koons is a beguiling sight to behold. You can see this work of art at the BMW x Jeff Koons exhibition of the Museum Macan until 6 November 2022.
Furthermore, you can also take part in the online bidding to purchase the singular BMW 8 Gran Coupe by Jeff Koons from 30 October – 6 November 2022. To take part in this once-in-a-lifetime event, go to https://www.bmw.co.id/the8xjeffkoons and download apps to join the online bidding.
---
bmw
jeff koons
THE TIME PLACE
the time place magazine
---