In the internet era, the way people consume fashion is not merely from the proper events, in which people are expected to dress up and documented by dozens and even hundreds of photographers. The public and the internet are always hungry for updates related to celebrities – even their casual styles are now hot topics and have their own categories for that – airport style, one of them.
With the improvement of photography, the huge budding interest in the phenomenon called 'street style', and the realization some people really do dress up and prepare their looks before going out of the house – cause some celebrities DO NOT want to be documented in bad outfits – for real. Hence, the internet gets what they want – celebrities' airport style.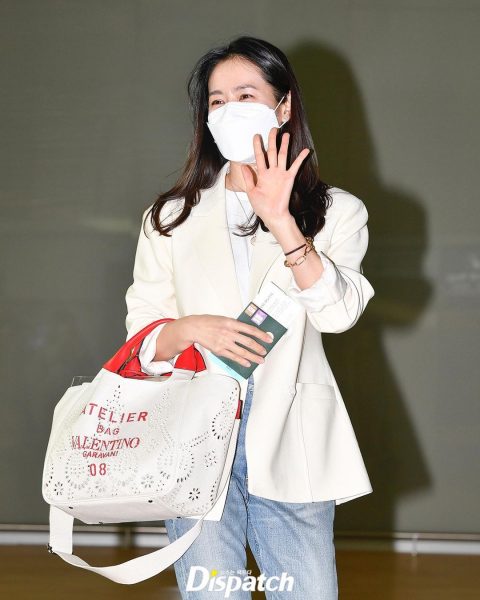 Some examples featured in this post; are Korean sweetheart actress Son Ye-Jin, Lee Min-Ho, another Korean senior actor Jung Woo Sung, and Indonesian actress Adinia Wirasti. Let's discuss.
Son Ye-Jin was photographed carrying the signature VALENTINO GARAVANI Camouflage Edition Atelier Totebag in Canvas. Which is a proper travelling bag. It fits a lot and is surely perfect to carry all her essentials during her honeymoon trip with hubby Hyun Bin to Los Angeles recently.
View this post on Instagram
Next, another Korean ambassador for the Italian fashion house, FENDI, Lee Min-Ho. The photographers managed to document the famous actor after he landed at Incheon Airport following the promotion of his latest headline-making project "PACHINKO" in Los Angeles. The actor was dressed in a full FENDI total look. Not really a coincidence, as he was freshly announced as the new brand ambassador for Korea.
View this post on Instagram
Next, we have an Indonesian actress Adinia Wirasti who is about to board her flight somewhere and is photographed carrying the new IT BAG from CHANEL – the CHANEL 22 handbag. The bag itself is most wanted everywhere and every fashion people normally grew interested in this new fashion sensation. The famous new bag is available in three sizes, FYI.
Lastly, we have another South Korean leading man, a legend in the business, actor Jung Woo-Sung. He might be a senior on this list but managed to showcase a relevant and even cool fit – enviable to others of his age. Just like recently, when he landed at Incheon following his promotional activity for his new movie "HUNT" at the Cannes Film Festival. The actor was seen wearing a total BERLUTI look, no biggie.
---
airport style
BERLUTI
cannes film festival
celebrity style
CHANEL
CHANEL 22
chanel 22 bag
FENDI
jung woo-sung
Lee Min Ho
son ye-jin
Valentino
---