Maxime Bouttier Unveils His Various Artistic Personas As He Dives In With The Time Place Magazine in ZEGNA's FW22 Collections
By The Time Place Magazine
Jacket: ZEGNA Black Oasi Cashmere Overshirt | T-Shirt: ZEGNA Black #UseTheExisting™ T-shirt
Maxime Bouttier is a soul of depth and dimension, one that personifies a true artist. As an actor, model, rock star, composer, and gamer, Maxime dwells in between different personas. The France-born Indonesian actor grew up flambéing, sautéing, and broiling in the kitchens of hotels with his father, Patrice Bouttier, who worked as an Executive Chef. Undeniably well-versed in French cuisine and its culinary techniques, Maxime had dreams of becoming a chef. Nevertheless, just like many things in life, an encouraging push can propel one toward a path where plans shift and priorities change. In Maxime's case, it was his father who facilitated his start in the film industry.
To pursue his acting career, Maxime left the tranquillity of Bali for the fast-paced, sprawling metropolis of Jakarta. Jumping into acting with no relevant experience and receiving mere "crash courses" for his roles was not an easy feat. He confessed to feeling overwhelmed and disoriented from living through blurry months of indefinite routines. Thankfully, Maxime knew he had important tools at his disposal: time, a sense of responsibility, and control over perspective. "In your darkest days, your only ally is time. Only time heals," Maxime expressed. "Time pushes you to adapt. Time gifts you with experience," he continued.
Unseen from behind the screen is Maxime's heightened self-awareness and sensibility. Driven by long-term plans and a sense of responsibility, Maxime longs to make his parents happy. "There was a period of time when I only wanted to make myself happy. Now, I want a house for my parents to live in," Maxime revealed. "If I can take care of them, I can take care of my own future family."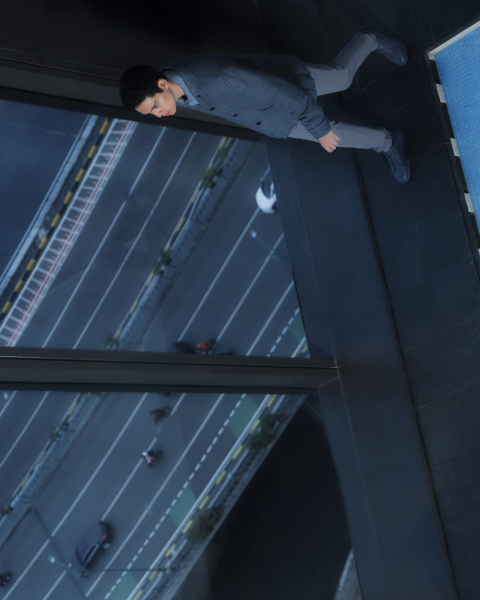 Jacket: ZEGNA Avio Blue Stretch Wool and Silk Chore Jacket | Pants: ZEGNA Light Avio Blue Premium Cotton Pants | Shoes: ZEGNA Avio Blue Deerskin Triple Stitch™ low top sneakers
Maxime describes himself as a snowball rolling down a frosty hill into the dark and deep abyss. As it rolls down, the snowball gets bigger and bigger until it might just break. At one point, there may be light at the end, but the reality of life is the uncertainty of the future. Some look for light only to find a hollow void. Some ignite a candle to light their own way.
Like the rolling snowball, Maxime entered the film industry with no prior acting background. Finding himself in a different city filled with unfamiliar faces, he did not have the means of steering clear of vicissitudes. Making time his ally, Maxime slowly learned to manoeuvre challenges through experience. He ignited his own candle, developed his own personal acting style, and adjusted to the uncontrollable and ever-changing uncertainties of life. "Circumstances cannot always be controlled, but you do have control over your own perspective," Maxime affirmed. "Fortunately, adopting a different perspective changes the way you inwardly view things, thus shaping the outward reality. In the end, it's all about perspective," he wisely concluded.
Initially unaccustomed to the ins and outs of acting, Maxime navigated challenges by resiliently curating his own processes and style through experiential learning. By viewing his character through a third-person lens, breaking down the traits and perks, and dissecting his script to the core, Maxime manages to fully embody his characters' identity and disconnect from his own. "I build my character from the ground up. I don't want to reflect parts of myself in my character, but rather the opposite—I want my character to be reflected in me," explained the young actor.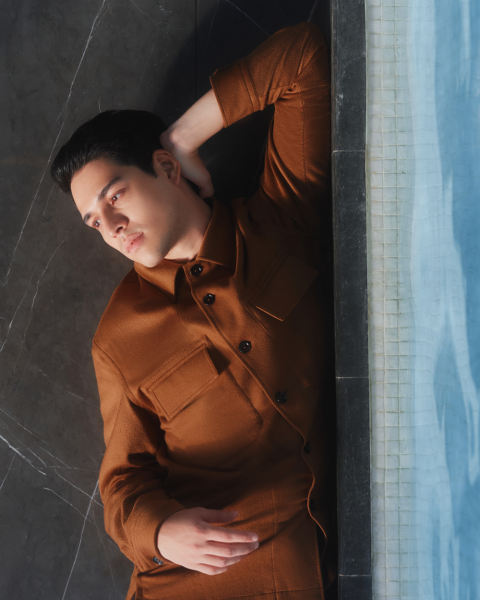 Jacket: ZEGNA Vicuna Color Oasi Cashmere Overshirt
Landing a role alongside A-List actors, George Clooney and Julia Roberts in the Hollywood movie "Ticket to Paradise" certainly was an enormous leap in fame and achievement from the Indonesian soap operas that he was accustomed to. The blinding glitz and glam may faze many, but Maxime has become an expert shapeshifter from experience. Strong-willed and sure-footed in his principles and values, Maxime morphs excellently into his character Gede, a young seaweed farmer from Bali. Indeed, the feel-good, banter-filled rom-com is a breath of fresh air with its enjoyable pace and witty storyline.
Growing up watching the Ocean's film series, Maxime admitted that working with his childhood idol, George Clooney, still baffles him to this day. Initially, he thought George and Julia Roberts, as well as co-star Kaitlyn Dever, had "big star" images, as he only used to watch them before on the big screen. However, Maxime realised while working with them on the set that they are just normal people who happen to be very famous and very, very good at what they do.
"They are just so human," he mused. "I think it speaks volumes on perspective and how illusory it can be when perceiving others." Adjusting his lens to George's and Julia's provided him a glimpse of the dynamics at play before the public eye. Poised in his certainty, Maxime finds contentment from his awareness of a multitude of perspectives, and with no ability to control a single one except his own. "I realise that it doesn't have to be too complicated. Everything is perspective, not the truth. Peering through George and Julia's perspectives eased me to relax and just be myself, to be the Maxime that I know," he reflected.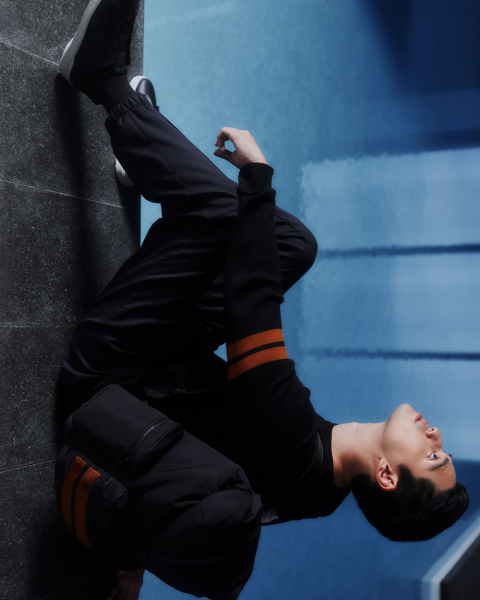 Top: ZEGNA Black High Performance™ Wool Crewneck | Pants: ZEGNA Navy Blue High Performance™ Wool Joggers | Shoes: ZEGNA Black PELLETESSUTA™ Triple Stitch™ Low Top Sneakers | Backpack: ZEGNA The Outdoor Collection – Black Recycled Polyester Special Backpack
Being a rock and roll aficionado, Maxime plays in his own band called No Persona in which he is the lead vocalist and composer. The snazzy actor slash rock star admits to being a big fan of collecting guitars, and of Matt Bellamy, the frontman of famous English rock band, Muse, who used to serve as his fashion inspiration. In recent years, Maxime would be seen wearing an ensemble of eccentric rock star outfits and T-shirts, even suit jackets over T-shirts.
Nonetheless, his fashion style has also evolved over time. Although rock and roll still flows through his veins, Maxime now prefers versatile clothing pieces such as light and breathable shirts, and multifunctional shoes that he can wear in comfort, especially as he would be in costume most times while working on set and on the go on other occasions.
A person of principle and strong self-awareness, Maxime kindles a candlelight to navigate through life's uncertainties. While doing so, he also illuminates the path of others through the art he creates in his movies and music. Being a man of perspective, Maxime fits right into his various artistic personas, and although interchangeable in guise, he never loses sight of his own identity at the end of the day.
Photography: Ikmal Awfar
Styling: Allysha Nila
Grooming: Shabrina Nesya
Location: St. Regis Residence Jakarta, Jl. Setia Budi Tengah No. 29, Kuningan Jakarta Selatan, DKI Jakarta 12910
#ReadAnywhere the latest issue of The Time Place Magazine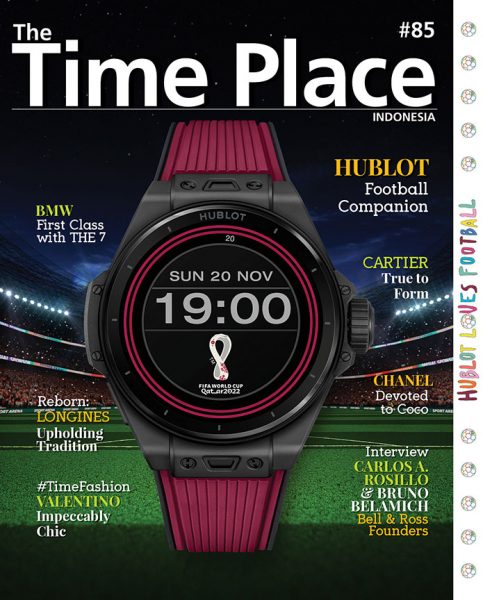 ---
Maxime Bouttier
the time place magazine
zegna
---